Melbourne Hangover Info Guide 
Melbourne is where you'll find the most innovative DJs, best-crafted cocktails, and electric atmospheres in the Southern Hemisphere, and millions of party-goers from across the globe flock there every year to partake in some good old-fashioned hedonism.
However, one thing these nightlife aficionados don't plan for is the notorious Melbourne hangover the following day, when the brutal sunshine and copious amount of craft beer take their merciless toll.
Make sure you're better prepared than most by getting to grips with the best ways to beat a hangover in Melbourne.
Melbourne Hangover Coffee – Flat White
Ask any local how they recover after a truly Australian bender, and there's a 99% chance they'll refer you this espresso-based drink originally known as a "failed cappuccino " which was supposedly invented and popularised in this city back in the 1980s.  
Source: Pixabay
There are hundreds of trendy, dimly lit cafes which line the famous alleyways of Melbourne where you can join the locals in getting your fix, so you won't have to travel far once you've peeled yourself out of bed.
Race Day
Melbourne is a grand old city with Victorian pretensions and a penchant for some more old-school leisure activities.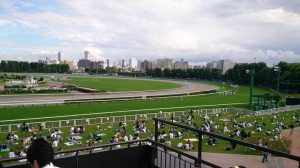 Source: Pixabay
A solidly reliable day to kick back on a Sunday afternoon and forget about that headache is by heading out for a day at the races, where's you're guaranteed to see plenty of other sunglasses-wearing locals lounging in the stands hoping to recuperate last night's bar tab with a lucky win.
Head to either the Flemington or Sandown racecourses for the full elegant experience, and try to come prepared by scoping out the latest odds on Oddschecker beforehand, especially if you're in town for the world-famous Melbourne Cup later this year.
These race courses are fully-decked out leisure venues, so make sure to gorge yourself on suitable hangover food from the many venues on-site, then kick back and soak up
Hair of the Dog
While this method does not come recommended by doctors, Australians cannot endorse it enough, claiming that "hair of the dog", or drinking your hangover away, is the only way to do it in true Aussie fashion.
Source: Pixabay
This can easily be confirmed by heading to any one of the lively bar districts in the city on a Sunday afternoon, such as the lively Fitzroy district, where you'll see the party in full swing just as it was the night before.
If you have any tips on how to survive a hangover in Melbourne, be sure to let us know!