Sri Lankan Tea Information Guide for Travellers to The Country of Sri Lanka.
Rich and full-bodied and Sri Lankan classic origin types of tea are  made from the finest pure Ceylon black  or green tea that's been handpicked for perfection. The golden brew delivers a robust unique flavour fit for a Governor or discerning connoisseur.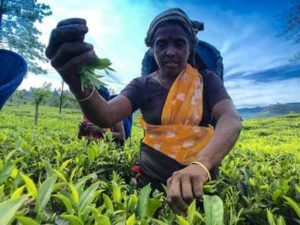 The History of Sri Lankan Tea
History has it that it is during the British rule of Ceylon – as Sri Lanka was called as such then – that tea was introduced to Sri Lanka.
Tea plant – Camellia sinensis –  was first planted in the Royal Botanical garden.
This was thought of as a non-commercial plant and it was brought from China. Maurice Worms tried to make it a commercial plant as early as 1824.  He did so with some plants imported from China.
They were tried in Rothschild in Pussellawa and Ramboda in then Ceylon. He made tea in China fashion and a pound of tea was £5 and this price was much too high to be competitive.
However, the history of the first commercial undertaking to have tea plantation begin as early as 1820.
That is five years after the fall of indigenous Kandy kingdom of Sri Lanka. As Sri Lanka became a British dependency completely they cultivated coffee to get revenue for its administration.
Virgin evergreen forests were replaced with coffee plantations completely and the British rule experimental with indigo and cinchona only to experience failure.
It is at this critical juncture in the plantation history of Sri Lanka which was called Ceylon, that a reclusive Scottish planter called James Taylor had been experimenting with tea in Dibula and Kandy Plantation districts.
He planted them on margins of divisional roads. In 1866 he withered the first leaves in his bungalow veranda using a process used by tea planters in Assam in India. He ended up with sending his first consignment of tea – 231b in all to England.
The first successful tea estate was estate Loolecondera. The extent of cultivation was 19 acres. Soon planters thronged to Loolecondera estate to witness the plantation and learn how to cultivate it.
In this way, the plantation industry of Ceylon was saved. Within a decade tea helped to rebuild the plantation industry of Ceylon and the economy of the colony became prosperous again.
---
Best Sri Lankan Tours with A and The Driver. 10% Discounts Available With Traveller Hints. Message on  Viber or WhatsApp.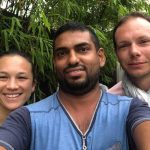 Leel well experience driver in Sri Lanka you to have safe travel around the Island.
---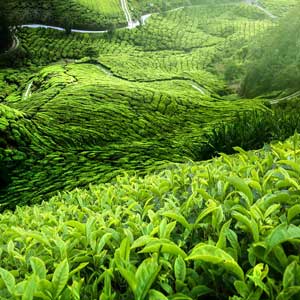 Sri Lankan Tea Plantations 
The biggest tea growing regions are the Sabaragamuwa and the Uva province which is sparsely populated.
The liqueur reduces with elevation and Kandy tea has a relatively strong and deeper coloured beverage.
As estates at high elevation produce lighter and subtler flavour best quality tea is produced in cool dry weather.
Nuwara Eliya is best known for its tea thanks to its geometric attributes. Its highest altitude of 6000 ft, its cool climate and its moderate rainfall is what ensures the right kind of environment for tea cultivation.
The liqueur produced from unusually small areas of these plantations are characteristics of the region and is lightest among the regional varieties.
It has two seasons which are most suitable for tea cultivation. The area is entirely dedicated to tea cultivation.
The area is wet and misty with dry spells. The elevation is 3000 – 5000 ft and its tea is comparable to Nuwara Eliya tea. It appears darker and greater in strength, though.
The region is in the Monaragala and the Badulla districts. As a result of hilly terrain and winds of the northwest and the south-west monsoon system, the liqueur produced here is of distinctive character and has a flavour which is highly sought after by tea connoisseurs. Typical Uva tea is mellow and smooth on the palate. A wide range of grades and green tea is produced here.
The plantation is located in high plateaus of the central province. The tea grown here is characterised as high grown tea at altitudes of 4000 ft.
The climate is often wet and misty and has cool and dry winds. The best tea is yielded here thanks to its geographical complexity.
The tea produced in this area has different character and flavour. 'Dimbula character' gives you a golden orange hue and freshness of flavour.
The quality is found to be of the highest with the elevation at which the leaves are picked when produced between March and May the aromatic quality increases.
This is the country's biggest tea growing region. The tea is known as low grown tea and the plantations are located at an altitude of 2500 ft.
The tea is different in character and flavour. Some plantations in the region receive the highest rainfall.
Tea produced in these plantations are of high demand in the Middle East and Russia. The liqueur produced is characterised by a dark yellow-brown with a reddish tint with a hint of sweet caramel in its aroma.
These plantations are in the southern province and the tea made here is classified as low grown.
The plantation in this area came to plantation history as a latecomer. Strong dark tea is produced from these plantations.
This quality has assured a good market in the Middle East. The tea has a particular type of liqueur. Also, it has a distinctive flavour as a result of its low elevation of 2000 ft and soil.
Varieties of Sri Lankan Tea
Basically, a pekoe tea is produced in Sri Lanka. They are classified as follows. OP – Orange Pekoe, FOP – Flowery Orange Pekoe, GFOP – Golden Flowery Orange Pekoe, TGFOP – Tippy Golden Flowery Orange Pekoe, FTGFOP – Finest Tippy Golden Flowery Orange Pekoe, SFTGFOP – Special Finest Tippy Golden Flowery Orange Pekoe.
It is really important to know the varieties of tea if you want to go for specific flavours and character of it.
We all know that small pieces of leaves give stronger liqueur than the whole life teas. So if you look for black tea to be used in breakfast style blend you should go for a broken tea.
That is to say, you should look for 'B' in the grade if you go for mellow, soft, black tea, one with high quality of buds will provide you with such an experience. So pick one with 'F' or 'G' letter. 'F' stands for flowery and 'G' stands for golden.
Smaller grades are used in tea bags, fannings and dust grades. For example OF, OPF, FBOPF, FD, GD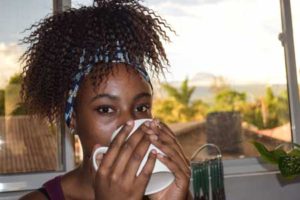 Health Benefits of Tea
Tea is good for many degenerative diseases such as heart diseases, high blood pressure, stroke cancer and diabetes.
So Ceylon black tea is really beneficial for your health. Tea contains antioxidants that are good for your body.
It improves and increases memory, attention and evaluation. Also, it increases alpha wave activity and makes you more alert.
So drinking four cups of Sri Lankan tea is beneficial and helps you obtain polyphenols which act as an antioxidant.
Sri Lankan tea plays a great role in the health and beauty industry. Sri Lankan varieties of tea namely black tea, green tea and white tea have better flavours and character. In fact, Ceylon green tea has much better flavour than other teas.
If you drink Ceylon tea the chances of catching influenza reduce drastically. Also, Ceylon green tea has strong antiviral and antibacterial qualities.
It reduces weight as it speeds up the metabolism through the antioxidants it contains.
Added to this is good it possesses to reduce arthritis. Ceylon white tea make your skin look younger and firmer and fight signs of ageing.
Make it a point to use water of high quality to brew your tea. This enhances the taste of tea with a soft crispness supporting flavours of tea that is brewed.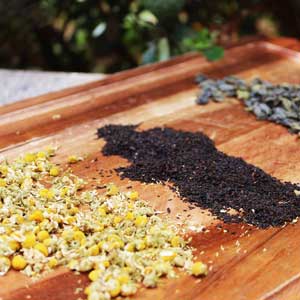 The Oldest Sri Lankan Tea "Lipton Tea"
Lipton Tea is a brand of tea which was first introduced by Sir Thomas Lipton. The yellow label is blended of tea and is sold in more than 150 countries since 1890. It is high grown tea with perfect colour, taste and aroma.
This, in fact, is the preferred brand in North America, Australia, Europe, The Middle East and Asia.
It is a no.1 tea brand operating in over 110 countries. It comes as pure green and citrus varieties. The most popular varieties are Lipton Green Tea, Lipton Yellow Tea and Lipton Darjeeling Tea.
The Best Sri Lankan Tea Dilmah Tea
This is a Sri Lankan family tea company founded by Merrill J. Fernando. Today they are the world's most experienced tea maker who has championed when it comes to quality standards, authenticity and variety in tea.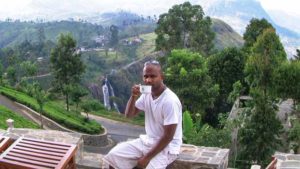 Lipton Seat
You have been reading about the history of tea, tea plantation, various reasons for the quality of tea and its health benefits. Also, you have learned a bit about one brand variety called Lipton Tea introduced by Sir Thomas Lipton who was a Scottish tea baron.
History has it that this Scottish tea baron surveyed his plantation from the highest point of Poonagala mountain.
This mountain lies very close to the Haputale town in the Badulla district in the Uva province. It has an altitude of 1431 m.
This, indeed, is a panoramic overlooking destination for a mountain view loving holidaymaker.
Come to this holiday destination connected with the birth of a world-renowned brand of tea – Lipton tea, for it is a treasure house for sightseeing tours, walking tours and looking at historic sights and day trips.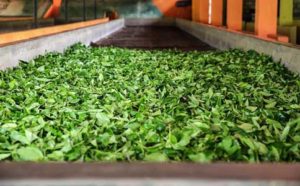 Sri Lankan Tea Walking Tours
You could start your walking tours from the Dambatenne tea factory. It's high terrain, steepy slope and lush green tea plantation clad with misty robes of nature enchant you and make you spellbound.
It is a two hour gently winding road through a glorious tea plantation. You can feast your eyes on the sublime view of the workers and the tea plucker and their daily routine. However, sometimes the Lipton Seat is clouded.
As an experienced traveller, I recommend that it better to take a tuk-tuk up to the top early and walk down while it is clear of clouds.
Once you are at the Lipton Seat you can see for yourself the very seat on which Sir Lipton sat having a cup of tea and now you see the statue of him on that very seat.
The mighty view you get from there is a spectacular view of the Uva, the Southern, the Sabaragamuwa, the Central and the Eastern provinces.
You could see beauteous undulations, hills and skies for miles on end. Make sure you get there before 9 am to avoid the fog.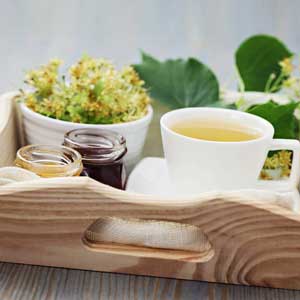 Sri Lankan Tea and Relaxation Ideas 
The Great Sunrise View (Also Sunset)
A tuk-tuk should cost you 1000 LKR. It is a 45-minute drive from Haputale. There is a nice spot to shoot the sunrise. It is around a 5 minutes' walk before you get to the seat.
Sir Thomas Lipton's Statue
This stands there with its photographs like a historical monument to speak of Sir Thomas Lipton – the Scottish tea baron who sat there like a lord with a great sense of achievement at his burgeoning empire.
Also, there is a Kovil of the plantation workers. Added to this are the symbols of God Siva seeing in their veneration of Black upright thin and round rock signifying the sacred pennis of God Siva.
No wonder, while enjoying a good Sri Lankan cup of tea you could make much of this peaceful picturesque holiday with fresh air that comes rolling through the green hills. Your camera will wear out for such is the attraction, sheer natural breathtaking beauty of its scenery.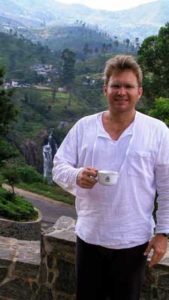 Sri Lankan Tea "Dambatenne Tea Factory" Tour 
You can pay a visit to this historical tea factory founded by Sir Thomas Lipton. Are you a tea connoisseur? Then you simply have to make it a point to pop in.
This factory is historically significant as the term 'Ceylon Tea' was coined here. You will be able to see the gorgeous hill country flower on the immaculate tea factory loan.
Being in the factory is like seeing a film. You see the machinery to the costume of the factory hands.
Your payment of a small touring fee is worth for they will show you everything in the process of making tea you need to know.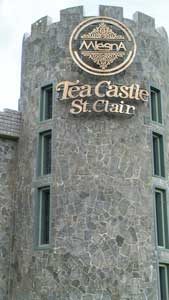 Where to stay
You could stay at Thotalagala which was the Bungalow of Sir Thomas Lipton revival to its former glory.
This is located in the finest tea growing regions in Sri Lanka. It has historical significance as the residence of Sir Lipton from 1890 – 1910. It is nestled in the Pitaramlie Estate adjoining the  Dambatenne estate where Lipton seat is.
The guests of Thotalagala will be granted exclusive access to the Dambatenne tea factory and the bungalow where Sir Thomas Lipton lived.
It is 11.6 km from the Lipton seat which takes 41 minutes by car. However, Here are hotels nearer to Lipton seat.
Look up the Best Hotels Deals in Sri Lanka Here
 Bandarawela Hotel – 48 miles from Haputale – LKR 11,835
Muthu View resort – 7.6 miles from Haputale – LKR 7,619
Feelin'good Resort – 9.1 miles from Haputale – LKR 3,848
These are some of the nearest to Lipton Seat. There are many more which are accessible on the internet. Reserve in time for they are rapidly booked online.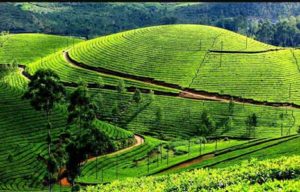 How to Get There
A train journey from Colombo to Haputale though time taking, is fun and worth the time. It takes around 7 hours. It is 210 km from Colombo. The travel cost is 220 to 750 LKR.
By bus it takes 6 hours and 30 minutes. You have to incur 210 to 470 LKR.
A car drive will cost you 9000 to 11000 LKR and will take around 3 hours.
So as you enjoy a pure cup of Ceylon Tea dream over it and plan you visit to Lipton seat and the attractions right around it. Good Luck !
Look Up Sri Lankan Tea States on Google Map Here