Last updated on November 15th, 2018 at 04:51 am
Mihintale Rock Travel Information Guide 
There, never, is a more important place of worship for Buddhists in Sri Lanka during the month of Poson (June).
Thousands of devout pilgrims throng to this historical location for worship. This place of indescribable cultural significance is of untold and unique value to Sri Lankans irrespective of their religious origin.
To then Sri Lanka which was ruled by king DevanampiyaTissa, this place was precious and memorable.
The emperor Asoka of India gave up his quest for victory in war which awakened him to the reality of uselessness of blood shed to win countries or kingdoms.
At that era, Buddhism was spreading to every hook and corner of India with its philosophy and doctrine of compassion for every living being.
The mission for spreading Buddhism to Sri Lanka was headed by the son of King Asoka, Mahinda, who became a follower of the Enlightened One, Lord Buddha, by becoming a monk.
Emperor Ashoka's great thirst to spread the message of peace to Sri Lanka is the significant standpoint for the whole of Asia to venerate Mihintale as of great historical, religious and immense cultural value.
One full moon night, the venerable monk Mahinda or "Arahat" Mahinda as Buddhist devotees call him, came to Mihintale when the king DevanampiyaTissa was hunting deer.
Being addressed fearlessly as 'Tissa' the king looked up the rock of Mihintale only to see the holy appearance of Mahinda Thera with his retinue.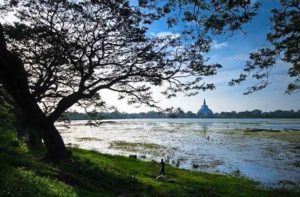 Wanting to find out whether the king was intelligent enough to comprehend his doctrine he asked him some questions about some mango trees in the vicinity.
Understanding the King's prudence and intelligence the first sermon was let loose in a placid and soothing manner to the king.
The king who had never come across any such soothing comfort immediately converted himself to Buddhism.
The king's conversion to Buddhism gave way to it to be the state sponsored religion from that time even up till now and this happened in 247 B.C.
The name Mihintale is of Indian origin. It means the pleaten of Mihindu. This is about 1000 feet high and is the peak of a mountainous range.
Mihintale lies 12.875 km East of Anuradhapura which is a historical city in Sri Lanka.
This cradle of Buddhism is revered by Buddhist devotees. In this way did, Mihintale come to be important in Sri Lanka and not only Sri Lanka irrespective of their religious differences, but also foreigners from world over make it a point to have a visit to this historical rock which converted a whole of a nation to Buddhism.
There, of course, are many things of historical importance for the visitors to see.
Yes, there is a ruin of a hospital, a medical bath – that is a bath in the shape of a canoe in which the patients were immersed in medicine to cure them of their ills.
This place has been excavated and stone inscriptions belong to the era of the King DevanampiyaTissa are there for your examining. That is only to understand how advanced early Sri Lankan civilization was.
There is also evidence of there being a large monastery. This building has an extent of 125 feet (38m) with beautiful carvings, stone balustrades and guard stones.
There is a stairway to this mountain with 1840 steps, all made with granite leading to the summit.
On the peak is the world famous Kantaka Chetiya. This is a circular stupa with a circumference of 425 feet.
This is sculptured with dwarfs, animals, human divine figures and floral motifs. Out of all these sculptures is the elephant headed Hindu god called 'Ganesh' or 'Ganapathi'.
There is also the presence of square pillars with the elephant on the east, the lion on the west and the bull on the south.
Though archaeologist have different views about these figures, these are a major characteristic seen in a moonstone of Sri Lanka.
They also have discovered old coins with bull on one side and elephant on the other side from this location.
Also, there are ruins of a stupa and evidence that monks had lived there and this, indeed, belongs to the 1st century B.C.
A visitor to Mihintale can feast his/her eyes on these ruins. There is a courtyard to the left of which is the refectory.
Pipelines have been found there and this is nothing but evidence of engineering feats of Sri Lankan ancestors.
That is to say, there had been systematic pipe born water systems during that period.
On the entrance to the building there are stone inscriptions on either side and they are known as Mihintale stone inscription all over the world and those who love archaeology should never miss this treasure house of archaeological value.
Abasthala Dagaba is yet another stupa close to the peak of the mountain. It is said to have been built by king Malkantissa.
The love of Arahath Mahinda is the most famous cave where there can be seen a flat stone slab where he is said to have rested.
The maha stupa is on the summit of the hill and history has it that it was built by King Mahadathika Mahanha in 7-19 A.D.
It is as if Mihintale is filled with so many attractions of archaeological taste and Aradhana Gala which faces Maha Seya is on top of a hill.
All who come to Mihintale make sure they visit this rock with iron railing though it could be really windy.
It is on to this rock Arahat Mahinda who came in the air by power of meditation, landed to have his first doctrinal discourse to king DevanampiyaTissa.
Kalu Diya Pokuna – The pond with black water, is to be visited for sure if you ever happen to visit Mihintale.
It has this name as water appears to be black to the onlookers. This pond is associated with a monk called Kalu Buddharakkhita who is said to have made a religious discourse under a tree close to his pond.
In Sinhala 'Kalu' means black. There are other ponds. They are 'Naga Pokuna'(cobra pond) and 'Sinha Pokuna' (Lion pond)
How To Get To Mihintale From Colombo
If you prefer a cheap train journey it will cost you LKR 210 – LKR 700. This will take 5 hours. A bus or taxi ride will cost you LKR 6518 – LKR 7704 and it will take 5 hours.
Also, a single taxi ride will take you there in 3 hours 30 mins. This will cost you LKR 13000 – LKR 16000.
If you chose to drive it will cost you LKR 2400 – LKR 3500 with a travel duration of 3 hours and 30 mins or if you can afford the most expensive travel arrangement which is an inland flight from Colombo to Sigiriya and a taxi ride from Sigiriya.
It will take 3 hours and you will have to pay LKR 38,810 – LKR 91,110
Accommodation – Mihintale
There, really, is no difficulty in finding accommodation in top class hotels which are not far away from Mihintale. With so many things available to be seen all visitors will have to spend at least a day here.
Heritage Mihintale Resort is very close to Mihintale. Hotel Mihintale is just minutes away from famous Mihintale temple.
The tourists with various plans can pay a visit to Mihintale and make their travel or accommodation arrangements at reasonable rates depending on various requirements of theirs.
Whatever you do, do not make your visit to Mihintale only by arranging it,  only to Mihintale. The cultural triangle site is not far away, so you can use that opportunity to make much of your visit.
Yeah, make much of your taste for history, culture and archaeology with a tremendous visit and get ready to bag wonderful experiences with you, on your return to your motherland.
Good Luck with your pending visit to Mihintale in Our Island Paradise, Sri Lanka.
 

Mihintale on Google Map Here