Colombo Nightlife party fun info guide to have nightlife fun with Goldern ladies and boys 
After the devastating civil war which was a curse on all of Sri Lanka for over thirty years, Colombo nightlife is raising its head in a better manner than ever before.
Having been influenced by nightlife cultures of countries like Thailand nightlife and Singapore Singapore nightlife party and also western countries at large Colombo city has much more to offer you, travelers, only to make them filled with best of nightlife satisfaction to the very marrow of their bones.
In fact, it has much to offer. Here, you have access to western roulette rolling, wonderful bands, live music, food for your taste buds to quiver with desire, classy cafés, themed pubs and enthusiastic people. You have almost everything you wish to have here.
In Colombo nightlife culture it does not require that you spend a fortune on it. Rather it is comparatively cheap and affordable.
Welcome to Colombo Nightlife to Experience the Best Nightlife Fun in Sri Lanka.
Oh yes, to say I have every possible valid reason mate! Oh for you the gambler Colombo city is a safe haven for gambling is not outlawed in Sri Lanka.
In fact, casinos play the most outstanding role in Colombo city's nightlife scenario. If ever you come to Sri Lanka and happen to miss out on the nightlife fun in Colombo city it is indeed a sad thing.
Why is it so? It is because nightlife fun in Colombo is classy and go abreast with world standards.
You may have your choice and budgeting, Dear traveler I am really happy to introduce to you some of the top nightlife clubs and pubs to go and amass heartening experiences of classic nature. Most of them are western style nightclubs located in Colombo 1,2,3,4 and Colombo 7.
---
Best Sri Lankan Tours with A and The Driver. 10% Discounts Available With Traveller Hints. Message on Viber or WhatsApp.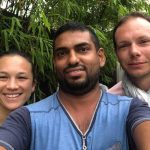 Leel well experience driver in Sri Lanka you to have safe travel around the Island.
---

Sexy Ladies in Colombo Nightlife
It is true that Colombo nightlife party is highly under western impact. However, the presence of ladies in nightclubs is not great in numbers.
When compared with the west we really do not see an abundance of female presence here in nightclubs in Colombo city.
Let me be honest you do not see many hot and horny ladybirds in Colombo nightclubs. You can possibly have really casual hookups in them.
Boys in Colombo Nightlife 
Most boys in Sri Lanka lack personal skills in matters related to casual relationships with ladybirds.
This is so as a result of the cultural barriers that have in Sri Lanka. The older generation is dominant and the younger generation is always beneath them.
It is true to declare that boys here are not outspoken when it comes to expressing their feelings and emotions.
They could be shy if a lady wants to pick him up. There may be different cases which go against this fact, but the incidence of such happenings may be less than what they really are.
---

Best Places For Colombo Nightlife – Clubs,  Bars, and Restaurants for Dining & Night out in Colombo

. 
ON 14, Rooftop Bar and Lounge
You folks are after places to sit comfortably absorbing all comforts in the specific vibe of your choice. You may voice a massive 'yes'.
Rightly so! Here at rooftop bar and lounge, you may experience such comfort and delight.
Yes, the sea breeze and the spectacular view, delicious snacks, tapas and also the drinks offer you what you crave and desire to fulfil all needs of your sensual being.
I really fell in love with its great atmosphere of pleasure. It can be placed among the best of nightlife venues to relax, enjoy drinks while glancing casually but gleefully at the marine drive running along the coast and the western part of this great Colombo.
Seeing is believing! The dim lights of vessels at anchorage in Mount Lavinia is really a serene sight almost absorbing you into a deep delightful meditation.
The staff was all friendliness and politeness. The service was slow to a considerable degree, though.
I thought it as better for I could sip my drink while chilling out gleefully till the food was slowly served.
I really enjoyed their grilled pork burger. Oh, I highly recommend it if you are not really into halal dishes out of respect of your religious interests.
Address:  OZO Colombo Sri Lanka, 36-38 Clifford Pl, Colombo 00400
The best in Colombo Nightlife – Kama Night Club
To be sure this could be called as one of the best nightclubs in Colombo at the moment this is being written.
Location? Well, it lies next to Galle face green near Taj Samudra hotel. There should be no better place for clubbing on Fridays.
Yes, Kama nightclub has established its position as a really good place for clubbing. Sharp at 12.30 the party starts.
Once you get there you find the place highly full of people. You find the club thronged despite which day it is.
If your wish is to come to the nightclub you have to reserve your place as the club is overflowing despite which day it is.
Reserving beforehand is highly recommended since Kama nightclub resorts to strict entrance policies along with tough bouncers.
It is a bit pricey here. So be ready with a lot of money when making a visit. Everyone's wish is to enjoy a drink before partying.
Why not visit the SKYY bar which is next door and which has a high reputation as a wonderful location in Colombo city.
Whether you accept or refuse this club can be rightly called the club with most of the nightlife activity whatever the day it is.
Silk Club for Sexy Colombo Nightlife 
Wanna you find yourself in an extremely popular upmarket lounge club in Colombo city? Well .. then Silk is the place just right for you.
Its place it enjoys as a high-quality hotspot is unrivaled among its counterparts in the industry. Only grownups can get access to Silk.
It is adorned with shining Chandeliers plush sofas a bar being run smoothly and a state of the art sound system.
You see, it enjoys a place as the islands oldest members clubs, the CH and FC conveniently located at Maitland Crescent among the classy environs of prestigious Colombo 7.
Here in Silk, you fulfill your craving for beautiful kind of various retro music and music popular with its contemporary varieties.
Address: Gymkhana pool complex, 41 Maitland Crescent Colombo 00700 Sri Lanka
Sopranos
Calling it a Sing-Along and a stylish bar with current developments of the time is really suitable just to introduce Sopranos in Colombo city.
What with cocktails and mocktails, what with both alcoholic and alcohol-free drinks and what with a homely vibe going abreast with contemporary things that matters to clubs in vogue, Sopranos has become an important club in Colombo nightlife scene.
It enjoys the advantage of its multilevel design and its high tech karaoke system. With its quality of being full of space and you have to take to be in agreement with the closeness that is so enticing usually in a sing-along pub.
Address: 29 Maitland Crescent, Colombo 00700, Sri Lanka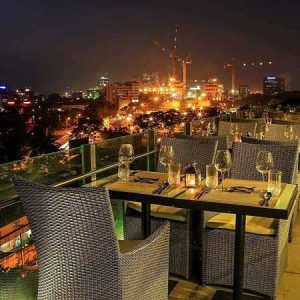 Sky Lounge
It is located on top of the Regal Hotel. Sky Lounge is called the crowning jewel of the Kingsbury.
It shows post-modern designs and they are there only to complete the great entertainment sky lounge provides its guests with a good spread of merrymaking which can challenge any bar in Colombo city.
Beautiful music, the champagne of high caliber, signature cocktails, cigars and lovely, luxury cuisine are nothing but things that definitely offers you comforting amenity that waits for its guest at Sky Lounge in Colombo city.
Address:10th Floor, No. 48, Janadhipathi Mawatha, Colombo 01, Colombo 00100
Colombo Nightlife casual hook up place -Cleopatra Nightclub
It is really wonderful here. When I found myself in Sri Lanka this club took my heart. I could offer you more information because I got immense satisfaction here.
With its continuous DJs, you are able to dance, drink, smoke and have a hook up with a girl of your choice for there is a multitude of Sexy girls here.
Well, the entrance security was really really friendly. Experiencing friendship at the very entrance, indeed, is a good beginning.
Much to my dismay inside the nightclub staff was not good and the cleanliness was not up to the mark.
To be honest, it was like begging for drinks when you try to buy more of them. However, I really loved the manner in which the securities checked up at the entrance.
They wanted the best security guaranteed to them when the guests are drunk. They try to make sure customers are ok when they are soaked in alcohol!
I like this place for the friendliness of the security. I would not recommend this place. However as the entrance is cheap and you can enter in normal clothes you may have a try here.
Address: R . A. De Mel Mawatha Liberty Plaza – Basement, 00700
---
Barefoot Garden Cafe exudes Tranquility – Barefoot Garden Cafe
A cafe that breathes new life to nightlife in Colombo city. It is placed in an attractive garden.
It is really heart taking as all wining and dining here take place under the tree in this lovely location.
Food? Wow! Come here to have sandwiches or prawns or curries or pasta.
All the dishes served here at Barefoot Garden cafe are beautiful. Oh yes, just the right for the satisfaction of your gastronomic craving.
Why do I say so? Well, the culinary art practiced here takes you to a new land of delight with its scrumptious cuisine.
Its possession of an art gallery featuring the works of local artists makes it more attractive rendering an appeal to the art lovers.
Oh, why not enjoy here in the relaxing atmosphere reading your favorite book as you sip on your latte?
You are likely to enjoy a calm and tranquil late evening or night at the cafe if ever you try it.
Its attractive settings and the warm aura of patio brings in tourists and travelers in large multitudes to this cafe. It is a place that adorns nightlife beauty and attraction in Colombo city.
Address: 00300, 704 Galle Road, Colombo, Sri Lanka
Stirred – A Stirred mix of everything buzzing
Stirred enjoys a good position among the best of hot spots for experiencing nightlife in Colombo. It is decorated in the colors of red, white and black.
This indeed renders a very vibrant jazzy feel. The cafe is open 24 hours and engages itself in serving a wide array of snacks and beverages.
Look for it and find it and if you desire to get something a bit different from the conventional nightlife of Colombo.
Address: Cinnamon Red, 59 Ananda Coomaraswamy Mawatha, Kollupitiya Colombo 03
---
Molly's Pub – An Irish Bar named after 'Sweet Molly Malone'
The landlady of the bar here is Irish. She is called Annette and she always tries to make sure that her dear customers are happy in a relaxed and lively atmosphere all the time.
It is in a location in the Nawam Mawatha which looks half hidden. In fact, 'Molly's' extends a cordial welcome to people all the time.
If you are into delicacies hailing from Ireland and friendliness from the owners of the establishment if you are after a comfortable vibe and live performances come here to the bosom of the Molloy's Pub. A nightlife attraction in Colombo city.
Location: 46/38 Nawam Mawatha, Slave Island Colombo 2
---
Colombo Nightlife & Casino 
Bally's Casino – The best place among all other spots when it comes to enjoying the nightlife in Colombo
Bally's has been enjoying a strongly established place in the nightlife scene of Colombo city for such a long period of time.
If you are into warmth, respect, hospitality and trust me Bally's the venue for you.
Thanks to these qualities many throngs to Bally's. It has won a large clientele as a result of its positive qualities.
It owns a large gaming area where you find people in large numbers. Those people consist of both locals and tourists.
In here you can gamble as low as LKR 100 or even up to LKR 100000. If you assume the role of a player you will be delightfully treated to lovely snacks and complimentary drinks.
Location: 34 D R Wijewardena Mawatha, Colombo 0010, Sri Lanka
Bellagio Casino – One of the places to Gamble
Bellagio Casino is situated amidst all dull, boring environs. The manner it is arranged is interesting.
The high rollers are at the end and low stake tables are at the entrance. If you make yourself appear important here the food and drinks are provided free for you. It is nothing but truth itself if I call its ambiance always active and cheerful.
This happens as the winners of the games celebrate their victory while others prepare themselves for playing better next time.
You may immerse yourself in the world of gambling consisting of Three card poker, Roulette, and Blackjack. This is a great venue in Colombo city.
Location: 430 RA De Mel Mawatha, Colombo 3, Sri Lanka Colombo
---
 
Colombo Nightlife Tips to Help Travellers
The nightlife in Colombo city is full of life and activity. This is so thanks to its casinos, bars, nightclubs, discos, and pubs.
Added to these are the shows that feature traditional artists patronized by large hotels in Colombo City.
Most of the entertainment opportunities of late night are to be found in renowned hotels such as the Cinnamon Lakeside, the Cinnamon Grand, The Hilton and the Taj Samudra.
For easy reference to locate them refer to the following places

.
---
Colombo Residence JAIC Towers: Colombo 2
Taj Samudra: opposite the Galle Face Green
Colombo Hilton: Colombo 1 Fort, next to the world trade center
Galle Face Hotel: Next to  Galle Face Green
Cinnamon Grand: Colombo 3, Further south from the Galle Face
Cinnamon Lakeside: Colombo 1,2
Maitland Crescent: Colombo 7 near the independence square, 10 minutes ride from Colombo 1,2 and 3
Dutch Hospital: Restaurant Precinct  opposite the world trade center Colombo 1
Kingsbury: Colombo 1 Next to the World Trade Centre near the Ocean.
---
Maybe it is your plan or wishes to go dancing and clubbing. If it is the case dress well and show up late.
Most of the people coming for dancing and clubbing do not show up till midnight. It is the general practice for the clubs to allow males with their female partners.
In some cases, you are able to be a sole participant. It is, in fact, continuous partying that takes place till early morning.
A few nightclub options in Colombo city. – Kama Colombo (adjacent to Ramada Hotel), Museum ( Taj Samudra), Qbaa (Colombo ), Silk (Maitland Crescent) and many.
Pre-drink venues and popular cocktail lounges are Sugar 41 (Maitland Crescent), 7 Degree North (Cinnamon lakeside), Sky Lounge (The Kingsbury), ON 14 ( OZO Wellawatte), Breeze Bar (Cinnamon Grand) and The Rooftop Bar of Cinnamon Red.
You can also find the presence of upmarket pubs and sports bars. They are within the star class hotels of course.
They are as follows: Echelon (Hilton Colombo 1), Cheer (Cinnamon Grand), Inn On The Green (Galle Face Hotel), Union Bar (Hilton Residencies Colombo 2), Playtrix Sports Bar and Cafe ( CR and FC Grounds), The Score ( Kingsbury)
Other popularly known mid-range pubs are as follows: The Taphouse (Dutch Hospital Complex), The Floor By O! (Maitland Crescent), Shore By O ( Mount Lavinia)
If it is wished to enjoy a quiet drink in a half formal vibe – maybe with a live band or a piano player the most appropriate places are the lobby/lounges at the upmarket hotels.
Thorana Lounge at the Hilton, the Cinnamon Grand Lounge, and the Taj Samudra are options.
---

Colombo Nightlife and General Travel Warning Tips
Colombo City is the commercial capital in addition to being the largest city in Sri Lanka. Here are some warnings to have a safe journey here in Colombo city.
Generally speaking, no crimes are usually committed against tourists in Colombo city. Anyway, it is always advisable that you become cautious and take necessary precautions.
It is, of course, the best thing to ebb any kind of mishap from happening to you. Never walk on the streets alone at night and ladies are advised to keep the company of your friends if ever you happen to walk in the streets at night.
It is better if you do not keep your valuable things with you or show them off in public. Also do not tell strangers about your information too much.
If they ask money for a donation or some other so-called worthy cause just walk away, please.
---
Some thugs of politicians have no respect for ladies.
---
There have been a few incidents that have occurred in Colombo city and in some other tourist concentration venues outside Colombo.
In keeping with the cultural atmosphere nurtured by Buddhism, Hinduism, Islam and Christianity young boys do not have opportunities for easy access to sex in Sri Lanka.
---
If your western or white female travelers go to nightclubs the boys they might think they can sleep with you. This is indeed a completely wrong notion and wrong understanding of western culture and they lack a multicultural experience.
---
Colombo  Nightlife and Taxi Price Grouping
You find well-regulated taxis here in Colombo like in the US. They are to post their prices and issue a receipt if you ask for it.
Despite this normal practice, there could be some taxi drivers who might make an attempt to extort some bucks from you by gouging the taxi fare.
So be on your guard. If they overcharge you they may not give you a receipt. If the price seems to be exorbitant and they refuse to give you a receipt you have the right to refuse to make the payment.
If there happen to be an argument do not blow hot and cold to call the police. Here, too there is a problem. You see the police are also highly corrupt.
---
Helpful People to Avoid.
You've gotta keep your bags and baggage close to you if not they will be loaded on a trolley and the person may attempt to charge you.
As you get off the train some people will offer to furnish you with information of cheap hotels.
Never ever fall prey to their tricks. Do keep to your original schedule or get the assistance of your guidebook.
At the same time if you are asked to make a payment to the person from who you have asked for directions disregard it and just walk away.
After all, you could say he might furnish you with false information and might try to take you for a ride.
---
Best Time To Travel to Sri Lanka Colombo City. 
The monsoon season is from November to March. In central Colombo, you may be into swimming before you go.
There are strong rip currents as the sewer water flows through here. The corals in the water may injure you. To save your feet wear shoes, fins or even reef shoes.
As you know travellerhints.com has always been of great help to you when it comes to the provision of travel information.
The information provided here will definitely help you to explore the nightlife and enjoy the Colombo nightlife fun in Colombo city.
Do stick to our advice. Haunt the recommended places. Delve into the realm of nightlife fun fraught with its drinks cuisine dancing and clubbing.
Many a location mentioned here is of excellent quality and they are filled with beautiful opportunities of great revelry.
Some may give you carousels. Your spending will be well rewarded in these pubs, clubs, and bars and your luck should also be tested in its casinos for gaming.
Come here to Colombo City. Experience the great nightlife fun. A nightlife which is a symbiosis of the east and the west. Yes, Colombo Nightlife and its nightlife fun in its truest form and in multiple aspects!
More Travel Blog Here
Colombo Nightlife on Google Map Here