Last updated on November 3rd, 2018 at 02:31 pm
Hikkaduwa – golden rays of sun reflecting on the endless water surface.. a place where the party easily never stops and drums will walk you through the dawn.. Hikkaduwa is a unique and wonderful place for every young party traveller.
There are many ways how to travel. You might want to see all the highlights and historical sites, you might want to try all the food, you might want spend your holiday on a pristine beach and have everything taken care of..
OR you might be one of those people who want to spend some of the best time of their lives partying at a terrific location with the sunshine above and ocean waves in the background.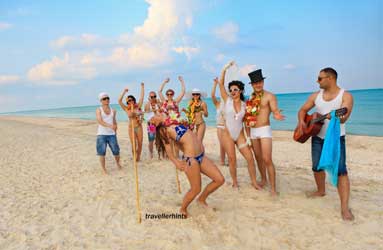 This way of travelling is typical for young groups of friends who want to enjoy their time doing some crazy things which usually include drinking, chilling wherever possible, making some adventure trips or even smoking weed, yet still keeping the budget low.
For that, there are some ideal destinations around the world. And Hikkaduwa is definitely one of them!
---
Best Tour in Sri Lanka & Car Rent Here
---
Hikkaduwa – Where the Party Never Ends
One of the most popular sunshine towns in Sri Lanka with infinite parties, incredible music, superior beaches and frothy ocean waves perfectly made for surfing – that is Hikkaduwa, Sri Lanka's finest party destination.
The lively town of Hikkaduwa has risen over the years from the budget backpackers' place to a top destination with a hippie charm and unique possibilities.
There is plenty of accommodation options, bars, restaurants and shops and thanks to the right amount of tourists (not too much and not empty either), the city is kept busy and fresh all the time.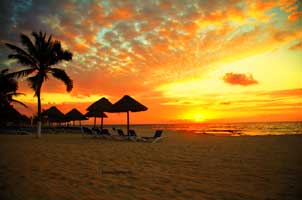 Villa rental places
Going private and enjoying to the fullest, you can always decide to go for a villa rental. There is several villas and vacation rentals in Hikkaduwa, including for example the Banana Leaf apartments, where you can rent a beautiful house with many rooms, bathrooms and facilities just for yourself, all only a short walk or motorbike ride to the beach.
To make things easier & struggle free and also to allow yourself to still stick to the budget, it is recommended to book only one or two nights online from one of the cheap accommodation options in advance before you leave your home soil.
The rest of the nights for your stay would be then easier to book directly on the spot – that makes the bargaining possible and the budget even more pleasant, as locals will gladly recommend.

Hikkaduwa Night life!
In terms of music which will get deep inside your bones and parties lasting till dawn, there is several places you can chose from in Hikkaduwa.
All of those will surely make your holiday an unforgettable and infinite party experience.
Best Nightlife – Vibration
Vibration is a music bar and a place to go on Friday night. Considered to be the best club in Hikkaduwa, especially all lovers of electronic music will feel like they found their heaven.
Best Nightlife Party – Top Secret
The Top Secret bar, beach restaurant (and also a guest house) in Hikkaduwa is also one of the places not to be missed.
Despite its name, it's no secret that To Secret has a perfect chill ambience, quirky look with hammocks and cushions all around and, mainly, plenty of irresistible drinks.    
Nightlife Party – Mambo's
Incomparable vibes, superb surfing conditions and party twentyfour-seven, that is what you will find in Mambo's.
Although Mambo's hotel is a place with great rooms with ocean views, you will hardly ever get a chance to sleep.
The Beach party at Mambo's beach bar is way too famous for that. As a drawback of Mambo's, the local beach boys can be sometimes better to avoid, especially if you are a young female solo traveller, unless you want to get in trouble or simply become one of many girls who had been fooled by the charm of those surfer boys.
Golden Sand Beach Hotel 
Looking for the best place for cocktails in the area? You have found it! Apart from cozy seating, laid back and chill atmosphere and wonderful ocean views from the terrace, the sunset happy hour cocktails selection will make you want to stay long after the sun disappeared from the horizon.
Nightlife Beach Party – FUNKY DE BAR
THURSDAY NIGHT BEACH PARTY
The most  funkiest place in town to have from sunset to sunrise!
This Bar not only gives you the best chance to enjoy your Thursday nights but is also the most enjoyable Night out place during the week.
Also, Popular among females travellers to get hook up with local Sri Lankan Boys.
Best Nightlife –  LONG BEACH SURF CAFE
MONDAY NIGHT BEACH PARTY
This lounge & Bar is the most ideal way to spend a Monday nightlife out and have sexy beach party.
The Organisers surely do know how to whip up an amazing concoction for Travellers to sip on while enjoying the amazing view of South West coast Indian ocean. 
 Another little party town in South of Sri Lanka Unawatuna!
Just  36 KM from Hikkkaduwa town centre to Unawatuna beach. Since many years this night life paradise  has a special meaning in Sri Lanka.
 There is a growing number of beach bars every year providing extraordinary night life experience to both local and international party crowds, especially thanks to the latest dance floor music and never ending parties going from sunset till sunrise.
Since many years Unawatuna nightlife has been successfully competing with the big beach clubs in Hikkaduwa   and it getting bigger just after Sri Lankan war end by 201.
 now the beach has been brought back, so that some great parties can be expected for the 2016 / 2017 holiday season.
The most popular party places are Jungle beach, Happy Banana, Kingfisher, Lucky Tuna Beach and   Comaran Beach Club.
Not for everyone
It might not be for everyone, but Hikkaduwa is also a bit of a sin city, offering various temptations which are not always alright according to the law..
Nightlife – Weed
If you want to get a bit stoned, look for beach boys and bar people. Those are the ones with interesting offers and prices ($ 20 / 1g).
However, keep in mind that weed is illegal in Sri Lanka so it can be found on the black market only. All at your own risk.
Nightlife – Hookers
The special company, if demanded, can be arranged as well. For more information try to get in conversation with local tuke tuke drivers who can tell you more.
Again though, This is an illegal activity and sometimes, the business can be even set-up, so be careful!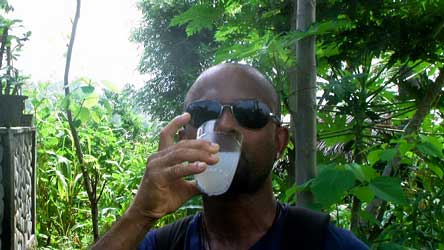 Arak
Arak is a delicious invention and one of the best ways to get the alcohol flowing in your veins. The local alcoholic treasure Arak is made of coconut palm sap and its distillation results into a signature Sri Lanka's spirit of a unique taste and colour.
Although, the business with Arak can get tricky as locals sometimes endeavour to save money and use metals, batteries, fertilizers (urea – nitrogen sulfide)  or a dangerous combination of chemicals during the process of distillations which are highly harmful to your health.
Therefore, buy Arak only at safe and trusted places and check the etiquette while purchasing a bottle – again, beach boys and locals will help you.
The slightly fermented coconut sap is also drinkable itself, in a form of mildly alcoholic wine, which is a cheap and tasty alternative to Arak.
Transportation
If you need to transport within or around Hikkaduwa, there is always a possibility of a three wheel rental.
It is a cheap, yet not really the safest option.  While going for this option, it is recommended to hire a local driver as well. Better safe than sorry.
For the transportation to the Commercial  capital city of Colombo, the easiest way is taking a train. You can find a little bit about activities in Colombo below.  
Activities
While in Hikkaduwa, there is almost countless number of various activities and things to do. To have a sufficient time to try at least a great portion of them, you should stay for a minimum of two weeks. But truth to be told, after two weeks, you'll wish you have had decided to stay much longer!
Thanks to the divine underwater life, diving and snorkeling are almost a must do while in Hikkaduwa. It is a sanctuary (Hikkaduwa National park) not only of stunning reefs and underwater caves, but also of many breathtaking shipwrecks.
Depending on the season, you can spot some exotic animals as well. Sharks / Blue whales / dolphins or turtles watching is a popular activity when you want to spend some time doing something undemanding.
Turtles are best seen starting in March or April, dolphins or whales start to appear from December onwards – till the end of the season in March/April.
Surfing is naturally the most popular and most enjoyed activity of them all. While local beach boys and experienced surfers enjoy the top class waves on reef breaks, the Hikkaduwa surf scene offers wide range of waves perfectly crafted for beginners as well.
Best waves arrive after the New Year and grow steadily till April, which is considered the end of the season.
For complete beginners, there are several surfing schools available as well, so that nothing keeps you from enjoying this place to the fullest.
Another favourite thing to do is simply packing a backpack with some essentials and spending a day in the capital of Colombo.
The city is only about two hours away by train (cca 120 km) and, apart from sightseeing, offers perfect shopping opportunities.
Some of the superior shopping malls Colombo offers are for instance the first country's shopping complex – the iconic Liberty Plaza, Majestic City shopping complex in Bambalapitiya, the smaller Crescat Boulevard nearby Galle Road, premiere shops in the World Trade Center towers, the area around Fort Colombo – the Dutch Hospital Shopping Precinct and many, many more..
Another ideal day trip is a visit to the Hikkaduwa Marine National Park with more than 170 species of beautiful tropical reef fish and other exotic life, all inviting to a surreal diving adventure.
If you are up for having your own party or something smaller and cool, there is no easier way than renting a boat or getting a ticket to one of the sunset boat parties.
On the top of the above, you can also go fishing or kite surfing, or simply hiking in the nearby jungle and observing the surrounding.

Relaxation
In case you want to treat your body, there is a splendid opportunity to enjoy your time while having a special Ayurvedic massage treatment by locals or the relaxing beach massage.
Book your

Hostel Deal

Here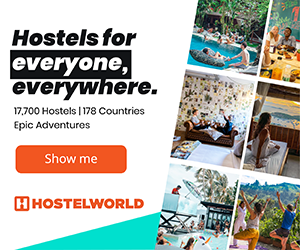 Last but not least, there is no better relax and chill than sunbathing on one of the white sand beaches while, eating tropical fruits, drinking the fresh and delicious coconut water.
More Nightlife Blogs Here