Last updated on March 8th, 2020 at 12:54 am
Boracay Island: it is located at the northwest corner of Panay Island, Province of Aklan, Philippines and belongs to the Western-Visayas island group. It is 315 km or 196 miles south of Manila. Administered by the provincial government of Aklan and the Philippine Tourism Authority.
The weather is generally divided into two seasonal patterns, Habagat which means a hot southwest wind and Amihan which is a cool northeast wind. Boracay Island is one of the most famous and one of the world's top destinations for relaxation.
It is popular for its powdery white sand beach, it's picturesque and visually attractive sunsets, vivid nightlife andcolourfull dive sites.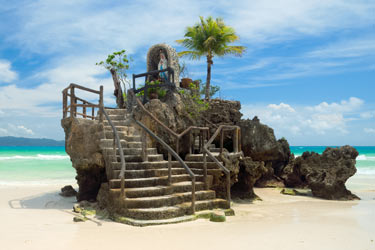 There are things and activities in this island that will make you fall in love. Some of them are water sports, among these are the Jetski, Banana boat, Parasailing, Fly fish, Paddle boarding, Kayaking and more.
The Magic Island is a heaven for cliff divers. With just 10 minutes away from the beach, the entrance fee is only $3.35 where you can enjoy the thrill of their platforms into the open sea. Or if you are a mermaid fanatic, you can take a lesson and wear a full costume mermaid that are made in colorful designs. Both women and men can wear this mermaid suit and take a glamorous picture under the sea.
The Party! Because it is 24/7, yes! This island never sleep. There are plenty of bars that you can choose from, the Cocomangas Shooters Bar, Epic Boracay, Juice Bar, Club Paraw and more.
Book Boracay Island best hostels here 
Experience the less crowded Boracay at the Puka Beach and also known as Yakap Beach. It was named like this due to the abundance of Puka shells long time ago. This place is perfect for those who seek isolation and solitude.
Never leave without experiencing the best dining spots, the iconic Jonah's fruitshake and Chori Burger. There are more restaurants like Panama Restaurant, True Food Restaurant, and Aria Cucina Italiana.
At the end of the day, every individual at the beach catches their own pictures or snapshots of the settling sun, the Iconic Sunset in Boracay.
Boracay Island Hotels Here