Visit Lake Balinsasayao, most likely the best day-trip away from Dumaguete. It offers stunning views of Twin Lakes. It's a long and beautiful trail going up from the coast, and up into the mountains.
The dense forest is evergreen with spectacular views, eventually revealing Lake Balinsasayao and its twin lake Lake Danao.
Beautiful 

Twin Lakes Natural Park in the Philippines is approximately 8,000 hectares large. It is a part of the highly protected 133,000-hectare Geothermal forest Reserve managed by the PNOC.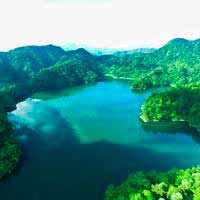 Some of the main features are Lakes Balinsasayao and Danao, contained in adjacent calderas 1,000 meters above sea level and separated by a ridge 20 meters in width.
Both lakes are completely surrounded by tropical rainforest and lush vegetation of about 3,462 hectares spread over the spectacular Guintabon, Kabalin-an and Guinsayawan mountain ranges. Those serve as protection for the lakes. The larger lake is Balinsasayao and has a surface area covering about 76.25 hectares, Danao has about 30 hectares of entire surface. 
It is one of the assets of Visayas island of Philippines found in the town of Sibulan, Negros Oriental. The Lake is very near at Dumaguete. You can ride a bus that is a 20 minutes ride to reach the place but if you are planning to ride a motorbike it takes 40 minutes to travel. Upon your arrival, you need to pay the entrance fee in the registration office.
These Lakes offer a wide range of different activities such as mountain trekking, bird watching, swimming, sightseeing and the paddle boating.
If you are thinking what the other lake is like: it is called Lake Danao and it is located on the other side of the mountain. Going to Lake Danao you can rent a paddle or trek. And when you reach there you will notice that this lake is much smaller than Lake Balinsasayao.
Take note that this lake is 200 feet deep so if you are not a good swimmer make sure you have a life jacket with you.
Lake Balinsasayao Hotels Booking Here