Calaguas Island, with its tranquil environment, blue skies, white sands and turquoise water, you would certainly agree that this is a little piece of paradise. In fact, it is just recently when it gained popularity because of its incomparability.
This is aside from the fact that you are totally disconnected from the world and there is no mobile signal or is very weak to almost zero. This is what makes the trip to Calaguas very unique and a totally different experience.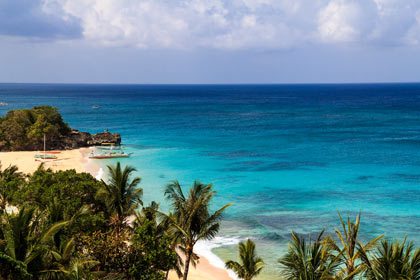 Calaguas Island is located in Vinzons, Camarines Norte. If your trip to Calaguas Island is DIY, then going there you have to take a plane bound for Pili Airport or commonly known as Naga Airport.
The airport is located in Pili which is 20 minutes away from Naga City. Take a van in Naga City going to Daet. Travel time is around 2 hours.
Upon reaching Daet, you need to take a jeepney again going to Paracale or Vinzons which is both a gateway in going to Calaguas. From Paracale, you need to rent a boat which will take you to Calaguas.
Be warned that crossing the sea may give you a bumpy ride. It would be safe to put your gadgets in a sealed plastic bag.
Upon arrival in Calaguas, you can talk to the locals or the boatman for your needs, they would certainly help you. You could rent cottages or tent at a certain price.
There are also stores on the island which could cater to some of your needs. The island is without electricity, no private resorts, no restaurants, shower or any convenience and luxury other islands offer.
There is an improvised comfort room on the island which is decent enough. However, for every trip to the toilet you have to fetch water from a deep well.
If you don't want to go through the hassle of a DIY trip to Calaguas Islands, the best to do is to contact a travel agency.
There are several agencies offering a trip to Calaguas Island.
They would arrange almost everything for you, from setting up the campsite and tent to cooking your meals and you can even ask them to build a bonfire for you.
Usually, the package tour includes boat transfers, meals (amount depends on how long your stay is), environmental fees, use of tent and kayaks. Environmental fees are very minimal, the fee is being used to maintain the cleanliness of the island.
Apart from swimming and kayaking, other activities you could enjoy are the snorkelling and island hopping and even scuba diving. For divers, make sure you have your equipment with you as there is no establishment where you could rent. Make the most of your stay by just enjoying the beach.
Swim, be free. Whether you are travelling alone or with a company, enjoy the nature at its best. After all, waking up to the sound of gentle waves crashing to the shore and feeling ocean breeze is such a lovely treat.