There is only one piece of advice to be mentioned – never judge a cocktail by its name because the more original or ridiculous it might sound, the more it usually surprises you eventually. Here are the sexiest and most encouraging cocktails and shots every traveler should try out to make at least once in their life:
 Wet Pussy Cocktail
Wet Pussy Cocktail is a popular and easy-to-make creamy cocktail with a pleasant sweet taste, and smooth texture served in a tall glass. It has a very interesting name, and the cocktail itself is often mistaken for the Wet Pussy Shot, which, however, has a different recipe.
1 oz Raspberry Liqueur or Chambord
1 oz Irish Cream
6 oz Milk or Cream (for even better creaminess)

1 oz peach Liqueur
Mix all ingredients with ice in a cocktail shaker, then serve in a Tumbler.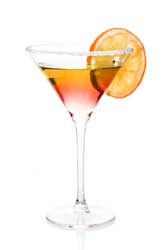 It is indisputably one of the most popular and probably most-known cocktails worldwide. Many variations of this flawless Cocktail recipe differ slightly, though the essential ingredients creating the perfect combination for this summer drink remain the same. This cocktail keeps winning the hearts of many thanks to its tropical taste, which is not too sweet neither too robust for everybody to enjoy.. simply just right to stand for its name.
1 oz Vodka
0.5 oz Peach Schnapps
2 oz Orange (or Pineapple) Juice
2 oz Cranberry Juice
Orange Slice for garnish
lime Juice 1 oz
Build vodka and peach schnapps over ice in a highball glass, fill with orange and cranberry juice, stir, and garnish with a fresh slice before serving.
Fresh Blood Vampire's Cocktail
This thick, sweet, potent cocktail is very popular, especially among girls, and is perfect for every Halloween party. The cocktails are served with a dripping blood effect on the glass to make it even more fun and authentic to its name.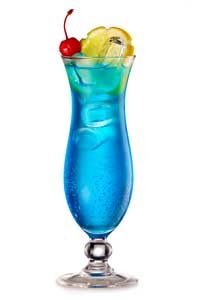 2 oz Vodka
0.5 oz Champagne
0.75 oz Raspberry Liqueur or Chambord Liqueur
Red Sugar or Red Sugar Syrup (thick) for garnish

Blackberry syrup is very on the top

 
Rim the edge of the Martini glass with the sugar syrup for effect first, then slowly pour vodka and part of the raspberry liqueur. Then top up the champagne and, finally, the remaining amount of raspberry liqueur.
Katniss Cherry Kiss Cocktail:
The Hunger Games-themed cocktail brings a sweet and sour combination with a fruity cherry flavor. Ideal for hot summer evenings or a girl's night.
4-6 Cherries
1 oz Vodka
1 oz Lemon Juice
0.5 oz Sugar Syrup
Sparkling Water
oz

lime juice
Mix cherries with lemon juice and sugar syrup in a shaker, then add vodka, ice, and shake. Pour the liquid into a high cocktail glass and top it up with sparkling water. A sliced cherry can also be used as a garnish.
Tropical Muggy Oasis
 Tropical muggy Oasis is a colorful and fun cocktail inspired by Disney's Little Mermaid, which should not be missing from any summer party. The perfect combination of carefully chosen ingredients creates a sweet rainbow blast in a glass.
1 oz Blue Curacao
1/2 oz Peach Schnapps
1 oz Midori Melon Liqueur
1 oz Orange Juice
1 oz Pineapple Juice
1 oz Fruit Punch
1 oz (Bacardi) Mango Rum
1.5 oz passion fruit juice
1 oz (Bacardi) Dragonberry Ru
m1 oz Malibu Coconut Rum
1 oz Watermelon Vodka
Fresh Fruit for garnish (orange slice/strawberry/cherry)
Starting with Blue Curacao in order, slowly and cautiously pour each ingredient on top of each other into a cocktail glass (optionally filled with ice slush), creating colorful layers.
Marine Corps Hand Grenade
Marine Corps Hand Grenade is a specialty cocktail originally from New Orleans and on USS George Washington served on the iconic Bourbon Street. The taste is quite unique and definitely worth the hangover the next day, as claimed by everyone who has ever tried this delicious, sweet, and powerful treat.
1.5 oz Vodka
1.5 oz White Rum
1.6 oz Gin
1.5 oz Melon Liqueur
1.8oz Grain Alcohol
1 oz Sugar Syrup
Splash of Lemon and Lime Juice
1.3 oz Pineapple Juice
Mix all ingredients together with ice and serve in a tall glass. The original cocktail drink served in New Orleans licensed bars comes in hand grenade-shaped glass as it is their signature cocktail.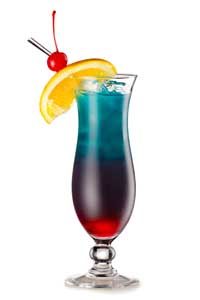 Sexy Blue Eyes Shot cocktail
Sexy Blue Eyes is a delicious shot with gradient blue color attracting everyone's attention. The excellent taste and unique look of Sexy Blue Eyes Shot will make you quickly forget how many of them you have actually had.
1 oz Clear Raspberry Vodka
1/2 oz Peach Schnapps
1/2 oz Lime or Lemon Juice
1/2 oz Blueberry Schnapps
1/2 oz Sugar Syrup
Mint leaves
Shake lime/lemon juice, peach schnapps, and raspberry vodka in a shaker together with ice. Pour into a shot glass and drizzle with a mixture of blueberry schnapps and sugar syrup for a gradient blue color.
Death on 69 Shot cocktail
Sweet and sexy shot with an encouraging name comes with a sweet and delicious taste, and it's surprisingly easy to prepare. This original shot will enrich every party and turn it into a fancy celebration of life.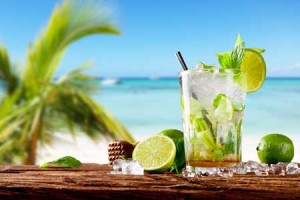 1.5 oz Vodka
0.5 oz Peach Liqueur
0.5 oz Almond Liqueur
0.5 oz Gin
0.5 oz Triple Sec
1 oz Peach Schnapps
1 splash of Orange Juice
1 splash of Cranberry Juice
cherry and mint.
Shake all ingredients in a half-filled shaker with ice and then serve in shot glasses.
Look Up Your CHEEP Hotel Deals Here
Written By Veronika Tomeckova