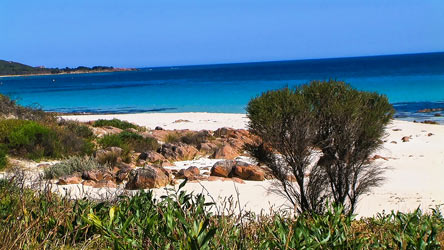 Located on Wilson Inlet in the Great Southern Region of Western Australia, Denmark is a small coastal town located 423 kilometres south of Perth.  
Denmark is an incredibly popular tourist destination that can have its population increase several times during the peak tourist season.
 With a wide array of activities, Denmark is the ideal family holiday destination.
  Denmark: What to Do
        Denmark boasts a variety of attractions for all ages.  Ranging from natural attractions like beaches to the arts, to farms to museums, there is something for everything at Denmark.
First and foremost, as you might expect from a coastal town, are the beaches.
Denmark is home to 100 kilometres of stunning coastline ranging from expansive sandy beaches, rocky coastline, there are a number of wonderful sports along the coast.
Here is a quick rundown of all the wonderful coastal areas in Denmark:
1)   Peaceful Bay: Peaceful Bay is a picturesque sheltered bay that is ideal for swimming and fishing.  There is also a wonderful walk on the Bibbulmun Trail to Point Irwin.
2)   Ocean Beach: Quite simply, Denmark's premier surf spot.
3)

  

Wilson Head: The best location to for whale watching Wilson Head is filled with lookouts and viewing platforms.  Excellent place to view the Nullaki Cliffs from the Lions Lookout.
4)   Lights Beach: Denmark's best fishing location.  And excellent place to catch salmon, herring, and bream.  Visitors can take the Bibbulmun Track for excellent views.
5)   Denmark River: While not an ocean coastline, the Denmark River is lined with karri trees and is a wonderful place to enjoy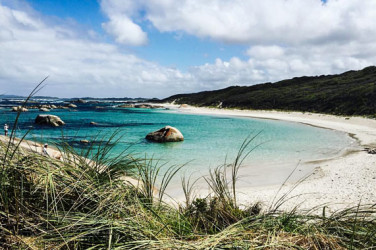 a leisurely kayak journey.
6)   Wilson Inlet: At over 20 kilometres long, Wilson Inlet is the largest inlet on the southern coastline.  Excellent place for boating and fishing.
7)   Walpole and Nornalup Inlets Marine Park: This series of interlinked inlets is surrounded by National Parks.
This is an excellent place for canoeing, boating, recreational fishing, and a variety of other water-based activities.
8)   Greens Pool: This large sheltered rock pool is Denmark's best beach.  It is the ideal location for swimming and snorkeling.
9)

  

Elephant Rocks: These large elephant shaped boulders are Denmark's most iconic attraction.
10)   Madfish Bay: This bay, which gets its name from the jumping fish that live in the area, is particularly beautiful at high tide.
11)   Waterfall Beach: This beach has a waterfall at one end that makes for a particularly relaxing natural shower.
12)  Nullaki Peninsula: A beautiful rugged landscape of giant sand and limestone cliffs.  And excellent place for birdwatching and for beachside walks.
13) 

Anvil Beach: The perfect spot for swimming and snorkeling.
14) Parry Beach: Denmark's favorite camping spot.  Also a great spot for fishing.
15)  Boat Harbour: Accessible by 4WD only, this sheltered bay has a beautiful granite coastline.  Visitors can enjoy a 4WD eco-tour as well as visit the amazing limestone sculptures.
16)   Conspicuous Cliff: Good for whale watching, fishing, and surfing, but not suitable for swimming.  The boardwalk is great for walking.
17)  Frankland River: A river lined with karri and tingle trees that is a great place for kayaking.
18)

 

Shelly Beach:

A crescent shaped beach covered in tiny shells.  Great place for bushwalking, four-wheel-driving, fishing, and rock climbing.
19)   Cosy Corner Beach: The pristine white beaches here are great for swimming, fishing, camping, and picnicking.
20)   Lowlands Beach: Excellent for dolphin spotting, surfing, fishing, and whale watching.
The beaches aren't the only natural attractions in Denmark.
The area is surrounded by native woodland that includes not only a large variety of trees, including eucalypts, marri, karri, Jarrah, and red tingle, as well as many indigenous bird and other wildlife species.
Among the birds, are the fairy-wren, emus, Australian white ibis, Australian magpies, and Australian ringnecks.  Additionally, visitors can see the western grey kangaroo, the southern brown bandicoot, and common bushtail possums.
 The walking tracks through this forestland makes for a wonderful way for visitors to enjoy the native wildlife.  There are around 16 different walking trails in Denmark, including the famous Bibbulmun Track, which passes through the area.
These trails range from challenging to easy with coastal views or just passing through forestland.  Denmark certainly has a trail for anyone.
Additionally, the Tree Top Walk in the Valley of the Giants provides a fascinating perspective of the forest.  Visitors can walk though the forest canopy, 40 metres above ground.
This is an excellent way to take in the beautiful Walpole Wilderness as well as really appreciate how tall the native tingle trees are!
        Beyond these natural attractions, Denmark has a variety of different activities for all ages.
There are a number of farms, bakeries, chocolatiers, and other good producers in the area that are open for visitors to check out how these wonderful local products are created.
Obviously you can pick up a few treats for yourself as well.
There are also a number of attractions that the children are sure to like, including Dinosaur World, an alpaca farm where guests can interact and pet the alpacas, and the Denmark Maze, which is a bush maze that is a popular attraction for families.
        If you are looking for a little more indulgence in your holiday, then Denmark has that as well.
The town is filled with wonderful boutique shops selling everything from clothes to gifts and souvenirs, to food shops selling local artisan food products.
Additionally, Denmark sits in the middle of the Great Southern wine producing region, which has gained international recognition for its wines.  
Wines from Denmark can regularly be found on the menus of Michelin Star winning restaurants all around the world.  As such, visitors to Denmark will find a variety of wonderful wines and tasting rooms in the town that allow them to try some of the world's best wines.
If wine isn't your thing, there are a number of producers of mead, port, and a variety of excellent breweries as well.  Whether you are just a foodie looking for a culinary holiday, or are looking for a good meal and a drink at the end of a long day enjoying Denmark's plentiful natural resources, you are sure to enjoy the food and wine on offer in Denmark.        
Denmark:Where to Stay
        Denmark is home to a wide variety of holiday accommodation.  With hotels, motels, caravan parks, campgrounds, bed and breakfasts, self-contained holiday houses and apartments, and even farmstays available, there is sure to be something that will suit your budget as well as your taste.    
How to Get There
        Denmark is very easily accessible and visitors have a variety of options as they make their decision regarding how to get to the area.
Denmark can be accessed by car, it is about a four-and-a-half hour drive from Perth via the Albany Highway.  If you want a more scenic drive, but also slower, then try the South West Highway.
Denmark is only a 30 minute drive from Albany, 45 minutes from Walpole, two-hours and fifteen-minutes from Pemberton, 4 hours from Margaret River, 4 hours from Busselton, and 6 hours from Esperance.
       

Visitors can also travel by bus or train.  Daily Transwa bus services are available between Denmark and Perth.
Travellers taking this route can also chose a transfer to the Australind rail service between Bunbury and Perth.
        If you are travelling by air, there are regular flights between Perth and Albany.  The flight only takes one hour.  While there is an airstrip in Denmark, it only accommodates charter flights.