Esperance is a town in the Goldfields-Esperance Region of Western Australia.  Situated on the coast of the Southern Ocean, around 720 kilometres southeast of the Western Australian capital of Perth, the European history of the area surrounding Esperance dates all the way back to 1627.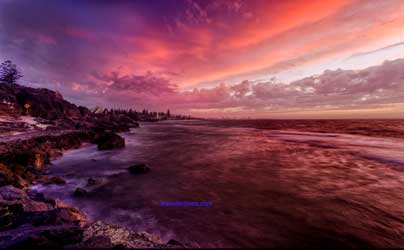 French explorers were credited with making the first landfall in the present day location of the town in 1792, which lead a number of other Europeans to come to the area to utilize the free land and the area's proximity to the gold fields just north for their various interests.
Esperance is also noteworthy for having had pieces of the failed Skylab space station fall in the area after its disastrous disintegration over the Indian Ocean.
Now, the town is primarily dependent on tourism with its many beaches, salt lakes, and offshore islands drawing throngs of visitors each year.
Esperance – What to Do
        Esperance is truly a beach and nature lover's dream.  The area is filled with pristine beaches, stunning turquoise water, and a number of untouched islands located just offshore.
The area is home to Lucky Bay, notorious for being Australia's whitest beach, where visitors can lounge on the beautiful white sand with kangaroos, who also often visit the beach to lay in the sand.
Blue Haven Beach and Twilight Cove, both located just a short drive from town, are also fantastic beaches.
Both are great for swimming and snorkeling and boast calm, crystal clear, warm water.  Many of the locals will also say the lagoon just east of West Beach is also a fantastic spot for snorkeling.
This spot is lesser known and therefore can be less busy than other snorkeling destinations in the area.
        Esperance also offers wonderful surfing.  West Beach, Fourth Beach, and Observatory Beach are all home to great surfing conditions and are very popular spots for surfers in the area.  In fact, Esperance is home to the Cyclops Wave, which is head to be the world's heaviest wave.
The Cyclops has massive amounts of water crashing down on a shallow reef, making it also quite a dangerous location.  However, that hasn't stopped world-class professional surfers from tacking the wave, with the Cyclops having been featured in multiple surfing films, including Billabong Odyssey, and the Bra Boys documentary.
Perhaps one of the most unique attractions in the area is Pink Lake.
This salt lake is about 3 kilometres west of Esperance and at times, has a distinctive pink hue, from which it derives its name.
The color is the result of a balance between the green algae dunaliella salina and the halobacterium halobacteria cutirubrum.
When the salinity level becomes higher than that of sea water, the temperature gets high enough, and the light conditions are right, the algae begins to accumulate the red pigment beta carotene, thus giving the lake its pink hue.
It is a truly unique sight and certainly something worth checking out if the conditions are right when you are visiting Esperance.
        Another interesting and more out of the way nearby attraction is Woody Island.  Just offshore of Esperance, is the Recherche Archipelago, and of the 105 islands in that archipelago, Woody Island is the only one open to the public.
The island is home to an eco-tourism retreat where visitors can stay in elevated safari huts or camp in the campsites on the island.
The island itself is located 15 kilometres offshore of Esperance and is a 240-hectare A-Class Nature Reserve.  There is a ferry that will take you from Esperance to Woody Island in about 30 minutes.
Woody Island is the ideal spot for visitors looking for a holiday experience that will allow them to really get up close and personal with nature.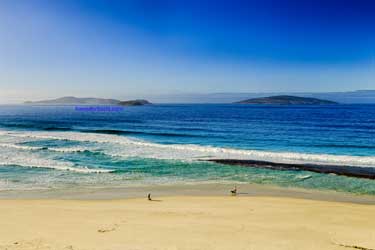 Back in Esperance itself, there are also a variety of attractions.
There are 4WD beaches safaris, Indigenous cultural tours, coach tours, island cruises around some of the other islands in the Recherche Archipelago, diving and fishing charters, abseiling, sand boarding, canoeing, mini golf, and steam train rides.
On top of all that, there are a number of galleries, and art centres featuring a variety of work from around the area.
There is also a museum where visitors can see what is left of Skylab.
Where to Stay
        Esperance has an excellent range of accommodation options.  Visitors will find their choice of hotels, motels, holiday apartment rentals, bed and breakfasts, chalets, and backpacker hostels available to them.
Of course, if you are looking for something a bit more private you could always spend a day or two at the eco-retreat on Woody Island!  
Likewise, there are campsites right on the beach at the spectacular Lucky Bay.  This campsite comes complete with hot showers, camp kitchens, and barbeques.
How to Get There
        Esperance is very easily accessible by a variety of modes of transport. The town has an airport, which is regularly serviced from Perth.
 It is only a one and a half hour flight from Perth to Esperance.  If you want to drive, it is a long, 8 hour trip, but there are sealed roads all the way.  Finally, there is daily coach service from Perth.