The third largest town in the Northern Territory of Australia, Alice Springs, or more affectionately referred to as, "the Alice," or, "Alice," is located in the geographic centre of the country.
The town straddles the Todd River, which is usually dry, and sits to the north of the MacDonnell Ranges.
The surrounding region is known as Central Australia, or the Red Centre, and is a particularly dry and arid environment with multiple deserts.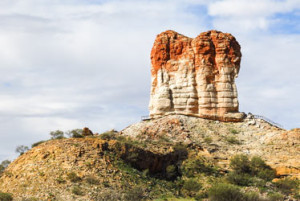 In this desert environment, the temperature can fluctuate drastically  with the average high in the summer reaching 35.6 degrees Celsius and the average low in the winter being 5.1 degrees Celsius.  
The area is a hub for aboriginal art, pioneer Australian history, and quirky outback events, such as the Henley-on-Todd Regatta (keep in mind the Todd River is often dry).  Unlike the majority of Australia's destinations, which provide tropical amenities, usually right on the ocean, Alice Springs is a desert paradise.
Alice Springs: What to Do
With a mix of Aboriginal and European colonial history and its role as the jumping off point for most Outback trips, Alice has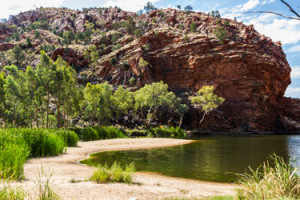 become a popular destination in recent years.
The town now has a fantastic arts scene, rich cultural life, and any number of things for visitors to do.
 As the home base for most Outback adventures, one of Alice's primary attractions is its proximity to the Outback.
 Perhaps the best way to explore the desert beauty that is the Outback, and truly appreciate its view, is to go on a helicopter tour.
 Alice Springs Helicopters offers wonderful tours of a variety of locations in the Red Centre, including the Outback, the West MacDonnell Ranges, Kings Canyon, and Uluru.  
The only way to really appreciate the true expanse of the outback is to take it all in from the air.
Once you have viewed it from above, come back down to earth and take it all in from the ground.  The area in and around Alice Springs is flat and perfect for walking.
There are a number of walking trails around the town that are perfect for getting a feel for the Red Centre while still staying close to civilization.
Walkers can trek to the historical Telegraph Station, which dates back to 1872.  Alternatively, you can hike the Larapinta Trail, which is considered one of the most challenging walks in the world.
Visitors can hike only portions of the trail should they not be up for the whole thing (and most aren't).  
The 10 kilometre stretch between Ormiston Gorge to Finke River is a popular shorter trek that can easily be completed in a day.
While on the trials, hikers are likely to see a variety of native animals, including the black-footed rock wallaby, and the western bowerbird.
If you want to take in a beautiful desert garden, walk to the Olive Pink Botanic Garden.  Located close to town, this garden is a beautiful hiking destination.
Likewise, if you like cycling, there are also cycling tracks in and around Alice.
There are over 15 kilometres of mountain bike track set against the West MacDonnell Ranges.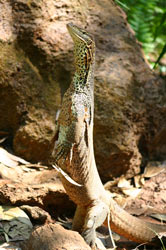 If hiking through the Outback sounds like a bit too much for you, then enjoy the spectacular desert views from the back of a camel.
 Prior to rail and roads, camels were the primary method of transport in Central Australia and visitors can still roll back the years and travel the area like the generations that came before on camel-back.
With a variety of camel tours, ranging from half day tours to only one hour sunset tours, visitors are sure to find their ideal camel-back tour should they want to.
        If you want to travel the Outback in a more modern form of ground transport, there are also full- and half-day 4WD tours from Alice.
These tours allow visitors to see a variety of desert attractions, including the West MacDonnell Ranges, Desert Park, Simpsons Gap, Standley Chasm, Uluru, Kings Canyon, and the rest of the MacDonnell Ranges.  All tours come with drivers, so you just have to sit back, enjoy the ride, and take it all in.     
Wildlife enthusiasts will also greatly enjoy the opportunities in Alice Springs.  The town is home ot the Alice Springs Reptile Centre.
This fantastic centre houses a variety of local desert reptiles, such as taipans, brown snakes, death adders, goannas, frilled-neck lizards, thorny devils, a saltwater crocodile named terry, pythons, and a number of other creatures.
If you want to see a slightly less deadly array of animals, go on a birdwatching trip in Alice Springs Desert Park.  The Central Australian landscape is home to over 180 species of bird, including many species of waterfowl, cockatoo, and pied butcherbirds.
 If it is the arts you want, visit the many galleries in Alice Springs and maybe pick up your own Aboriginal art.  Alice has a rich Aboriginal history and the area is a haven for wonderful Aboriginal art.
Muk Muk Fine Arts and Papunya Tula Artists are only a short walk from the Alice Springs city centre.
If you are really willing to make a trek to pick up your own beautiful piece of Aboriginal art, go to the Warlukurlangu Artists Aboriginal Corporation, located around 290 kilometres northwest of Alice.
If you aren't shopping but want to get an overview of the Aboriginal art scene in the area, head to the Araluen Arts Centre, located in the town, which features a variety of traveling exhibitions, craft displays, and live performances.
Of course a trip to the Red Centre wouldn't be completed without visiting the World Heritage listed Uluru.  One of Australia's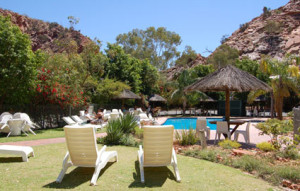 most iconic symbols, Uluru sits in the heart of Uluru-Kata Tjuta National Park in the Red Centre.
The area is rich in indigenous culture and history.  There are a variety of walking tours through the area where visitors can learn about the ancient traditions and stories from the Aboriginal Dreamtime.
Sunset and sunrise at Uluru are particularly magical times, with brilliant oranges, reds, purples, and pinks all melting together into one beautiful desert tapestry.  
The traditional custodians of Uluru, the Anangu, believe that this beautiful landscape was created by their ancestors at the beginning of time and as such, have been protecting these lands ever since.
Uluru carries a sacred importance for them and this Aboriginal spirituality can be found around every corner at Uluru.  The Uluru-Kata Tjuta Cultural Centre is a wonderful place for visitors to Uluru to start their trip.
Here they can lean more about the Anangu, take a dot-painting workshop from Aboriginal artists and learn about the Dreamtime.
Uluru is a truly breath-taking place, both due to the desolate, yet beautiful desert scenery, as well as for its spiritual importance.   
Accommodation
        As the home base for most Outback adventures, and a budding travel destination by itself, Alice Springs is home to a variety of different accommodation options.
The town has everything from upscale resorts to holiday caravan parks and campgrounds.
Whether you want a full-service luxury resort, or the independence of s self-contained holiday apartment rental, Alice has you covered.
The town is home to a number of four-and-a-half star accommodation options that are sure to please.
How to Get There
        There is an airport in Alice Springs that is serviced by all the Australian capital cities, with the exception of the nation's capital of Canberra.
The cheapest fares are generally to and from Sydney, Melbourne, and Adelaide.  However, the airport in Alice Springs is only serviced by one airline, Qantas, thus giving Qantas to charge a bit more than the normally might if they had competition in the area (many locals complain that  price of airfare in Alice Springs is exorbitantly expensive).
It is a three-hour flight from Sydney and a three and a half hours from Melbourne.  The airport is located around 10 minutes driving out of town and there are many airport shuttle services offered from the airport into town.  
Many hotels, motels, resorts, and backpacker's hostels will have their own shuttle service.
        Alice Springs is also accessible by road and you can drive all the way to Alice from Sydney, Melbourne, or Adelaide on sealed roads.
If you want a true Outback adventure, this is the way to do it due to Alice Spring's isolated location in the Outback, you will have to drive through large chunks of Central Australia and the Red Centre to reach it.
There is a lot to see along the way, which can make for additional sight-seeing moments along the way.
The downside is if you are driving from Sydney, Melbourne, or Adelaide, you will need to spend at least three full days driving in order to get to Alice.
Finally, Alice Springs is also serviced by the legendary Ghan train service.
This service only runs once a week during the summer months (other travel outlets will tell you otherwise, but it is only once per week).
The train travels between Adelaide and Darwin and is a wonderful way to see all the scenery along the way to Alice Springs without having to worry about driving yourself.
There are a number of train car classes on the Ghan, allowing you to make the journey in as much comfort as you would like, or that your budget will allow you to spend.  From Adelaide, the Ghan takes a little over 24 hours to reach Alice Springs.