Last updated on August 10th, 2017 at 04:14 am
Stunning panorama of the red sand desert with Kata Tjuta National Park heads on the horizon completes the outback experience and pushes natural beauty perception to a whole different level.
A jaw-dropping experience from exploring this giant sacred place in Aboriginal culture is guaranteed.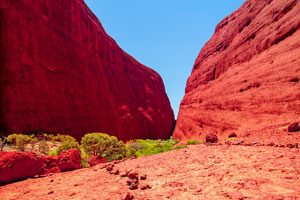 Kata Tjuta is also formerly known as The Olgas (or Mount Olga which is the tallest peak) named by the Australian Explorer Ernest Giles in 1872 after he spotted the formation.
This name was in honour of Queen Olga of Württemberg, from the Russian imperial family. Officially, as of 2002, the dual naming policy applies (similar to Uluru's name), keeping the order as "Kata Tjuta / Mount Olga".
Kata Tjuta is a massive group of ancient domed rock formations in the heart of Australia,
around 25 km east from the second major landmark Uluru, both within the Uluru-Kata Tjuta National Park. Kata Tjuta in traditional Aboriginal language means "many heads" and refers to its many peaks.
The formation containing 36 domes and covering an area of about 21.6 square kilometers is what has remained from the erosion dating back more than 500 million years.
The 36 rounded red rock masses are reaching up to 546 m above the ground (1066 m above the sea level) which is 200 m higher than Uluru and are extending even up to 6 km into the ground.
The sedimentary rock consist of granite-like chemical composition and the orange-red hue is caused by the surface oxidation creating glorious show especially during sunset dusk.
The sacred place to the Anangu (Indigenous) people is a figure to many legends about the time of creation, the Dreamtime. The Aboriginal people Anangu have inhabited the area for at least 22 000 years.
Each rock is believed to be connected with some of the Aboriginal legends' figures; for example the summit of Mount Olga is identified as the home of great Wanabi snake, who only comes down during the dry season.
Kata Tjuta  National Park:
 boulders are grouped closely together forming number of gorges,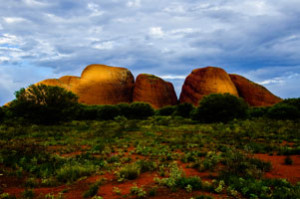 deep valleys and narrow slits. One of the favourite ways how to explore this significant landmark for tourists is the 7.4 km long hiking track, circling around several domes, leading through the Valley of the Winds and offering rewarding views such as the one from the Kalpa Lookout.
The second, shorter, walking track leading beneath one of the rocks into the Walpa Gorge is around 2.6 km long (return) and it's best to walk early in the morning or late afternoon.
For both hiking tracks, sturdy footwear and sufficient amount of water is recommended due to the high temperatures and varied terrain structure.
Same as Uluru, Kata Tjuta is easily accessible from the nearby Yalara town and the Ayers Rock Airport or the Alice Springs (via Stuart Highway), which is around 365 km northeast. The entry fee to the National Park is required.