Coogee Beach (pronounced as "could-gee") is a picturesque beach located in the beachside suburb of the same name, situated only 20 minutes far from Sydney's Business District by public transportation.
The name comes from the Aboriginal word "koojah", which means "smelly place", due to the appearance of seaweed within the area and the connected smell during the past.
Nowadays, thanks to the Randwick City Council, the beach is being properly cleaned and the perfect condition is maintained 365 days per year.
Coogee Beach: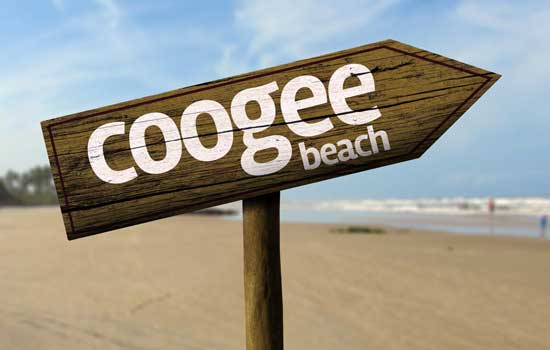 Coogee Beach belongs, together with Bondi Beach, to Sydney's most beautiful ones and serves as a perfect example of genuine Australian beach lifestyle.
Popular mostly for swimmers and surfers, the beach used to have an amusement pier (Coogee Pleasure Pier in English seaside style) which served as an attraction offering restaurant and a theatre.
Due to a strong surf in the area, the pier was later damaged and eventually in 1934 completely demolished.
Coogee is also an ideal place for snorkelling and scuba diving thanks to its protected marine reserve. At the northern end, there are stairs leading to a historical Giles Baths and an open rock pool (Dolphin Point area).
The southern end is a place of the famous and controversial women and children-only ocean pool (McIvers Baths) and Wyllie's Baths further south. Circa 800 metres offshore there is a small rocky island called Wedding Cake which shelters the beach.
The beach is also one of the main points of interest within the Sydney's famous Coastal Walk stretching all the way from Bondi to Maroubra Beach.
The surrounding is a wonderful combination of historic buildings with plenty of lovely cafes and restaurants and green areas with picnic and barbecue spots, offering number of spectacular panoramic view over the entire beachside suburb and, indeed, the endless ocean horizon.
Coogee is also a venue for several events during the year including the Coogee Arts Festival, the Annual Coogee Family Fun Day or The Island Challenge which is a popular annual swimming competition involving swim around the Wedding Cake Island.