Many Spectacular Scuba Diving Locations  Around the world  
Diving deep into the oceans of Second Life and explore an exciting underwater marine world filled with wonder & excitements. Here is the best SCUBA DIVE Locations information for divers   
Head to an underwater wonderland, where the anti-gravity of the currents will float you away, while you take in all the natural beauty the ocean has to offer.
The ocean is different every place you go, every time, but it always promises adventure, excitement, beauty. Thanks to the high tech scuba equipment that allows you to breath underwater and move without restrictions, you can literally immerse yourself into a new world, and have the adventure of a lifetime.
Below are ocean dive spots that have been rated among the Top 10 diving spots in the world.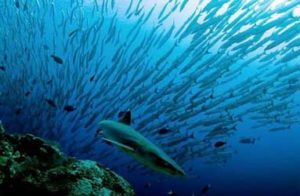 Best Diving Locations – 1 Barracuda Point – Sipadan Islands
Hidden on Sipadan Island, located off the East Coast of Malaysia, Barracuda Point is a popular site among divers; and like the name suggests, it is famous for the thousands of Barracuda shoal that inhabit the waters.
While this one of a kind experience is what gets people's attention, it's not all that Barracuda Point has to offer.
You'll also be captivated by the dozens of turtles, schools of white tip sharks, batfish, and anything from nudibranchs to hammerhead sharks.
Your dive will start off descending deep along the sheer wall, looking out for pelagics.
Dive deeper to 22m where the current will bring you to the famous Barracuda Point where you'll get up close and personal with the schools of thousands of barracuda.
You then finish the dive in the shallows of the coral garden where you'll meet some fishy friends and get to take in the colourful beauty of the different types of coral and marine life.
If you want to get up close and personal with the friendly creatures that live beneath the ocean, then diving Barracuda Point is definitely for you!
More Information & Booking On Sipadan Island DIVING Click Here 
Sipadan island Diving Holiday Resort dive centre offers some of the most spectacular scuba  dives for travellers. Dive reefs  such as 
Barracuda Point is ranked amongst the best 5 dive sites in the world for fun divers.  
South Point is famous for its spectacular  wall of colourful coral formations and pelagics such as manta rays and hammerhead sharks. Best time to dive early morning sunrise.
Turtle Cavern is one of the highlights diving site of Sipadan island thanks to Island incredible geological formations and turtle skeletons.
West Ridge is great for black corals, colourful fish, turtles and groupers etc. Good for marine biology, snorkeling, free diving, underwater photography, wall dives, sharks.
Lobster Wall is arguably Mabul's best dive site. One of the best sites in Mabul, this deep open water wall and reef dive with depths from 25 to 40m.
Froggy Lair is famous for macro and critter photography. This is the best site for muck and macro diving enthusiasts, it's a nice drift dive just off the edge of the islands jetty with depths from 5 to 10m,
Seaventure Platform is a world of wonderful muck diving and lies under the metallic platform of a converted oil rig.
Paradise 1 and Paradise 2 are excellent sunset and night dive spots famous for their mandarinfish mating. Depth: 5-10 metres
Best Diving Locations – 2 Blue Corner Wall – Palau, Micronesia
The picture perfect island just above Indonesia promises the most vivid scenery with white beaches, and crystal clear water that's bustling with marine life, reef walls, and healthy, colourful reefs that are perfect for scuba diving and snorkelling alike.
You'll also get the chance to make friends with up to 13 different species of sharks circling just below the plummeting reef wall.
Another sight that sets Blue Corner Wall apart from the rest is the World War 2 wrecks and history that's hidden below and on the shore.
Venture through the striking coral reefs to explore the ship and plane wrecks that are covered in plankton and algae, but still provide a glimpse into the past and make for an exciting and beautiful diving experience.
Blue Corner Wall is perfect for interactions with large animals, advanced divers and underwater photography.
Best Scuba Diving Location – 3 The Yongala – Australia
Located on the world famous Great Barrier Reef in Queensland, Australia, The Yongala boasts an abundance of beautiful coral reefs and marine life that are sure to take any divers breath away.
It is also the wreckage site of the historica SS Yongala, a passenger ship that sunk in 1911.
Today, the wreck sits 30m below the surface and is home to a wealth of marine life such as sharks, turtles, sea snakes and incredible coral that is growing around it.
While this is the most famous of the wrecks that the reef holds, it is not the only. You can also explore The Lady Bowen wreck,  and The SS Gothenburg.
Take your dive experience to the next level with a night dive on the Wheeler Reef where you'll get to experience the underwater world in a whole new light.

The Yongala dive is not suitable for inexperienced divers, and a minimum of 5 ocean dives in the last 12 months is required, or a wreck orientation must be completed; but the sights this dive spot promises to deliver are definitely worth the effort!
Thistlegorm 4 – The Egyptian Red Sea
Thistlegorm was an armed British merchant Navy ship that was built in 1940, tragically sunk in the middle of the Egyptian Red Sea on October of 1941 due to bombing from the Germans during World War 2, and today is the second best dive site in the world and with good reason!
Not only will you be immersed in rich history, with a lot of the cargo and weapons of the wreck mummified in coral and plankton for you to explore and discover, but common inhabitants you're sure to encounter include tuna, barracuda, batfish, moray eels, lionfish, stonefish, crocodile fish, scorpion fish and sea turtles.
Although this wreck is the second best dive site in the world, it may not be here much longer thanks to the rust it has caused it to slowly disintegrate; so it should definitely be at the top of diving list! But be warned, the 30m depths and long bottom times Thistlegorm is not for the inexperienced diver.
Shark and Yolanda Reef – 5 Scuba Diving info – Egyptian Red Sea
In the most southerly and deepest section of the Ras Muhammad National Park in the Sinai Peninsula of Egypt is Shark Reef  – a vertical wall dropping a spectacular 800m/2624ft, and the Yolanda Reef, a wide plateau with a stunning coral garden with masses of pinnacles dawned in fish and coral.
In-between the Yolanda Reef and the National Parks main reef lies the wreckage site of The Yolanda (Jolanda), a South-African owned shipped that was used as a cargo ship to transport bathroom supplies but got stuck on the reef during a storm in the 1980's.

What could now be described as a lavatory gravesite has become a popular diving spot among divers and marine life alike.
With water temperatures ranging from 22 and 28 degrees celsius (71 and 82 degrees fahrenheit), most of the year you can find scorpion fish, crocodile fish and groupers, turtles tuna and huge morays that enjoy the rollercoaster type currents, with the occasional shark dropping in for a visit. These reefs should certainly be on every diver's bucket list!  
Great Blue Hole Scuba Diving- 6 Belize
On Discovery Channels list of "The 10 Most Amazing Places on Earth" this giant, 300m/984ft wide and 108m/354ft  submarine sinkhole is a spectacular site from the sea and the sky.
Located 70km off the coast of Belize City, the 15,000 year old underwater cave is home to some incredible stalactite formations, and an abundance of midnight parrotfish, caribbean reef sharks, and other juvenile fish species.
Unlike a lot of other dive spots on this list, this cave isn't your typical colourful coral reef like the water that surrounds it; it's beautiful crystal clear water can become dark mystifying and is definitely one for the bucket list – but due to it's unique nature, only experienced divers with a minimum of 24 previous dives can venture the Great Blue Hole.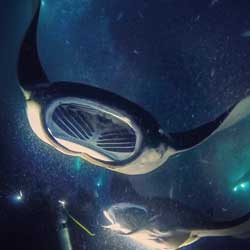 Manta Ray Night Dive 7 – Kailua Kona, Hawaii
Get out of your comfort zone and dive into the dark night waters of Kailua Kona and get up close and personal with some gentle giants; the Manta Ray.
With a wingspan of up to 6m/20ft, settling 10m/35ft down on the ocean floor and equipped with big dive lights, you'll become surrounded by the biggest fish in the sea while they feed off plankton and possibly even.
The Hawaiian waters are also home to other marine life, such as tiny eels, sea turtles and a variety of different fish species.
Although the Manta Rays will be the highlight of your drive, they're not the only thing to experience on the night dive. You'll also get a chance to explore the vibrant reefs, cavernous lava tubes, and amazing drop offs.
You'll also get to enjoy a sunset view and snack on the boat ride out before your big dive; as if Hawaii couldn't get any better.
Exmouth is a small resort town on Western Australia's North West Cape, and is also home to the Ningaloo Reef, a World Heritage Site, and one of the most beautiful, colourful and lively reefs in the Southern Hemisphere.
It is well known among divers for being the best place to have a close encounter with the majestic Whale Sharks, but it is also an underwater oasis for hundreds of marine species that have gravitated towards the Navy Pier, a 30m/98ft long pier that was used to service navy ships from time to time.
Thanks to it's 'no fishing' rule, this dive site is rated in the top 'must-do' shore dives in the world due to its incredible biodiversity and untarnished coral reefs that are any photographers or adventure seekers dream!
Liberty Scuba Diving Location 9 – Bali, Indonesia
Another one for the adventure seekers is the USS Liberty Shipwreck dive site in the beautiful island of Bali in Indonesia.
The USS Liberty was a US cargo ship that was hit by Japanese torpedos and beached itself off the beach on a sand slope. It now lays half on the shore, half in the water and makes for a spectacular site.
With the most shallow part of the shipwreck in mere depths of 5m/16ft, plunging down to just 15m/50ft, you can actually see part of the wreck from the surface of the water, making it an underwater adventure playground.
The wreck is conveniently located right near a beautiful coral garden that is bustling with colour and life (big and small) and right near a magnificent drop off for those that want to take their adventure further and deeper. The USS Liberty is the most popular dive site in Bali, and definitely a must see for every diver!
Best scuba diving – 10 President Coolidge – Vanuatu
The beautiful island of Vanuatu is home to some of the most beautiful and relaxing beaches with white sand and crystal clear waters.
But underneath the warm waters hides one of the largest, most accessible dive sites in the entire world; the SS President Coolidge.
Originally a luxury ocean liner from America, and then a troopship during World War 2 before it was struck by underwater mines, the SS President Coolidge is definitely a spectacular step back in time.
With most of the ship's artifacts still in tact, you can follow the large rope that connects the shore to the bow deep (more than 60m/196ft) down into the warm and clear waters to the enormous ship.
Not only does the ship have some of the most eye catching detailing decorating its walls and outside, but a surprising amount of artifacts have survived the wreck and the test of time.
From plates and cutlery from the first class dining areas to the guns, cannons and other weapon divers can literally pick up and play with, and the long 60m/196ft long corridors you can discover.
This enormous ship will require multiple dives if you want to take in everything it has to offer, including the hanging reefs that have settled off the bow of the ship,the soft and hard corals, and the resident Moray that comes out from time to time.
Due to the sheer size of the ship, there are dive depths that are suitable for divers of all experience levels and is a definite must do!
Not only will you get to experience pieces of history in the wreckage sites, or have the opportunity to get up close and personal with some of the ocean's most majestic, unique and dangerous animals in their natural habitat without restrictions but you'll also get a sense of adventure and peacefulness you'll never find anywhere else.
Only around 10-20% of our oceans and 230,000 species have been discovered, there is still so much left to see, explore and experience.
Every time you dive, you get an opportunity to see and experience things you have never seen before and may never see again.
List of other Best scuba diving: Also,  to be considered.
Best Scuba Diving locations Here. 
Dolphins and turtles – Greece,  Du-gong spotting – The Philippines,  Spoilt reefs – Tanzania, Manta rays – The Maldives, Hammerheads and sea lions – Mexico,  Killer whales – Norway,  Sardines and sharks – South Africa, From rays to whale sharks – Oman, Christmas Island – Australia, Drift diving – Micronesia, Hikkaduwa National Park – Sri Lanka and Coral cay islands on great barrier reef such as Green Island, Lady Elliot Island, Cocos Island and Wilson Island.
Scuba diving is the most unique and remarkable adventures you will ever experience, which is why it is so important that we take care of our oceans and the environment so it is there for future generations to enjoy, explore and continue to discover as well.
Don't missed out The Best Diving Sites in the World!