Last updated on September 5th, 2017 at 03:50 am
Peaceful Bay is located on the far, southwestern corner of Western Australia.  Situated 45 kilometres west of Denmark and 30 kilometres east of Walpole, Peaceful Bay is exactly what its name suggests, peaceful!  
Despite being relatively undeveloped when compared to other destinations on Australia's southwest coast, Peaceful Bay still has a lot to offer visitors and it is a great destination for an tranquil escape.
Peaceful Bay: What to Do
Peaceful Bay has a lot to offer in terms of natural attractions.  The bay is perfect for swimming, snorkeling, kite surfing, and just generally enjoying the beautiful stretch of coastline that makes up the bay.
Both Greens Pool and Elephant Cove are declared safe for swimming in the area.  Greens Pool is located around 15 kilometres west of Denmark.
 It is almost completed sheltered from the harsh waters of the Great Southern Ocean by the many large, rounded boulders that are so common in the Peaceful Bay region.
These boulders also act as a wind shield, perfect for creating a wind-free beach environment on windy days.  The beach has a very gradual slope, thus making the calm waters very shallow for a distance into the water.  This makes Greens Pool ideal for children to experience the ocean in a safe environment.  
The beach is very expansive, with plenty of gorgeous white sand that is perfect for beach games or for just relaxing.  Greens Pool is one of the most visited destinations in Denmark for its stunning tranquil beauty.
 Elephants Cove is situated right next to Elephant Rocks, which as you might imagine, are large rock formations that look strangely similar to elephants.
These rocks are both fascinating and beautifully set in the turquoise waters of the Great Southern Ocean.  
Elephant Cove is accessed by a staircase that travels through these rocks between the carpark and the cove.  Like Greens Pool, Elephants Cove is largely protected from the large rocks in the area, making the cove a swimmable space.
However, visitors to both Greens Pool and Elephants Cove should be aware that the Southern Ocean is very prone to surges.
While these two areas are very well protected, visitors should still be aware when swimming in the water.
Hikers will also enjoy a trip to Peaceful Bay as there are a number of hiking opportunities in the area.  First, the famous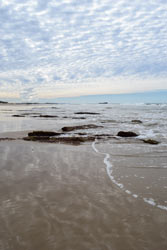 Bibbulmun Track winds past Peaceful Bay, making Peaceful Bay a great place to go if you are looking to hike a portion of the trail.
Even if you are hiking the whole trail, Peaceful Bay could be a great place to stop off for a break.
 Additionally, there are a variety of coastal walking trails in the area that allow visitors to take in the stunning views of the coastline while enjoying their walk.  The bay also sits up against the William Bay National Park in which there are a variety of walking trails and wonderful viewpoints.
Of course, if you are looking for more, you can always take a trip in to Denmark where you will find all sorts of developed tourist amenities, such as shopping, restaurants, as other attractions.    
Where to Stay
While Peaceful Bay may not have as many accommodation options as other destinations on the southwest coast, it does provide visitors with a few options.
The bay is home to the wonderful Peaceful Bay Caravan Park, which is a wonderful place for camping and caravanning enthusiasts.
 Located between Walpole and Denmark, the caravan park comes with powered and un-powered sites, clean amenities, and a well-stocked mini mart all only 200 metres away from the beach.
There are also a number of self-contained holiday rentals, including cottages and chalets on offer in Peaceful Bay.  Of course if you want some more amenities, you can always stay in nearby Denmark, which has the full range of accommodation options.
Peaceful Bay: How to Get There
 Peaceful Bay is easily accessed by road.  If driving west from Denmark, drive past the William Bay National Park until around Bow Bridge.  From there, turn left on Peaceful Bay road and simply follow it until the end.