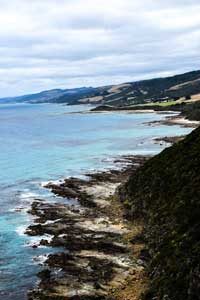 Great Otway National Park offers a variety of stunning natural beauty spanning 103,185 ha between Torquay to Prince town and up to Colac.
The park is located in the Barwon Southwest Region of Victoria Australia, approximately 162 km southwest of the Victorian capital of Melbourne.
  Great Otway offers rugged coastlines, sandy beaches perfect for relaxing, rock platforms, and rustic windswept heathland.
The northern portion of the park provides visitors with tall forests, lush gullies, waterfalls, and a number of calm, peaceful lakes.
There are a variety of attractions at the park, with one of the primary ones being hiking.
The Great Ocean Walk, which is a 91 km hike between the resort town of Apollo Bay and Glenhample Homestead (which is right next to the Twelve Apostles.), passes through Great Otway National Park.
The trial was designed such that hikers can "step on," and, "step off," at a variety of locations, allowing them the opportunity to hike a variety of distances, ranging from day trips to multi day hikes.
The portion of the trail that passes through Great Otway is particularly scenic and overlooks the coast.
There are also other hiking opportunities in Great Otway particularly around the picnic areas and camp rounds.  
These trails, located at many of the waterfalls as well as at Blanket Leaf, Sheoak, Distillery Creek, Moggs Creek, Paradise, Melba Gully, Shelly Beach, Triplet Falls, and Blanket Bay.
All of these locations provide beautiful walks, picnic amenities, and comfortable camp grounds with amenities for both tent camping as well as caravanning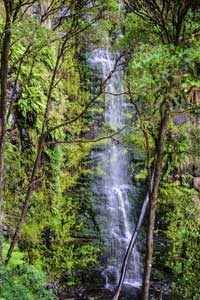 .
Great Otway National Park:
Horse riding and mountain biking are also popular activities in Great Otway. The park has a number of formed roads and tracks that are ideal for both activities.
 A permit is required for horseback riding, however, this is easily obtained from the Parks Victoria staff.
 No permit is required for mountain biking.
Port Campbell National Park
        Port Campbell National Park is a 1,750 ha national park also situated in south west Victoria.
The park is around 190 km south west of Melbourne and approximately 10 km east of Warrnambool.
Port Campbell National Park is adjacent to Great Otway National Park and the Bay of Islands Coastal Park.
The park was initially dedicated on May 5, 1964 with the intent to protect the limestone formations on and near the Great Ocean Road coastline.
This initial park was only 700 ha, with the additional area being added to the park in 1981.
The park features a number of sheer cliffs that overlook offshore islets, rock stacks, gorges, arches, and blow holes.
The park hosts the Twelve Apostles, the London Arch, Loch Ard Gorge, the Gibson Steps, and the Grotto, all of which are notable landmarks along the Great Ocean Road.