Bay of Fires is roughly 50 km long area on the northeastern part of Tasmania and stretches from Binalong Bay in the south to Eddys tone Point in the north.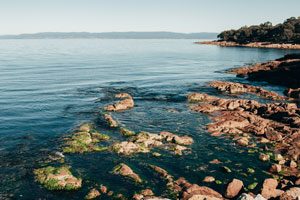 Northern part of the Bay of Fires belongs to the Mt William National Park, while the southern section is in the Conservation Area.
The name "Bay of Fires" comes from the history when Captain Tobias Furneaux noticed multiple fires along the beaches coming from the Aboriginal people back in 1773.
Bay of Fires provides some of the most unexpected views with pristine natural environment. Soft beaches with crystal clear waters and orange coloured granite rocks are surrounded by lush woodlands.
Visitors can choose between staying in a campsite along the coast or in a lodge.
The area is perfect for activities such as beach activities, fishing, surfing, kayaking or simply camping in unspoiled natural paradise.
Bay of Fires is widely recognised as one of the most beautiful places in Australia and has been also named as world's hottest travel destination by Lonely Planet in 2009.
Binalong Bay: Southern end of the Bay of Fires is where one of the most scenic places in Tasmania can be found. Binalong Bay is a small beachside village, circa 10 km north from St Helens.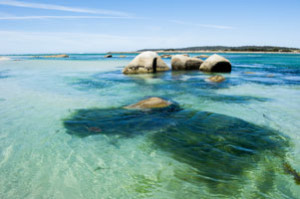 The beach itself offers sugar-white soft sand slowly breaking into the turquoise ocean waves, bounded by the iconic orange coloured rocks.
The Gardens: Line of beaches stretching creating a conservation area stretching from the Binalong bay and around 20 km up north includes beaches such as for example Jeanneret Beach (where a protected sand dune Round Hill can be found), Sloop Reef or Taylor's Beach.
Eddystone Point: The historic 42 m high magnificent lighthouse at the end of Eddystone Point is a biggest highlight of this picnic-perfect area situated within the Mt William National Park.
The Eddystone Point is located around 15 km north of boating and beach settlement Ansons Bay
Something for everyone  at Bay of Fires
Traveler could  explore one of Australia's most southern pristine coastlines "recognised by Lonely Planet in 2009 as the Worlds Hottest Destination"  stay in the award winning Bay of Fires Lodge.
The walking track offers extraordinary environment, where through immersion and interpretation you can share the best sense of Tasmanian wildness nature.