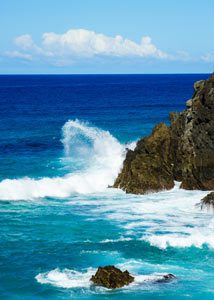 Located in the far northeastern corner of New South Wales, Australia, Byron Bay is a beach side town about 772 kilometres north of the NSW capital of Sydney and 165 kilometres south of Brisbane.  
The area has a humid subtropical climate with hot summers and mild winters.
The daily average in the summer is 27 degrees Celsius with the temperature ranging form a high of 19.4 degrees Celsius and a low of 11 degrees Celsius in the winter.
Tourism is a significant part of the town, which its many beaches being among its primary attractions.
 The Bay will likely have a different feel than other areas you might visit along the Australian Coast, with it being known as, "a new-age paradise," and, "a melting pot of surf culture, alternative philosophies, and hedonistic indulgence."
Byron Bay: What to Do
 Whether you are looking for fun on land, sea, or in the air, there is something for you at the Bay.  The area is most known for its wonderful, sweeping surf beaches.
Surfers have been attracted to Wategos and Main Beach for years.
However, visitors to the multiple beaches at Byron Bay come for meditation, massage, walks, and sheltered swimming just as much as for the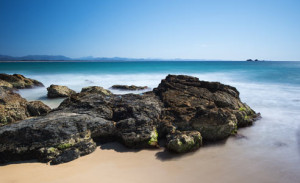 waves.  
Likewise, the waters serves as an excellent place to kayak alongside dolphins, or take in the marine life while snorkeling or scuba diving at Julian Rocks Marine Park.  
Visitors will also enjoy horseback riding and beach fishing at Seven Mile Beach.
Also, as the most eastern town on mainland Australia, you can enjoy the first sunrise in Australia from the Cape Byron Lighthouse.
        If playing in the sea doesn't excite you, then take a walk through the lush rainforests that surround the area.
Or watch humpback whales swim past as the migrate between May and November.  Take a trip to Mount Warning National Park and take a hike to the rim of an ancient volcano where you can take in the stunning panoramic views.
In Nightcap National Park, you can walk to the base of Minyon Falls or take a nighttime night-vision bushwalk where you can encounter a variety of nocturnal Australian wildlife.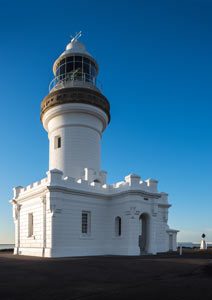 If adrenaline rushes are more your think, the stunning scenery makes the area around the Bay a popular spot for skydiving, hang-gliding, hot-air ballooning, and any number of other aerial activities that are sure to raise your pulse.
 Conversely, if you just want to relax, enjoy the abundant spas that provide a variety of relaxing treatments.
Or, take in the fantastic food in the area.  The local community markets offer a variety of fantastic tropical fruits from the area.
 Byron Bay is loaded with wonderful cafes serving everything from gut-busting breakfasts to healthy freshly squeezed juices.  There is no better way to enjoy Byron Bay's laidback style then through its culinary establishments.
Where to Stay – Byron Bay
With resorts, hotels, motels, bed and breakfasts, hostels, campgrounds, and caravan parks, there is something for every taste and budget at Byron Bay.
How to Get There – Byron Bay
        If you are arriving by air, there are three airports within two hours of Byron Bay.
Ballina/Byron Bay Gateway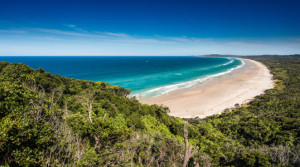 Airport will get you the closest to Byron Bay.
From this airport, a shuttle will get you to Byron Bay in about 35 minutes.
 Coolangatta/Gold Coast International Airport is just over the border in Queensland and is a 40 minute shuttle bus ride from Byron Bay.
You can also fly into Brisbane International and Domestic Airport.  From there, you can either drive by car, or a train or bus to the Brisbane Roma Street transit terminal, which has buses to Byron Bay.
 It is about two hours from Brisbane to Byron Bay.
        If you are driving, Byron Bay is about 6 kilometres off the Pacific Highway.  There is signage for a turnoff to Byron Bay from the main highway connecting coastal Queensland with NSW.