Last updated on November 5th, 2018 at 02:44 pm
GALLE FORT travel info guide for travellers to Sri Lanka 
A world heritage site ?
If I say it is the administrative capital of the southern province you may think that I lack real knowledge of this magnificent city.
It is comfortably located in the southern tip of Sri Lanka and is 199 kilometres from the commercial capital, Colombo.
It is 16.52 km2 in extent and is home for a population of about 99,478. Galle is so proud of herself for this city houses one of the largest remaining fortresses in Asia, built by European occupiers.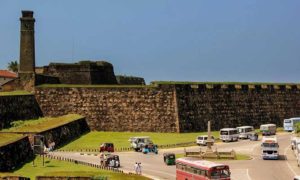 To call it as important only for that historical significance would not be sufficient. This grand city is an inclusion in UNESCO world heritage sites. It was declared as such in 1988 in its 12th session. Now it is a great tourist attraction centre!
History
Its historical existence is traced to Ptolemy's world map of 125-150 AD. During that period Galle was a renowned and busy port and involved Sri Lanka in Trade relations with Greece, China, the Arab world, etc.
Historians believe Galle may have been the city of Tarshish from where king Solomon obtained gems and spices.
And it is during the reign of King Dharma Parakramabahu (1484-1514) the Portuguese under the leadership of Lourenco de Almeida came to Sri Lanka. The portuguese built the first fort with a Franciscan Chapel in Galle.
This fort was called Santa Cruz. Later the fort was extended with a series of bastians and walls.
When the Dutch fought the Portuguese they destroyed most of the Portuguese character of the fort.
After the construction of the fort in the 17th century Galle became the main port of Sri Lanka for more than 200 years and the Dutch gained the monopoly of the cinnamon trade. It helped boats and ships to travel between Europe and Asia.
In 1796 Galle was passed into the British hands and gradually its commercial interest started to lose as the British turned to Colombo with their trade with the world.
In the 19th century it enjoyed the role of a secondary harbour. Still it handles some shipping and yachts.
---
Best Sri Lankan Tours with A and The Driver. 10% Discounts Available With Traveller Hints. Message on Viber or WhatsApp.
---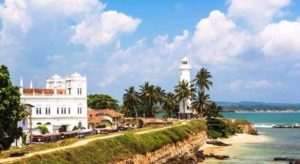 Its tourist attractions
There are some attractions for the tourists in Galle. All saints' Church in Galle fort, Galle lighthouse, Unawatuna beach, Yatagala Raja Maha Viharaya, Galle Clock tower, the Dutch Reformed Church, St.Mary's Cathedral, Rumassala Sanctuary, Galle Black Fort, Galle Fort Ambalama and Mihiripenna beach are some of the tourist attractions in Galle.
The national maritime museum Galle fort near the old gate was established in 1997. It is an exclusive Maritime Archaeology Centre with the active involvement of the government of Netherlands.
Galle harbour consists of 21 historical shipwreck sites and has associated artefacts. The Old Dutch hospital was also reopened as a dining and shopping  complex for tourists.
All saints' Church :
This beautiful architectural masterpiece is an Anglican church nestled in the Galle Fort. Its architectural style is of Victorian Gothic Revival.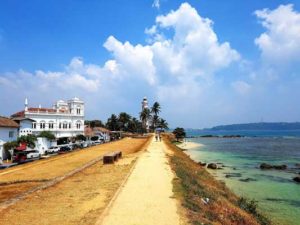 Galle Lighthouse :
This is also called Point de Galle Light. It is an onshore lighthouse located in Galle Fort. Its shape is cylindrical with a balcony and lantern.
It is a heritage of Portuguese influence. This is really a historical monument and an awesome tourist attraction.
This is a wonderful location to take photo shoots of charming character. For this reason it is popular among the tourists.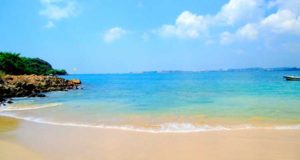 Unawatuna Beach :
This is a famous tourist attraction in Sri Lanka. The beach is semicircular and stretches nearly for one kilometre. It is also famous for corals and is a suburb of Galle.
Being rich in biodiversity, it is well known for its ecotourism. This sandy shore in Unawatuna in Galle is teeming with tourists.
Also the view of dawn at Unawatuna beach which is picturesque becomes memorable in the life of the tourist. Turtles still wade onto the shore to lay eggs though it is invaded by tourists most of the time of the year.
Japanese Peace Pagoda :
This is a Buddhist temple with a circular deck giving you sweeping views of the ocean and the landscape that surrounds it. You could visit this while you are in Unawatuna. This Pagoda is known for its unique character. It could be called a marvellous location for photography.
Koggala beach :
It is the longest beach in Sri Lanka and is located in close proximity to the popular Unawatuna beach. It has self sandy pristine beaches. It is a heavenly holiday destination with endless sand surf and sun.
You can visit a turtle hatchery where turtle eggs are hatched and where baby turtles are released to the ocean.
Yatagala Raja Maha Viharaya :
Buddhist temple complex with rock foundations. It has many statues and a tranquil atmosphere.
It has genuine spiritual vibes. The most spectacular addition to the spiritual vibe is the 9 metre reclining Buddha.
There are murals on the walls and they have been painted in typical style of the Kandyan period. It is usually not crowded and this adds to its appeal.
Galle Clock Tower :
You find it located in the Galle Fort in Galle. It is a popular landmark which overlooks the central Moon Bastian on the site of the former guard room.
This clock tower has its history as it was constructed in 1883. It is also called Anthonisz Memorial Clock Tower.
Dr. Anthonisz was a renowned Burgher doctor who devotedly worked as the colonial surgeon.
The Dutch Reformed Church :
It is also an attractive a masterpiece of architecture in Galle Fort. It lies near the entrance of the fort.
This church which was built in 1755 is one of the oldest protestant churches in Sri Lanka. It has Doric architectural style.
Rumassala Sanctuary

:
If you are after a place which is away from the hustle and bustle of the city during your stay come to Rumassala sanctuary.
It has a great atmosphere blessed by nature with its serene beauty which offers you an escape or a complete breakaway from the busyness of life you find yourself in a kingdom of nature.
This beauty of nature is one of the picturesque holiday destinations in Sri Lanka. Its natural beauty with immense biodiversity and majestically conspicuous hills offer you more than you desire.
You could visit the jungle beach, old ancient Pagoda, spice gardens and also go for water activities. There are attractive hotels nearby where you could chill out with fun.
The Black Fort :
This is the most ancient remains of the Galle Fort built by the Portuguese in 1588. This Fort was called ' Santa Cruz'.
The Black Fort was one of the 14 bastians of this hold. It  has archaeological value and is a historical place. The fort is now draped in greenery and surrounded by blue waters.
Galle Fort Ambalama :
This is a wayside rest of ancient times. It lies at the far end of the fort in an open area. This open space is called courthouse squire.
This is a simple structure made of brick and mortar and is built on four cylindrical pillars which hold the roof.
Mihiripenna beach :
It is a beach with amazing scenic beauty. It has a natural lagoon and you can go for a swim in calm sea.
It is more attractive because it is palm tree lined, quiet and gives you a chance to watch an amazing sunset.
You can also see turtles in the surf from the shore. Go there to walk on empty coast which simply. There are hotels and plenty of homestays for you.
Nightlife
Galle is full of bars and restaurants to cater to your taste.
Cannon bar and grill – Hospital street
Prince bar – Havelock Road
Sugar Bistro and Wine bar – Restaurant
Dutch hospital shopping Precinct – Great cocktails, cosy, casual
Catamaran Pub – Bar – Unawatuna – Casual groups, beer
CocktailBar – Amangalla
Night Clubs
There are some popular night clubs in Galle. Some are,
Bara beach Galle for casual groups
Boys Hostel Galle
RiDDiM  Bar Unawatuna for casual groups
More Nightlife attractions in Galle District,
Koha Surf Lounge – Bars and Clubs
RnR – Bars and Clubs
680 Blu – Bars and Clubs
Luna Terrace – Bars and Clubs
Chill Space Surf Cafe – Dance clubs and discos
Lounge Bar at Saman Discos Villas – Bars and Clubs
Blue Note Bar – Bars and Clubs
Opportunities for merry-making after nightfall are there to be found in Galle. It could be called as replete with many a bar, club and restaurant which offer beautiful and delicious sea food, traditional food etc.
Here are some well sought-after  restaurants,
Luck Fort And Co – No 7, Prarawa Street.
Crepe – Ology restaurant cafe – leyn Baan street
Kamu Restaurant – Hospital street
A minute by Tuk Tuk – Dutch Hospital Shopping complex
Wijaya Beach
The heritage Cafe
Sun House
It is possible to learn when they are open and close and find their location in Google maps. You will also be helped by the taxi drivers or your favourite tour guide who will take you to the best bars, restaurants and nightclubs.
One interesting thing about bars is that they are well-talked of and haunted by the best cocktail lovers. That is to say, they serve the best cocktails.
Accommodation
Here are some places for you to get accommodation.
Etamba House – 7 km from Galle beach with detached features, a garden with a year-round pool and barbecue.
KAJU GREEN eco lodge – exclusive ecotreat adjacent to a Sri Lankan wildlife sanctuary.
The Bungalow – Galle fort, located within the UNESCO world heritage Dutch Fort, 17th century Bungalow which houses 6 rooms with utmost importance given to comfort.
The Bartizan – Located in Galle fort heritage site, built in the early 17th century Dutch colonial period.
Fort Bazaar – Once a merchant home from the 16th century fort, a boutique hotel in the heart of Galle Fort.
Il Nido Beach Home – 6 kilometre from Galle with barbecue facilities and free Wi-Fi.
The Stairway –  in Dutch colonial style with free Wi-Fi. There is an onsite restaurant for the guests.
There are taxis from Katunayake airport. From Colombo Fort to go by bus take 112 or 138 buses from where you get a second bus to Galle in 75 minutes.
You can take a bus from Colombo fort. It takes 90 minutes to reach Galle. There are also trains from fort station.
It is a three hour uncomfortable journey with or without a seat for you. It is not air conditioned. There is nice breeze, though.
There is also Rajadhani express coach. For this advanced booking is needed. The travelling cost may vary from time to time according to fare regulations in Sri Lanka.
Now you can take the southern expressway known as the South Lanka Distributor in Sri Lanka's first E class highway which is 126 Kilometres long.
So it is highly recommended that you go by taxi or car via this expressway. It will take you there in relatively a short period of time though it may cost you a bit more than by bus, coach or train. It is more comfortable, convenient and a lot safer.
Your visit will be fruitful to this grand city Galle in Sri Lanka if you organize it well. So dear traveller, I wish you good luck and a great time of fun and merrymaking in Galle.
Take our traveller hints and they will guarantee you a holiday in Galle that will resound in your memory.
More Sri Lankan Travel Blogs Here