Last updated on November 16th, 2018 at 02:02 am
Full Moon  Party info guide, on Koh Phangan, Phuket and  Koh Samui Island in Thailand for all travellers. 
Apparently, Thailand is well known for tree things. They are beaches, partying and sex. In these beach parties, it is possible to witness travellers coming from various countries. They come for the best beach parties.
What is Full Moon Party? This, in fact, came into being as its kind first in Haad Rin on the island of Ko Pha, Thailand.
This occurs on the night of before or after every full moon. Tourist throng to these locations to fulfil their insatiable lustful being.
Full Moon Party and Psychology
The impact the moon has on a man is known to be true and the origin of the word lunacy bears testimony to it.
This benefit has been there since the beginning man's understanding of the effects the moon has on man's emotional makeup.
Claudia Hammond tries to examine whether science can elucidate this benefit or age-old myth with concrete empirically testable reality.
It is known to everyone that people believe that a full moon invokes werewolves and vampires.
The effect on the full moon on the sanity of man is seen in the word lunacy which is a similar word for madness. It, people have always believed drive people mad.
The doubt we have as to whether the moon could influence our behaviours such as sexual behaviour, labour pain for pregnant mothers, uncontrollable sexual desires tendency to commit violent crimes and heightened intensity of the venomous effects of snake bites and occurrence of such bite of serpents with high incidence, increases.
As we know the low tide and high tide is caused by the impact of the moon. So we could put forward the theory that it influences the water of the blood in our bodies as well. As the moon is smaller than the earth the gravitational pull is relatively less powerful.
How come the moon has its impact on us in varying degrees when it is full or otherwise. It is dubious for the reality is the moon should affect our nature always in the same manner.
Why is it different, or how could it be different when it is a full moon? With all these unanswered questions and the questions, it raises there is once scientific reality.
That is, the light of the moon give us light in degrees as insignificant as just a quarter of that a candle.
Well, the best way to find out who you really are and your genuine behaviour is just to go to a full moon party or black moon party.
Black Moon Party
This is a recent introduction. It was introduced as a result of wanting a different atmosphere and experience from the big and noisy full moon parties. These parties can be called a bit secretive with excitement.
They are not thought of as snooty, though. Everyone goes there to have a good time. You will see less but the beating of your heart with your lustful desires will be vibrant.
The number of enthusiasts of black moon party is however smaller. This has the presence of a more Festival or a hideout festival. It really gives such feelings and ideas about it.
The locations of these change indeed from time to time. It keeps a fresh feel to things. At present, the black moon parties are held near Baan Thai beach on Koh Phangan.
If you choose to stay over at the wonderful beach huts on Mac Bay this is perfect for you.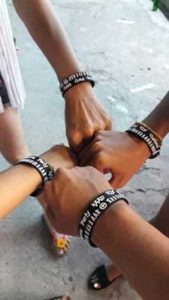 Half Moon Party
In fact, the half moon party is associated with the full moon and black moon parties. It has its differences and characters, though.
It is possible to label this one after some European festivals. Maybe something along the line of Sonar or Hideout festival. However, this is done on a much smaller scale.
The main outstanding idea stands close to other moon parties, but as it takes place in a jungle it is filled with its unmatchable feel it gives.
There is only one set of decks usually. As a result, it is a much more unified set up of various DJs that keep you entertained during the whole night.
Here music is so exciting and massive. You will experience not only some mega drops but also some sounds which are deeper and highly soulful in character. This mixture is present only to dip you in an immeasurable sea of emotions.
A half moon party does not have the same character which one can boast of in the other moon parties.
Despite that reality, it can be called a nice opportunity to experience something different and new. This may be the reason some have a preference for these smaller scale parties where intimacy or closeness is well assured of.
These parties became identified as having their own rights in due course. You can revel in ecstasy in the open air and it is among the trees of a Thai forest this time.
This is returning to the birth of the moon parties with a more intimate and unique feel.
You wanna know more about Moon party?
Sex and Full Moon Party
It may be well planned or maybe not. However, as we are away from home we have the chance to lose some of our controlled manners and grab at more risks that we would not grab at home.
This is alright for such experience makes travelling such a fulfilling one. We have to accept this reality before we plan out holiday beforehand.
If you want to return home feeling that you have not wasted your money and feeling that your enthralling experiences are really worth the money you spent, here are some tips.
Take condoms with you. Before you leave home to make sure you include them in your possession.
Condoms cannot be always bought everywhere. Even if they are, you may not get good quality everywhere. So carry some in your handbags or wallets.
Your holidays and the sense of freedom that comes with it quite naturally does not make you have a smaller tendency to STIs.
Oh yes, it is always advisable to take care every time you have sex with someone you have just met.
You should have an STI test prior to your departure and arrival home. It is a matter of clicking here for places for testing.
Sex workers in other countries do not always find themselves in a safe environment. They also do not support the same standard of safer sex and STI testing in the same manner as in first world countries. We insist that you use condoms and guard yourself against any possible risks.
When holidaying you get an increased desire to try drugs and consume more alcohol. It may be more than what you usually do.
You should consider the health status of your body regardless of where you are. So make sure that you know your limits and you should keep to them.
Moon Party – Koh Phangan
Thailand's biggest and the most notorious full moon party is found on Koh Phangan. Sometime back a group of backpackers who were charmed by the beauty of the full moon from the pristine crescent of Haad Rin beach decided that they should celebrate the greatness of the moon.
In celebration, they threw a massive party. In celebration, they threw a massive party. This was the birth of this ecstatic event.
The full moon party has grown to host up to 15,000 travellers during the peak season (January to March) and several thousand during the low season (June to August).
Since its introduction, it has been enthusiastically sought after by many a traveller. It is spread in the whole of Haad Rin beach. We do not exaggerate.
It is the reality. In fact, we are not just talking about various other benefits. The serious pubs on this island provide you with different party atmospheres.
Trance, house, drum and bass, R&B and funk are all pumped out of state of the art sound systems.
You also find lounges full of cushions soft to your touch, breathtaking views and availability of cocktails for those looking for kickbacks.
If you have a desire for a little taste of home you can go to Cactus bar which is in the heart of Haad Rin. It provides you with hip-hop, old school classics and occasional rock and roll.
Right on the beach partying comes to life. The beach becomes teeming with party lovers who dance to DJ's outdoor beats.
Fireworks that takes place unplanned out of mere enthusiasm. seem to complete the bright soft glow of the Thai moon.
If you feel hot, why not take a swim in the warm waters of the Gulf of Thailand prior to turning up to the ecstatic dancing floor.
On the international party circuit, full moon party is included as a must and it is similar to Goa or Ibiza.
Prior to booking, you place at the party I advise you that you read the moon party safety tips and all important details.
In case you find that any of the dates for the full moon party does not fit into your travel itinerary you could look for the half moon and black moon parties. Both these parties are available on Koh Phangan with best of music and partying in Thailand.
---
Moon Party Scheduled Dates 2018 
2nd of March 2018                                   
3rd of March 2018
29th of April 2018
30th of May 2018  
27th of June 2018
29th of July 2018 
26th of August 2018
 24th of September 2018
25th of October 2018
22nd of November 2018
22nd of December 2018 

PHUKET FULL MOON PARTY
Is it that we can find a full moon party in Phuket. Oh yes, it is there to be found. Perhaps you had no idea about that.
There really is a Phuket full moon party and it has been there for quite some time. You can see it on Paradise beach.
It's not as big as the infamous Koh Phangan party. Also, it is not as free. However, it is becoming well-liked because it is to get access and gives you acoustic joy with its great music.
The entrance can be gained for 1,000  baht and it gives you a 'Premium Bucket' or 2 Change beers.
There is an advantage in this as it is really in close proximity to Patong Beach and there is a 24-hour bus service from and to Patong.
This is of great convenience as it takes away the necessity to plan beforehand. Oh yes, you could possibly get there when it happens.
It is indeed, a beautiful paradise beach you have the party area and the dance floor. Paradise beach is already popular during the day thanks to its beach club vibe.
You just have to jump into the water when you feel unbearably hot of knackered as a result of dancing.
The famous ILLUZION Night Club on Bangla road organizes and designs the Phuket full moon party and its lighting and sound system could be called far above the fascination of your soul. You find yourself in the seventh heaven. You can also take a break at the bar or dine at the restaurant around the party zone.
As this is in a distant secluded bay no intruder will disturb it. This is because the visitors who come to frequent Phuket and who are not fans of the full moon party will not be disturbed by loud music of people with such great enthusiasm to party and drink a little too much.
The shuttle arrives and leaves in its regular manner. So the moment you find yourself to have fulfilled your wishes of marrying making for the day you could get to your hotel without taking any trouble to drive.
PHUKET  MOON PARTY CALENDAR.
Saturday 31 March 2018.
Sunday 29 April 2018.
Wednesday 30 May 2018.
Wednesday 27 June 2018.
Sunday 29 July 2018.
Sunday 26 August 2018.
Monday 24 September 2018.
Thursday 25 October 2018.
March 17 Half moon festival/ Saturday 17 March 2018. Saturday 31 March 2018 April 14 Half Moon Festival/ Saturday 14.04.2018.
Full Moon Party – Koh Samui Island
If you want a place to party with a variety of activities including lounge bars, dance clubs and live music, Chaweng Beach is the best place for you.
There are many pubs in European ways. They are located along the main beach road. You can comfortably enjoy your night out after having a meal and a cocktail at one of such pubs of your liking.
If you happen to find yourself without an appetite for such a bite, well, the resorts will find themselves more than willing to happily serve you cocktails while you watch the sunset over Samui sitting outside.
Nowhere could you find the home to Samui's activities involving nightlife that extend to late night, but in Green Mango Soi, or Green Mango Square.
Do you have a heart for hip-hop and R&B tunes? Then Sweet Soul is the dance club for you. The music is breathtaking and is full of people having a great time spilling out into the street.
What is Green Mango, but a modified warehouse which has a character that reminds you of New York and Miami style clubs?
There is two main room satisfying your varying musical tastes. The room is replete with and hip-hop and mainstream while the other one pumps house and techno onto the dance floor.
You can't revel from a variety of places. There dark nooks and Samui's Lounges with its dance floor.
There is also a bar unique with quality and character in Chaweng Beach Road with a street-side bar and an upstairs lounge with features of UK DJs and uplifting beats which are funky.
Bar solo offers you an environment which is fairly different inside, it that is sleek or glossy there is music and plasma TVs. You can watch your favourite sporting events and have fun with pool tables.
There are some well-liked resort towns such as Chaweng and Lamai. You find Koh Samnis lively nightlife in these towns.
But for party goers who are addicts of partying Koh Phangan's infamous full moon party is an event that should not ever be missed.
This location is a secret monthly meeting place for them. To this party, a multitude of enthusiasts come and they number between 3000 and 10000.
To the visitors to this island that lies 12 kilometres north of Samui, the full moon party is an attraction.
We can understand the success of this as we can see a half moon, full moon and even black moon parties there.
To add glamour and taste to your holiday, you should plan your trip and accommodation in advance in Koh Samui or Koh Phangan.
For all the details you need for it and it will open avenues to get maximum enjoyment from all the parties that attract you in Koh Samui and its nearby locations.
If I call Half Moon party a relatively new inclusion to nightlife avenues, it is the stark truth.
Samui's own Rock Bay parties have left the scene as a result of an increase in luxury property development in Choeng Mon area.
So Surat Thani's half moon parties have emerged in order to cater to the growing demand of moon parties.
However, with all that half moon party organizers try to offer an inviting package to counterbalance the attraction to rather a long trip to the mainland. It is effective enough to attract them to the full moon party.
Many revellers are possible to be gathered from their hotels, transported by ferry or coach mainland Surat Thani. Then they re taken to an isolated beach for an all-inclusive night of fun and frolics.
That is only for around 1,800 Baht. It has a generous seafood barbecue with alcohol that you like. You will get there only to find a night of house and techno treat of DJs who could be either local or international.
Your return trip to Samui the next day is included in the price you play. That is, the package for the moon party is inclusive of transport.
Moon Party Scheduled 2018 
Tuesday 02 January 2018.
Wednesday 31 January 2018.
Friday 02 March 2018.
Saturday 31 March 2018.
Sunday 29 April 2018.
Wednesday 30 May 2018.
Wednesday 27 June 2018.
Sunday 29 July 2018
Full Moon Party Clothing
People are scantily dressed with full moon party outfits. It is alright for it is hot, after all. If you want to buy the outfits for the full moon party you should to Rin and around the island of Koh Phangan.
The shops there sell you full moon party clothing which is basically bright coloured shorts or miniskirts.
Also, t-shirts which are colourful with full moon party printed on them with bright colours of green and pink in a variety of ways numbering more than a hundred are popular at the full moon party.
The full moon party outfits of girls consist of bright coloured shorts, bikini bottoms or a mini skirt in bright pink or green with a bikini top or t-shirt.
It is important to show your skin because at the full moon party, many paint artists offer their service by way of colouring your body with any colour you want.
This paint has bright fluorescent colours and you will see that most females cover their legs and body in paint with some design that looks unusual. Same is true for the males as well. This practice is seen as the trend in vogue.
It has developed over the years and it is as if the more paint you get on your body, the cooler it is. The colours stain your outfits and this gives you a reason to spend money on full moon party clothes.
Most people express their creativity in their use of attire for the reason that it also adds to the revelling they experience at the full moon party with the mythical influence of moonlight.
Some dress up well over the top in something silly while girls wear clothes to look as sexy as sexy can be.
Accommodation people will demand a payment if you get body pain on bedding or towels. You could come across textile shops selling clothes for the full moon party in the main town and the villages.
Even from the very venue of the full moon party at Haad Rin, you can buy full moon outfits and other necessary things.
Protect Your Feet
You will find shoes very important to you during the night. There are thousands of bottles and plastic buckets dropped on the beach since thousands of people drink on the beach. Thousands of people with no shoes walking on the beach may have its risks.
There could be broken bottles which will give you injuries only to make your full moon party a disaster taking away such fun you would invariably lose if you happen to have such a mishap. So you gotta guard your feet from a broken bottle and plastic buckets.
Your bare feet should be guarded. It is completely alright to wear flip-flops or thongs. Wearing them even on the beach is highly recommended for your own personal protection from any possible mishaps.
Tip Flip Flop, Thongs
It may be that you prefer to dance without your flip-flop on. You will find this tip so handy. Place the strap part of the flip-flop over your ankle.
See photos. This will assure you're having the flip-flop on always even after dancing. Be cautious and do not lose them or get picked up by someone else.
Full Moon Party Warning!
A few young travellers numbering 20,000 gather every month on a distant Thai island. They dance the whole night.
These dance floors are in front of a strip of bars and clubs which provide beautiful , exciting dance music.
Everyone tries drugs, spends on Ya Bass mushroom, XTC or bucket drinks and dance until the night wears out.
Oh they dance until day break only to behold the spectacular sunrise on the beach. The full moon party has enjoyed its place as the best of its kind in wild ecstatic merry making as thousands of participants avow its of as such.
It has been popular over the past 25 years. Tourists find it to be an essential stop on the gap year/ banana/ pancake/ backpacker trail.
Be Safe, Crime Gangs
It is said that there is a presence of gangs involved in serious criminal offences. It is really common if your hotel/ hostel rooms are robbed while you are partying.
The management is shocked and alarmed about it in their proper way. It continues to happen month after month, though.
Gangs involved in drugs haunt the party. They get the support of the police that is corrupt. If you buy cheap weed and get arrested you will have to pay 150,000 Baht to keep yourself safe from getting prosecuted.
The police sell the same bag of cannabis to the next gang. Ya Ba (amphetamines) and XTC have no legal allowance in Thailand. The fact remains that they are illegal.
If you buy them from a total stranger you really risk your safety for if you are arrested you have to give a bribe or if the police are genuine you will have to go through a horrible journey through the Thai legal and jail systems.
Moon Party – Bucket Drinks
If you are really after alcohol which is legal it is always very easy over a drink for the very simple reason that the drink comes in buckets. It is by its own right a real bucket like the ones that kids take to beach.
It is filled with ice, M150 ( a Thai product of Red Bull which is heavy on the ephedrine, a can of soda, a 300 ml bottle of liquor and 3 or 4 straws.
The total cost is 200 Baht/ USD 6. ( in Thailand it is really expensive). For the traveller it is cheap and it may lead you to drink a bit excessively. If you share it you may even not know how much you drink.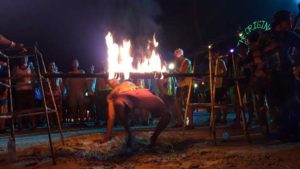 Skip the Burning Rope
You may decide to party hard without worrying much about other obstacles in a fair way and we will always be there for you.
Unluckily most people depart the party early after experiencing a bad time.
Seeing a lot of people bandaged hands, legs and feet is a normal thing after a party. The injuries are caused because of the broken glass that litters the beach ( wearing shoes is advisable)  or they have touched he flaming skipping rope.
Theft of Valuables and Cash
Many a tourist makes an effort to get photos or video this grand event under the sky in the moonlight.
In fact, you can find hundreds of video clips on YouTube for this reason. Keep your phones, cameras and valuable electronic equipment safely without letting them disappear.
There are gang members who come on the very errand of mugging the drunk revellers and looting their valuable possession such as phones and cameras.
Solo female travellers need to be careful about their personal protection because of the presence of so many immigrants country like Cambodia or Myanmar in Thailand who are so new to the sexual culture in Thailand. They have to be that careful. It is because they behave like sex predators..
Party Transport
Scooter Accidents :
It is advisable not to ride even if you may not be tired of full of emotions. Make use of the taxis that operate with a 24-hour service.
For mopeds and motor scooters you really need a license to ride. So do not break the law and find yourself in a confused situation which will mar your holiday.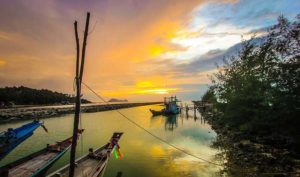 Overcrowded Boats :
If you have caught a speedboat to the island for the day with the idea to return to Koh Samui you have to take care.
It is because the crew who often drink too much which is a risky condition for your safe return journey. So do take care.
Party Rules
Most of you may have had experience of the full moon party . There are unwritten rules. Take care of each other.
You should not feel madly free just because you are a long way from home. You should be extra vigilant about your safety more than before.
It is after having a wonderful time that most people walk away from the FMP. However, there have been sadly bad incidents that have happened later.
So as likely as not your travel insurer might ask you questions as to where you were, what you were doing.
Just because you have travel insurance do not behave stupidly. Be a responsible person at all times and it will help you evade all the mishaps we have mentioned in connection with the full moon party revelry.
What do you think will happen to your insurance claim if you tell them you got the injury while making an attempt to jump over the burning rope after consuming a few buckets with 25000 of your closest buddies. Sounds sill and unmistakably naughty. You naughty boy.
The Moon Party should be an experience you should have once in your lifetime as and when you happen to visit Thailand.
Take our tips seriously and guarantee your personal safety. Utmost care is essential to return home in one piece.
You should enjoy these moments of merry making like mad to do away with all suppression and stress that is bottled up inside.
The Moon Party Under the moonlit sky could have its impact on you, you travel enthusiast, you adventurous merry maker!
So have fun safely Enjoy the MOON PARTY IN THAILAND.
More Nightlife Party Blogs Here.