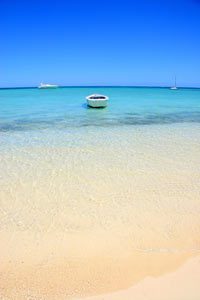 Nestled in expanses rolling hills and farmland, Geraldton is 420 km north of Perth.
With the surrounding farmland as well as the Moresby Ranges, Geraldton makes for a very picturesque village.  
The town has fantastic beaches, warm, but comfortable weather, and a regional service centre, where guests can find anything they might need, including shopping, banking, accommodation, cultural attractions, entertainment options, and sporting facilities.
Geraldton is also one of Western Australia's water sports hotspots.
 It is a very popular spot for yachting, windsurfing, surfing, diving, and fishing.  Coronation Beach, St. George's Beach, and Point Moore are all great places for surfers.  
The Batavia Coast Marina makes for a great place to take a walk and stop for a coffee or a meal at one of the many boardwalk cafes.
The marina also has a number of galleries and art features.
 Inquisitive visitors can learn about the intriguing history of the regions lobster fishing industry at the Geraldton Fisherman's Co-operative processing factory.
Likewise, the Geraldton Meteorological Office offers regular tours where guests can learn how meteorological data is gathered and used to created weather forecasts.
Likewise, history enthusiasts will enjoy the HMAS Sydney II Memorial, which was built to honor the sailors lost on the HMAS Sydney in 1941.
 There are also tours of the Byzantine styled St. Francis Xavier Cathedral.  A visit to the Western Australian Museum Geraldton makes for a particularly interesting visit, showcasing the region's cultural, maritime, and natural history.
Finally, the Point Moore Lighthouse and the lighthouse keeper's cottage are another fascinating visit for those interested in the history of the area.
Those interested in the local culture can also come visit in October and November and take part in the annual Blessing of the Fleet Festival, or the Sunshine Festival, which celebrates the cultural diversity, local talent, music, art, and culture of the region.      
       

If you are willing to make a day trip out to sea, the Abrolhos Islands, located about 60 km from Geraldton, are a beautiful and fascinating trip.  The islands are a meeting place of temperate and tropical sea life, leading to a truly diverse wildlife setting.  Large breeding colonies of various forms of seabirds can be found on the islands.
 From Geraldton, visitors can either view these islands from the air on a sea flight or via a boat-led Eco tour, where you can interact with the wild life and in some cases feed it by hand.
If you decide to take in the islands by boat, you might get the chance to see humpback whales up close and personal should you be visiting during their migration season in July to October.
 During this time, humpbacks frequent the Abrolhos Island area.  Some of the boat tours offer live aboard stays on a yacht, which includes all meals, accommodation, and activities while on board.  
No matter how you decide to experience the Abrolhos, you will be provided with a fantastic perspective of a beautiful island chain.