Bendigo town is located near the geographical centre of the state of Victoria,
Australia.  It is around 150 km northwest of Victoria's capital of Melbourne and boasts an urban population of 82,794, thus making it the fourth largest inland city in Australia and the fourth most populous city in Victoria.  In the 1850s, Bendigo was one of the most significant Victorian era boomtowns in Australia after gold was found in the city's soil.
News of this discovery brought a huge influx of international immigrants and turned the town from a small sheep station into a major settlement in less than a year.  
After the alluvial gold has been mined out, various mining companies set up shop to exploit the deeper lying quartz reef gold.  Since 1851, around 777 tonnes of gold have been mined from goldmines in the Bendigo area.  This number makes it largest producer of gold in the 19th century in Australia, and the largest gold mining economy in eastern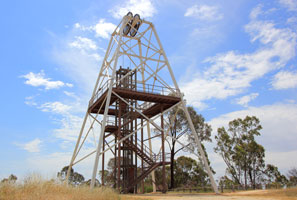 Australia overall.  
Nowadays, Bendigo is the largest finance centre in Victoria outside of Melbourne, and is home to Australia's only provincially headquartered retail bank.
The town is a great place to visit for those who are interested in heritage and cultural tourism.
 The city's gold rush history provides a number of attractions for visitors interested in delving into that part of both the area's history, as well as the history of Australia as a whole.  Notable attractions include the Central Deborah Gold Mine, the Bendigo tramways, the Golden Dragon Museum, the Bendigo Pottery, and the Great Stupa.
  Bendigo Visitor Centre
Situated in the historic Post Office building, the town Visitor Centre can help you sort out all your travel needs while you are in the town, including accommodation, shopping, dining, booking attractions & tours, and provide visitor information, map and guide books.
Also, the centre offers quality gifts and souvenirs so it is a must stop during your Bendigo Visit.  The Visitor Centre opens everyday from 9am to 5pm(except Christmas Day