Port Arthur today is a smaller town situated on the Tasman Peninsula approximately 60 km southeast of Hobart.
It used to be a convict settlement and now belongs to significant heritage areas in Australia.
 This former colony served mostly as destination for the most dangerous convinced British criminals during 1833 and 1853 and it used to have strict security measures.
The prison was completed in 1855 and was believed to be the "inescapable prison" due to its separation from the rest of the island.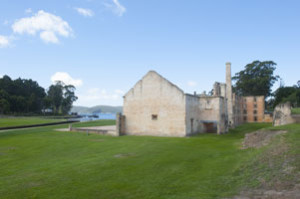 After its times of fame, the prison was eventually abandoned in 1877 and the whole area was slowly becoming popular for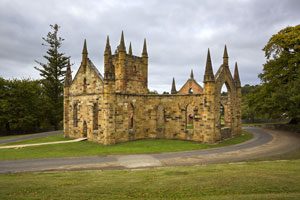 tourists ever since.
All despite the fact, that in 1996, Port Arthur was a crime scene to a killing spree which involved 35 victims who were shot to death by Hobart's resident Martin Bryant.
The whole incident is imprinted in the history of Tasmania as the Port Arthur Massacre and has influenced the gun control laws in Australia.
The mixture of beauty and goosebumps evoking history have helped the are to become one of the most significant tourist destinations in Tasmania.
Port Arthur is a large place with a huge variety of visitor attractions such as:
Penitentiary
Separate Prison
Isle of the Dead
Point Puer Boys' Prison
Ghost Tour
 Twentieth Anniversary

Port Arthur Historic Site
The port Arthur Historic Site is a place where part of Australian penal history took place.
It belongs to essentials tourists attractions in Australia and also offers unique world heritage site experience combined with convict site.
The area includes around 30 buildings and ruins visitors can enjoy access to Convict Study Centre, Museum or Interpretation Gallery or choose to take a guided walking tour or a harbour cruise to the Isle of Dead.
How to get there: 
The Port Arthur Historic world heritage Site is approximately 100km south east of Hobart, with multiple transport options available. driving would be the fast and the most efficient way to get there.