Tetebatu Village, it is located at Tetebatu, Sikur, East Lombok Regency, West Nusa Tenggara, Indonesia. About 2 kilometer from south boundary of the National Park of Mount Rinjani. It is just a small town but it is cool, peace and quiet, a good spot for spending a day to relax. A rural area about 400-500 meters above sea level that is scenic and attractive.
One of the great place a tourist must go, it is best known for its cultural attraction that gives the visitors the opportunity to experience the traditional village life in Lombok.
Basketry and Traditional Sasak Handicrafts are spread throughout the villages in the area, also the tradition of producing forged blacksmith tools in the town nearby, the town of Kotaraja which is best known for its traditional Sasak stick fighting. Tetebatu Village is rich in volcanic soil, the surrounding countryside is thick filled with rice fields and tobacco, cow pastures and fruit orchards.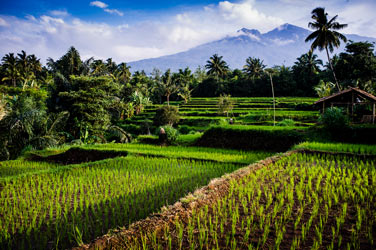 The only attraction in this village is the Mount Rinjani National Park, it is the mountain of Gunung Rinjani, a massive 3,726 meters tall volcano in the island of Lombok which is considered as the second most highest mountain in Indonesia.
You can do mountain trekking, you should provide yourself a proper trekking shoes  and raincoat.
At Senaru traditional village you can find the Information Center that will provide you all the information you needed  when trekking this mountain. There are Four outstanding experts that can help you on your trekking.
John's Adventures, a very experienced outfitter, Rudy Trekker, an organization with variety of itineraries and offers three-days and two nights package. Sinaru Trekking, Gul the owner is an excellent guide that offers Five percent ( 5%) off his fee and Galang Ijo Expedition, an outfitter with competitive experienced guides and package prices.
There is also an attractive waterfall which is perfect for relaxation and unwinding. A little tip for this adventure, you should smile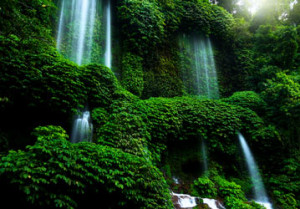 and greet the people especially the elders.
Accept the hospitality they give, you don't have to eat or drink but at least accept. There is only one restaurant in the area, Bale Bale, it is an outstanding street side cafe that offers their local food.
The accommodations that Tetebatu can give is the following, Kembang Kuning Cottages, for Php 352.00,  Lez Rizieres Lombok, a guest house that has a terrace and a great view of the garden for few dollars , Pondok Indah Bungalows, each room has private bathrooms with showers, Tetebatu Indah Homestay, offers barbeque and children's playground.
for Php 1,233.00 and more. To reach Tetebatu, you can ride a bus from the main terminal in Mataram to Pomotong, Perama bus company offers one way transfer from senggigi to  Tetebatu Village for Rp.125,000 and the easiest and fastest way is to ride on a private car if you have one, or by taxi. Enjoy you vacation.