Sexiest Tropical  Gili Boat Party info Guide for Solo Travellers 
This cruise that starts from the party island of Gili Trawangan at 14.00 lasts for five hours. It goes around Gili islands as long as the sunset and during its course, it does its cruise really very well.
This gives you ample time to indulge in drinks, mingle with diverse types of folks and enjoy the seascapes to your heart's content.
One special thing about this boat party is that its name has gone through changes a number of times. Drunken monkeys and DMS Events party boat are some of its names.
In the past, it once set sail from Bali's shore. Now the cruises are limited and confined to Gili Trawangan and cruises only out of it. What is this Gili Boat Party? It is nothing but a sleek wooden sailing yacht, SV Vivan.
This party vessel through sleek is still able to attract many young travellers. If you ever choose to look for pleasure on board this vessel you can do so on Wednesdays and Saturday as the cruises start from Gili Trawangan.
How to organise a Gili Boat Party with Jiggy
A few boat parties operate on Gili T. These parties can be called great and average depending on the kind of involvement in activities you are able to make. Some say that the best boat party is Jiggy Bar Boat Party on Gili T. Island.
Before everything that you do is meeting up at the Jiggy Bar on Travengan's southeastern coast. In it, they will wristband you and give you a token for onboard drinks.
After that, you will have to head to the harbour along with other boat party pleasure hunters. Then from there, you will be transferred by boat to SV Vivian that awaits your arrival. In this you cruise right around the three Gilis you can enjoy the drinks and thumping beats on deck.
What great music! They stop for a swim you can swim in crystal clear waters. You stop your swim, dry yourself and get back onto the deck before sunset.
While you are partying you dance to your heart's content gladly and in a way madly too. Also, you enjoy the free-flowing shots passed around by the crew.
---
Jiggy Boat Party Itinerary
Firstly, All Party Monkeys Meet at Jiggy Bar
Party People come to Jiggy Bar. Once we meet you, Jiggy let you have your wristband, registration and the drinks token.
Transfer to Harbour
We take the necessary action to transfer you to the harbour. At the harbour, the traveller will be collected up by boat and taken to our yacht.
Gili Boat Party Set Sail
There will be a wonderful swim stop by Lombok for one hour to get wet on tropical water. This swim is to be done in crystal clear southern water.
Well, Gili Boat Party Into the Sunset
Travellers get free shot rounds as we party into the sunset and take a romantically sexy sunset photo of the boat.
---
Gili Boat Party Second Option 
Gili Boat Party with Booze Cruise.
Oh yes, before I experienced this boat party I had heard about it. Also, I had seen photos sent to me by my friends.
After having experienced what it is I started recommending it to my fellow backpackers. To tell you the truth, I should say that Trawangan Booze Cruise gave me pleasure to me and what I received was more than what I really expected.
Cost About : 350,000 IDR ($30/ one drink included)
---
Travellers may find the best deals and options that are cheaper. 
Do you know how I happened to choose this Gili Boat party? I was riding my bike to meet up some friend to go snorkelling when I saw a gathering. The crowd was made up of an interesting group of people.
When I came close to it I saw two English girls promoting the cruise. They told me that I should join and see if what they say was true or not.
They said that they could get a chance for me. In addition, I came to know how I can hook up some of them for they do sweet jobs like sugar mama jobs on the boat.
I met few ladies doing Sugar mama job on the Gili Boat Party, if your single male, they come and hook up with you and you have to get the drink and may end up paying some money around 2 million Indonesian currency.
Please Note – Those  Sugar mamas are just hanging around on the island to get a hook. But there no any connection with party boat or Jiggy Bar at all. 
This booze cruise leaves Gili T. and continues its course and they go passing Gili Meno, Gili Air. They stop at Lombok to get the pleasure hunters a chance to go swimming and experience how they could jump off the boat.
In fact, this boat is as nice as nice could be. When I found myself on the boat I wondered whether it was a ratchet boat, but it was clear to me that it was nothing but a yacht.
Believe me, if you will. Of course, I am telling you the truth. The sound system on the boat is unbelievably superb.
We could hear the DJs playing some electronic hip-hop tunes incessantly during our cruise. What superb acoustic satisfaction. I should call it sensuous too.
The people. It is very obvious that a booze cruise can only be as good as the people on board. Luckily I could get acquainted with some wonderful backpackers on board.
---
After Gili Boat Party with Jiggy 
Hosting of the official boat party is done by the Jiggy Bar. This offers ample opportunities for young solo travellers to meet anybody they like and if luck would have it they may end up with hooking up with someone that they like and make friends with. Oh yes, you can get great sensual experience on board.
You may stay here until the end. Then if your preference is walking down to the beach to feel the natural breeze you can choose to do so.
If it is not the case. Well.. then you can enjoy yourself in your room or in the pool. Oh, mate it is really possible to have fun in sex on Gili without spending any money.
What becomes clear mate is the great opportunity you have to realise your dreams in sex. Yes, you can do it while you are on the boat!
Being able to get the sex fantasies achieved on the Boat is a wonderful opportunity for the travellers. The boat is not a large one.
As a result, there is no possibility of getting bagged up on the same boat in which you are having the party. The most opportune time to have fun in sex is after the boat party.
How to Find Girls to Go to the Party With
The abundant presence of ladies both from the west and the east opens great avenues for making selective choices of a partner for one night stands.
They hang around on tinder as well as around bars. When you find yourself there, the case may be that you will have no girls and no fun. It is only a matter of looking around on tinder or going out to Jigga Bar for the first night.
There few Sugar mama on Tinder, I met one Canadian, Fe Bali ladies, French and English
You have got to sit there to have a drink. Then you will be beset by great numbers of ladies who are eager to join you,  join you for the party.
Get her images and this particular girl, no doubt, will become your dream girl satisfying your lustful feats. Hey! This does not come for no money. Rather, get ready to pay for her.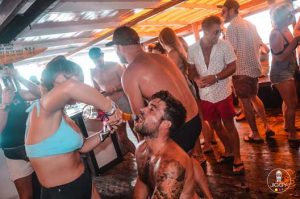 How to Find a Boy to Have Fun as You Try to Embark on a Cruise with Boat Party Fun
There is a large number of Indonesian boys who wait eagerly for western ladies. They are willing to have a one-night stand.
As it is always the case, you have to walk around during your first day. There is a presence of bar boys and boat boys who are madly into your company.
They are as ready as ready can be and will fulfil your needs like mad. The other thing is they maybe travellers who are good -looking. They could be found on the boat or Jigga bar or around it.
The Best Boat Party in JIGGY Boat Party on Gili, Trawangan
What does this great party offer you? As you can see the best services are available with it. For the travellers looking for relaxation holidays of best kind of sex on white sandy beaches, this boat party is the best and it is without equal.
Why Jiggy Boat Party is the Best
This particular Gili boat party starts at 2 PM and goes on for up to five hours. It goes partying around the Gili islands.
It sets sail at 2 PM for an exciting 5 hours replete with greatest hours of partying. This is indeed, Indonesia's most sought after boat party and calling it the best would not be a falsehood, either.
It offers 2 fresh shots around. The party keeps going strong with the free shots round given during the whole day. There are shot girls serving you your shots to the accompaniment of music that charms your heart and soul.
There are three rounds of riding around the Gili islands. As you cruise around these Gili islands you get a picturesque view of  Trawangan Meno and Air.
It stops for getting extra fun. They usually stop just outside Lombok. From here you get a 360-degree view of all the three beautiful and breathtaking islands and Lombok.
Here you get extra fun which could be called ever the maddest as you jump into crystal clear waters that are turquoise.
You get the opportunity to party on Sunset Beach it helps you get the most enthusiastic, wildest of moments in your time as it sails into the sunset giving the party a continuity. A carousel indeed!
It has the best DJ music. You find the finest of Indonesian DJs that play your favourite numbers from deep house, R&B house and big room.
How to Get On Gili Trawangan
The first thing is booking the tickets to Bali Island. Then you should get a boat to Trawangan from Bali. Several boat services are available from Bali to Gili island or Lombok island. The closest and the largest administrative island is Lombok.
Gili Boat Party Prices
They treat you differently when it comes to prices. This discrimination is really high while the prices are great high for men. The prices for ladies are low.
For men, it is around $26 whereas for ladies it is around $19. There are also group prices. They are around $110 for 6 tickets. All tickets entitle you to have a welcome drink and the most thrilling shot rounds.
---
You are lucky as there are hotels, hostels, resorts, beach clubs aplenty. When it came to booking I opted to book a hotel with hotels combined.
My room was lovely. It was a room with a great many enticing views. It cost me $20 Here you find the accommodation deals that could be among the best ones when you come to the party on Gili Boat party on Trawangan.
Look Up The Best Hotel Deals with Hotel Combined Here
---
Gili Boat Party Safety Tips
Here is useful advice for single women who travel to Gili T. alone. I have just got back from Gili. So I have got enough experience that is firsthand.
Let me advise solo female travellers. Maybe it would be best for you to stay in a Hotel   while you are partying here.
Choose somewhere that is best suited for you to go out at night and meet people. In fact, so many are the travellers that hang around.
If you are a white lady who is alone. Nearness of accommodation to such location where you can socialize. 
Why do you think I advise you in this way. It is mainly because your personality is responsible in your manner of finding someone to hang around when you are alone local guys might harass you.
You will always be asked if you were alone it could be troublesome to you. Many might follow you asking you to go to bed with them. When you are even a busy street in the evening you could go out. and have a nice time.
Gili Boat Party Drugs Issues 
Indonesian Police are always actively involved in keeping the law and order on Gili T. However, weeds are available almost everywhere on the Gili Islands. Along with weed comes local alcohol.
Never ever go to bars that do not look genuine. Be on your guard when you meet voluntary guides. Be aware that secret detectives maybe at work. So take extra care.
It is advisable that you do not look the trip in advance. You should find out the itineraries and check well. Then try to get a good deal.
Also, you should eat a big meal before the cruise as there is no food available on board the cruise boat. You can buy a small bottle of vodka and put into your water bottle.
Though they check everyone on board you can take this with you secretly. For this, you should be really smart. Be active, dance and meet people.
Take with you a bottle of water and sun cream  It is a really wise thing to do.
Be assured by me. This cruise is an immeasurable booze of sexuality in disguise. NOW IT'S TURN. YOU CHOOSE THIS CRUISE MEANS YOU MAKE THE RIGHT CHOICE! I would Come Back to Gili Boat Party With Jiggy. 
More Travel Blogs