Last updated on April 1st, 2019 at 05:00 pm
Bulgaria Sunny Beach Nightlife culture belongs to one of the best ones in the Eastern part of Europe.
It could be described as a nice and vibrant blend of American, western European and original Eastern and central European Sex culture, guaranteeing you to have the best nightlife experience as a single solo traveller.
Especially the capital city of Sofia and the Sunny beach offer the best Bulgarian nightlife fun for travellers. It could be even compared to Bangkok or Bali in Asia.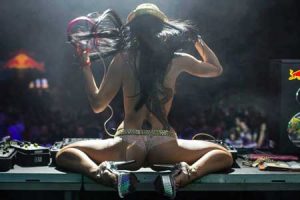 ---
---
Bulgaria is in general also one of the most popular nightlife destinations among High School and Uni students from Northern and Western Europe.
They come to have some sexy summer memories on the Beach and to get ultimate alcohol, Sex, and drugs fun on Sunny Beach in Bulgaria.
What initially started as a kind of a music style eventually turned into a bunch of intoxicated people dancing, belly-dancing and twerking, having hands high in the air and whistling on exposed female singers. Chalga nightclubs are a speciality in Sofia and Sunny Beach.
If you wonder what Chalga nights are, wonder no more. Chalga is a music genre, its lyrics are all about love, making love, making love to make up for a broken heart, playing hard to get and so on.
Kitsch, someone might call it. But for locals, it remains a tradition. This pop-folk and folk-inspired dance music incorporate the Bulgarian music and many other influences such as Greek, Arabic or Turkish.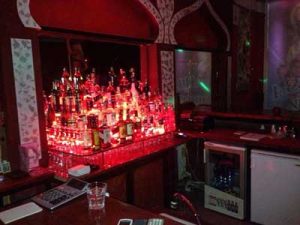 Another popular activity, apart from the sexy dancing, this tradition brings is a napkin throwing. Half naked girls with silicone lips and boobs in high heels are showered by napkins, covering the floor like a snow. People are able to spend a fortune on those napkins.
Why is it so, that remains a mystery to many. Chalga evokes the feeling of luxury, despite Bulgaria is one of the poorest countries in Europe. At least during those nights, everyone feels rich.
But Bulgaria is not only about chalga' nights and hipster bars. There are so much culture and history. Try to meet some locals to show you around and help you discover some hidden gems.
---
Sunny Beach Sexy Nightlife Party
Without being pretentious, Sunny Beach is definitely one of the top party spots on the coastline of the Black Sea.
It is a very popular and attractive highlight, especially among young populations of party-goers.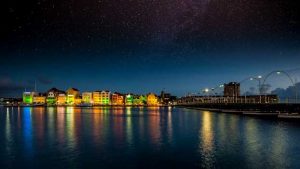 They like the way they can let all the problems and stress behind them and enjoy the best party time after school or exams, yet still, stick to the budget.
To be fair, the nightlife in Sunny Beach is an unbelievably cheap matter and very affordable even for the youngsters.
Why not join the group for an exciting pub crawl, dancing at a foam party or let off steam during a party on a boat?
---
Best Hotels Deals On Suuny Beach Bulgaria Here
---
Best Night Clubs & Bars on Sunny Beach
---
Bedroom Club Possible Sex on Sunny Beach
Bedroom beach (il Paradiso del mare Nero) is an elegant nightclub mostly for the high-class society nightlife entertainment.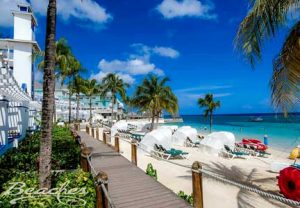 Bedroom beach will welcome you with an elegant inner area. Almost everything is made of natural materials, creating a stylish and classy interior look. The venue can host up to 2 500 guests.
---
Cacao Beach Club Nonstop Dancing
Opened since 2003, the Cacao Beach Club has made itself a name for some unforgettable summer memories.
Get into the party mood on the South coast of Sunny Beach. This club has been facing such a high popularity in recent years that the entire area got its name after it – the CACAO BEACH!
Spacious and friendly, the Cacao Beach Club will bring you into the best summer mood, awakening the feeling of freedom in your veins.
---
La Cubanita Beach Bar – The Most popular Fun Night out on Sunny Beach
Another highlight on the Cacao Beach, La Cubanita Beach Bar will bring you all the rhythms of the hot Latin culture, including their summer delishness and Cuban vibes.
The atmosphere in "La Cubanita Beach Bar" trying to bring you to some of the most exotic destinations around the world.
You will feel like virtually leaving Europe and landing in a tropical beach paradise somewhere in the Caribbean.
Enjoy magnificent ocean views, great location, and fantastic parties all summer long!
---
The 1 Club
Another gem situated in Sunny Beach, The 1 Club is the place where the party never ends.
Club The 1 has quickly become one of the most crowded places on the Seaside of the Black Seas.
It underwent a renovation in 2013 and the interior got a brand new look. There is now a VIP lounge and also an open-air area.
The clubs live under a motto "No live bands and no genre barriers", guaranteeing you all kinds of music and some top class DJs.
---
THE BOUNCE CLUB
The Bounce Club brings an amazing summer party atmosphere with a friendly staff, delicious cocktails your taste buds will simply fall in love with and some of the best music rhythms.
---
Party Club Iceberg
Party Club Iceberg is located in the centre of Sunny Beach. It is one of the fastest growing
Party places on the continent. The Club has been awarded as the Best Disco and Night Club in Sunny Beach.
Iceberg will you the ultimate night out experience in Sunny Beach like no other place!
The Management is formed by a dynamic and flexible international team from all parts of the world.
---
Den Glade Viking – Sunny Beach
Den Glade Viking is one of the best party venues in Sunny Beach. Safe and friendly environment, splendid music and great management ensure that people drink and party hard to enjoy their night to the fullest.
---
The Party Crew – Sexy Party
The Party Crew is the first entertainments team which is based in Sunny Beach, Bulgaria. Their promotions are simply top class!
They have been running for more than 10 years, getting more and more perfect every year!
You can actually see some of the events on the Hit Channel 4 TV Show "What Happens in Sunny Beach".
They are organizing some of the most original parties and events in Sunny Beach! Those are for instance
"The Original Bar Crawl" or "The only foam Party" on the beach. Boat parties such as the "Tattoo Party Boat" Day cruise or "Sundown" Boat Party, as well as the recently very popular"Blue Moon" party.
---
VALHALLA dine & party
Valhalla is one of the best clubs in Sunny Beach. There is a free bar for girls every night and hell yeah, it attracts a lot of beautiful and sexy looking girls.
The music is great, the atmosphere simply fantastic, people are crazily friendly and nice.. and the drinks are delish! What else do you need? You will love Valhalla!
---
Guava Beach Club
Guava Beach Club another one on the list of the best resorts in Sunny Beach for partying.
It hosts some of the best events on the beach and exclusive and VIP parties such as the "Totally Summer" bringing more than 1500 people to every event.
There is also the "As seen on TV", as well as the biggest foam party on the beach – the "Bubbles on The Beach". Enjoy some relaxation and chill atmosphere at this sexy beach club!
What about having a cocktail in a hammock, chilling out in a teepee, having a shisha or dancing under the moonlight while enjoying a delicious BBQ and snacks from the menu.
---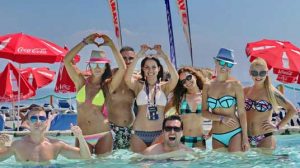 Candy club Sunny beach
Candy Club situated on Flower Street is a perfect place for a summer party. Spend an unforgettable holiday here with parties including perfect sound and amazing light show.
Several levels can accommodate more than 800 party goers and bring their party dreams to life!
---
Mexico Bar
Mexico Bar is an amazing bar in Bulgaria situated next to the strip. It is a must visit place for its wide drinks and cocktails selection at the bar, all made by very skillful bartenders!
---
Die Party
Come in and enjoy a wide range of international (mainly German) cuisine together with many delicious tasting exotic cocktails and ice cold beers.
There is something for everyone. Music is played by famous artists and DJs from all over the world. You will definitely have a great night!
---
ECO-Bar By Michael


Great place with great prices. Cheap and delicious ice cold beer. You will feel like sitting in a cafe, but the atmosphere is worth a visit.
---
Oxygen
Again, a cheap and great place. Oxygen has also a very good sound and delicious drinks.
It is a nice bar for a night out if you don't need the wildest party but just a great place to go and chat above a glass of something yummy with friends.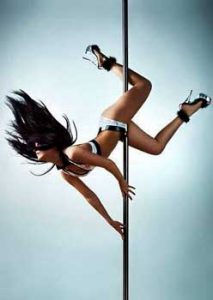 Best sex clubs on Sunny Beach – Black Rose Erotic bar
You will find the Black Rose Hotel / Erotic Bar at the Royal central, 8240 Sunny Beach, Bulgaria.
Stunning ladies with perfect bodies, awesome atmosphere, and relaxing vibes. Just go and have fun. You will not regret!
How do you get to Sunny Beach from the capital of Sofia?
The distance between those two is around 400 km, therefore you will need a vehicle. Or you can take a bus.
Or simply fly from the capital. The journey on the ground will take you over 4 hours of travelling time.
---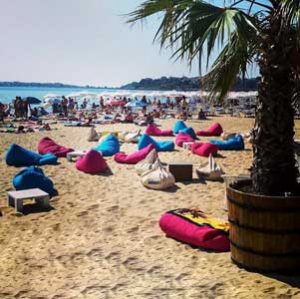 Greet the sun on in the summer
Early morning on 1st July is when early risers gather at Kamen Bryag to greet the sun rising on the horizon.
People usually camp overnight to be there as early as possible to celebrate this tradition. Joined by the founder and first inspiration to this festival, John Lawton of Uriah Heep (who created a song of July Morning), and listen to this song together with thousands of people gathered at the place.
This tradition is also celebrated in Sunny Beach, where the party starts the night before and goes on till late morning to the sounds beats of local DJs.
---
Bulgarian wine
Although it may not be the most popular wine in Europe, Bulgarian wine is a delicious beverage crafted by many years of traditions.
The decline in its popularity came with the boost of other European wines and world-class wineries.
Only 12 km from Sunny Beach, the Medovo Winery is a great attraction for wine lovers.
Visitors can enjoy the Bulgarian Black sea wine made from the carefully taken care of grapes by locals. You can taste both classic and premium wines there.
---
Summer Summer music festivals on Sunny Beach
It didn't take more than 10 years for Bulgaria to establish a great ground for various music festivals and the Black Sea coast is humming with tens of different rhythms and sounds all summer long.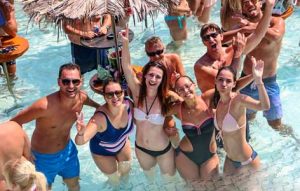 The initial festival is Kavarna Rock Fest at Kaliakra Stadium, which has been running since 2006, providing festival-goers with a great portion of rock and heavy metal.
For EDM fans, the electronic music festival in Sunny Beach running for the entire month. World class DJs make each day of the festival an unforgettable party memory.
---
Sail the coast on a hydrofoil
Would you like to enjoy the fresh breeze on your face as you cruise along the coastline? Those are the scenic routes for you!
Fast Ferry Hydrofoils offer full-day excursions twice a week on the Kometa hydrofoil. It's a unique experience offering adrenaline and excitement.
You will be picked up at 8:30 from Sunny Beach and returned back in the evening.
Explore Old Nessebar harbour, Sozopol, and its old town and spend the entire afternoon having fun! Lunch is included in the tour.
---
Explore one of Europe's most ancient settlements
Nessebar – this ancient city is a remnant of many civilizations. You can feel the history on its streets, from the Thracians and Greeks to the Roman and Byzantine empires.
Traces from all those cultures are left behind, waiting for you to be explored. Nessebar used to be one of the most important cities on the Black Sea's west coast during the Middle Ages.
---
Enjoy the mud baths
Mud baths are one of the best local secrets of the entire coast of Black Sea in Bulgaria.
Those magic places have been naturally formed over million years and are a perfect cure for any joint and skin problems.
You would probably never believe who was the first one to try out it's healing magic – the Hitler himself back in 1942.
Ge was so satisfied that he brought several loads of mud back to Germany with him.
The mud baths and its lye pools of a rust color with high salt content are popular among locals and tourists.
You can swim in the pool and float on the top of the surface, similar to in the Red Sea. Baths are located in Atanasovsko Lake, half an hour drive from Sunny Beach, nearby Burgas.
---
More free activities on Sunny Beach Bulgaria
Families with a kind of the holiday can enjoy various activities without even having to step their feet outside the resort.
There are top facilities for all kinds of water sports, such as banana-boating, water skiing, and parasailing.
All ranging from easy to extreme, to please everyone's taste. Leaving the water, you can enjoy a game of volleyball on the beach, play tennis or have a riding lesson.
The best thing about resorts in Sunny Beach is the cost, it is only a small fraction of the price you would normally pay in the rest of Europe.
---
Popular and unpopular beaches on the Black sea coast
Seek out the virgin beaches of the Black Sea
Sunny Beach usually gets truly crowded during the summer season. That might be a bummer for some travellers.
If you wish to enjoy a long stretch of a beach which is not head to head you should look for some alternatives to the most known ones.
One of the greatest beaches is the one in Sveti Vlas, located north from the Sunny Beach. If you wish to leave the resorts behind you, head to Irakli.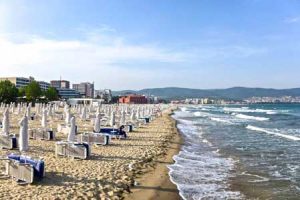 There is almost a three kilometers long stretch of pure beach and sand dunes. It is popular among young locals, they come to the golden sands to camp and spend weekends there.
One great place you should not miss on your trip is Cape Emine. If you reach the 60 meters tall cliff, you will be rewarded by a breathtaking view over the ocean water.
Some other great beaches which are not as crowded are for instance the Harmanite Beach, Sozopol, Smokinya Beach. Pomorie Beach. Also beaches like Sinemorets Veleka Beach, Bolata Beach.
Lozenets is a place where you can find four beaches. There is coral is surrounding the beach with sand dunes and wild forest in the neighborhood offers bungalows and accommodation to spend the night.
Resort & SPA Oasis is there for those who prefer a bit more comfort. They have sunbeds, couches on the beach and tents.
Their bars serve delicious drinks, although it gets little more expensive. But the experience and comfort are worth it.
Visit the Tarfa beach which is quite small and hidden in a gulf, but offer very quiet and tranquil water.
Central Beach is for those, you like to enjoy the crowd and have fun during water sports such as jet skis, surfing lessons and other.
Golden Sands Beach
Bulgarian Zlatni Pyasatsi (Golden Sands) is the oldest resort on Bulgaria's Black Sea coast. It was constructed in 1956.
They offer a great selection of attractions such as aqua parks and amusement parks or the mini-golf course.
It has a 3.5km long stretch of coastline making it one of the longest beaches in Bulgaria. The send is simply perfect and local hotels offer amazing sports facilities. You can also enjoy horse-riding there.
Sunny Beach Travel Warning
Sex, drugs, booze, food, and safety. Everything you should know before going Sunny Beach
With the perfect weather condition, extremely cheap prices of food and booze, and an incredible selection of hot women and different activities – it's pretty clear why Sunny Beach has become one of the most popular holiday destinations not only in Bulgaria but in entire Europe.
Here's a list of the things you MUST know before going spend your holiday in Sunny Beach:
THE BEACH
The beach has everything you need, activities, waters sports, beautiful bodies to look at.. It is the place you want to be at during the summer heat.
On the top, many women chose to take down their tops to expose what many of us want to see. Just to get the bronze everywhere.
Unfortunately though, when the day comes to an end and the sun disappears, you should be careful as the beach is not such a safe place in the night time. Drunk tourists often end up being a victim of small local gangs.
FOR YOUR SAFETY, TRY TO AVOID DOING FOLLOWING IN SUNNY BEACH AT NIGHT:
Avoid walking completely alone along the beach at night (especially from 1 am to 5 am).

DO NOT PEE ON THE BEACH. You might end up paying quite a lot of money or, in the worse case, getting your ass kicked
SKINNY DIPPING, if you do so, be ready to have your money and clothes stolen. At least, always ask somebody to look after your things.
SEX ON THE BEACH is not the best thing to do in such a crowded place. You might get caught by the wrong guys. Moreover, don't fall into the trap of FREE SEX ON THE BEACH. There is no such thing.
FOOD AND DRINKS on Sunny Beach
Despite your expectations, not all places in Sunny Beach are cheap. Especially fast foods or certain bars will have prices over the standard you would expect in any European resorts.
SOME SUNNY BEACH FOOD AND DRINKS TIPS
Get the unlimited ribs load at Dino's for 25 lev (£12.50)

Corns on the cobs you get on the street are simply the best

For some fried chicken, hop on the KFC special tram

If you love curry, check out the Indian restaurant Bombay Grill
WHAT TO WATCH OUT FOR IN SUNNY BEACH REGARDING FOOD AND DRINK:
Don't buy cherries – they'll attempt to charge you for the entire basket.

Ketchup and mayos are super bad

Never buy a drink for the strip club girl

All Inclusive hotels often disappoint, do your research about your place

McDonald's, KFC or Burger King is super overpriced
---
SEX on Sunny Beach
Looking at the beautiful girls out there, chances are that you will want it.
Look for the single British girls at the party (free Party Crew's Bar Crawl when booked in advance)
Look for Scandinavian beauties at Viking nightclub.
Prostitution is illegal… But tolerated everywhere.. Prices differ from 60 lev (£30) an hour in Burgas to 170 lev (£80) for 30 minutes or a blow job in the heart of Sunny Beach.
You will find it in strip clubs mostly, they'll offer you a lap dance and some extras. Advice is, skip the dance and go directly after what you want.
Once again, free sex on the beach is not a thing. When offered, run away.
MAFIA on Sunny Beach
Don't forget, some parts of Sunny Beach are run by the Mafia. Be careful and respect the place, otherwise, you will regret.
DRUGS on Sunny Beach
Drugs are not allowed or even tolerated in Sunny Beach. Yet, they are somehow accessible. Dealers might approach you on the street, trying to offer pills and weed. You can also ask taxi drivers or the guys trying to get you into a strip club.
PRICES OF DRUGS IN SUNNY BEACH, cca:
Weed: 1 gram= 20-30 lev (£15)

Good cocaine: 140 lev (£70)

Shit cocaine: 70 lev (£35) – don't bother

Ecstasy = 20 lev (£10) a pill

Laughing gas = 10 lev (£5) – legal in clubs
Currency Exchanged on Sunny Beach
How cheap your holiday will depend on where you go and what you are gonna do there. As mentioned, fast foods are hella expensive. The menu in McDonald's will probably be the most expensive one you have ever had.
MONEY-SAVING TIPS IN SUNNY BEACH:
Change your money either ahead or at Crown cash points. They are safe and have good rates.
Bulgarian's will probably always try their luck on you. Therefore, barter. Especially with taxis and markets.
People are charged for using toilets in most clubs. Bring plenty of change then. You can also get the VIP pass.

Your American Express card will be pretty much useless

.
Make sure your bank knows that you're visiting Bulgaria, so they don't block you plus to avoid troubles.
Book your event pass in advance. You will save a lot and you will also be given a photo VIP pass, including all different hacks! Such as 40% off food and drink in a list of cool bars and restaurants.
There is also a free club entry, a free bar crawl, boat party, foam party, paint party and the important toilet pass!
More Nightlife Party Travel Blog Here
Sunny Beach on Google Map