List of Bluest Water Travel Attractions info Guide 
The sight of Bluest Water spots which are among the clearest in the world makes the travelers have the best of relaxing interaction with nature.
Here is a list of bluest water in the world we introduce them to you, the travelers, with the purest intention of helping you catch the sight of a few waves and rays only to end up achieving an inner peace of soul-soothing nature.
Actually, these lakes, seas, beaches, and bays have wonderful vistas. They are there from navy blue to lightest and most lucid turquoises which can entice your imagination to the best of its capacity.
If I say that they are places of taintless beauty to get a fresh communion with nature I am telling you nothing but what is true.
Yes, you can find this wonderful soul relaxing mesmerizing interaction with nature by yourself or with your family in its entirety.
Let me take away to a wide array of beaches. For one, as they say, one beach is similar to another, but mate, there are vast differences between beaches.
That is, some beaches are far better than others of their kind. For many, a  beach is a place to feat the eyes on marvelous palm trees dancing to the wind with the accompaniment of the unending sound of the seas as the waves give pressing kisses to the beach making it a breathtaking, spectacular view.
For some others what matters when it comes to a beach is its clear water. Let me tell you of thirteen beaches with their clearest of Bluest Water which makes them adorable. They are said to be so clear that you need not use diving goggles in them.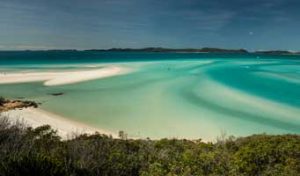 The Bluest Water in Australia -Whitehaven Beach
This beach in Whitsunday island is a Virgin beach which has won awards. It is the largest of the 74 islands in the Whitsunday.
It stretches more than 7 kilometers and it looks as if the beach is proud of its bright white silica sand is among the purest in the world.
Once you make your feet sink into the sand and wade into the warm waves that soothingly kiss the shore with such magical gentleness you will find yourself beset with one reality as to why people from various countries frequent this beach.
Beauty and comforting solace in its truest form. Hill Inlet is at the northern end of Bluest Water Whitehaven beach and it is a breathtaking inlet where the tide shifts the sand and water bringing about a fusion of colors.
It is the viewpoint of many visitors who admire this beach that it is one of the most attractive beaches ever to be visited by them in their lifetime.
The view at tongue point is known to be the best and here you can see swirling sands of Hill Inlet and I advise you to book your Bluest Water Whitehaven tour with a person who knows that place well if you do not mind a bush walk which is not at all very long.
Crater Lake – Bluest Water Travel Destination 
Crater Lake is a caldera lake in south-central Oregon. Here you find one of the most beautiful natural wonders of North America.
It is nothing but this crater lake known as a Caldera lake. It lies in south-central Oregon and it is a part of the cascade mountain range volcanic arc. The tribal kalamath people think of it as a holy site.
The first exotic people saw this for the first time in June 1853. It occurred as the gold prospector John Wesley Hillman found it. Then he named it the deep blue lake.
Seychelles Islands – Bluest Water in Africa
It is said that you cannot find many places in the world where hawksbill turtles feel so free without any risk to their life.
Here they come ashore to lay eggs in daylight. That is to say, Seychelles enjoys a place as a free sanctuary for them.
She first makes a hole in the sand enters it and go to a wonderful trance while engaged in the egg laying activity.
Their hard shell on the back swayed while lychee-like Eva plopped into the hole.
I went there with an ecologist called Erin who measured the turtle's shell and examined her tag. It was so serene.
What we could hear was the one that came from shuffling leaves and the soft whisper of the warm breeze.
Thirty minutes passed by before I changed my position of lying flat on my back on the Bluest Water beach and I had to make myself free from fine, white sand.

The BLUEST WATE Travel Destination Manini'owali Beach, Hawaii
This beach is located at Manini'owali Beach at Kua Bay in Hawaii. This, in fact, is part of Kekaha Kai State Park and is one among very attractive, huge island beaches of Hawaii.
The beaches have fine white sand sloping softly and crossing to the charming lucid turquoise Bluest Water, swimming here can be called breathtaking, especially when the ocean is calm. 
Why not engage in some good and decent snorkeling along the rocky ends of the beach on either side.
In particular, in summer months, the beautiful sand that is really soft covers the whole beach from the north to the south.
You can see more of lava rocks which is open to the view in the winter month. This happens as sand is carried out with the surf. There is no better place to have water shoes to go across the rocks.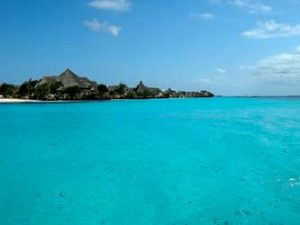 Zanzibar T

anzania is the BLUEST WATER IN East Africa
If you look for one of the world's most exotic destinations the spice island of Zanzibar could be the best and blemishless location in the Indian ocean.
With an outstanding historical background and filled with cultural diversity which is really enticing Zanzibar stand with its pride of possessing a palm-fringed coastline with pristine beaches and Bluest Water that is warm and clear.
There is an availability of two resorts for the guests. On the virgin east coast. One is Bluebay Beach Resort and spa and the other is Sultan Sands Island Resort.
These two locations of attractive sandy beaches have an idyllic 500 m of the virgin coastline of the Indian ocean.
Saturno Cave Cuba
This is a natural place which marvels you and it is located about 20 km west of Varadero. This is a big opening in the ground which is full of fresh water that is crystal clear.
You can swim or snorkel in order that you can see attractive stalactites and stalagmite formation of fish shrimp which are said to be blind. Scuba divers can enjoy the two galleries at a depth of 20 meters.
Cueva Saturno is a well-liked stop for the ones who are engaged in many of the excursions provided by Varadero.
If you really want to go by yourself for it it is what you prefer, well then go in the morning or afternoon. You can also have a snack at the onsite snack bar.
Paradise Tropical Island in Panama-San Blas-Kuna
For the ones looking for best of tropical paradise destinations, the San Blas in Central America is the most ideal place.
It is an archipelago which is bathed in golden sunlight and you can get the utmost delight of being bathed in sunshine in a manner which is like a utopian state of it.
The islands are of many kinds and also they are breathtakingly charming.
They range from small and the ones where there is no human habitation. The ones which you find people in have so many attractions.
Some of the islands are sparsely inhabited and some have quite a number of population.
The presence of many works of natural beauty in and around the San Blas is what you could happily explore and discover if ever you happen to go there.
The number of islands in the archipelago number 378 and they lie within an area of about 258 sq km.
The San Blas is a region in Panama with a self-government. This is officially called Kuna Yala.
It came to be called as such after the native community who really inhabited the area. There is a vast coverage of the coastal mainland here.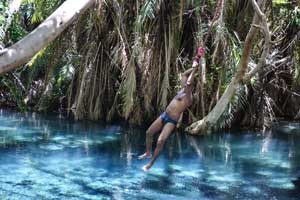 Kikuletwa Hot Springs in Moshi Tanzania
You drive from Moshi to Kikuletwa Hot Springs. There is a paved road in the direction of Arusha before you turn left onto a gravel road after about thirty minutes.
The road helps you enjoy the beautiful African countryside which goes past bushland, dry river beds, baobab and acacia trees.
This area which is not small used to be a hunting ground for Europeans during the 1800s. It is a home of many different tribal communities.
They live peacefully with their neighbors. Many animals which are hunted have migrated. There still is the existence of many kinds of animals and among them, you could also find many kinds of birds.
As soon as you arrive at Kikuletwa what do you think that come into view if not large fig trees in the middle of half in the middle of the half-dry landscape.
In fact, water which is as clear as crystal bubble from the underground caves. This makes you think that the water is boiling.
For this reason, it has come to be called and known as Bluest Water Hot Springs in Tanzania. 
Red Sea Coastline in Sharm El Sheikh, Egypt, Sinai
You can find Sharm El Sheikh extending for 30 km along the coast of the red sea. It has a combination of several religious and each has their specific inherent attributes.
Here feel free to find a modern mixture of traditional bazaars, coffee shops, food restaurants and bars in fashion.
What do you think the most attractive part and the heart of the resort? If I say that it is Naama Bay with its beach draped in golden sunshine resplendent with bars and restaurants, it is an apt answer.
Then for a magnificent and resoundingly beautiful view across the straits come to the cliff top hotel of Ras Um El Sid El Pasha bay which offers a very calm milieu giving you caressing experiences, especially for families.
Shark Bay gives you to enjoy a drink in best of bars. It offers you cafes, restaurants in reasonably large numbers.
Then there is yet another attraction which is nothing but the famous Soho Square mall.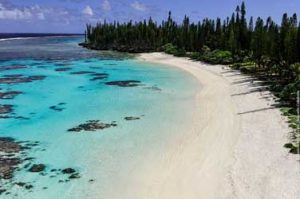 Idyllic Beach New Caledonia
How would you feel if your favorite Riviera resort is transported to a South Seas paradise as if by some kind of magical influence?
Well, it is a location to find 300 tribes who speak diverse languages which cannot be understood by one another. They all have mastery of French, though.
There is a reef in New Caledonia Grand Terre which can compete with the ones in Australia and the world's biggest coral lagoon.
It also bays clad with palms along the bays and beaches giving you a magnificent view.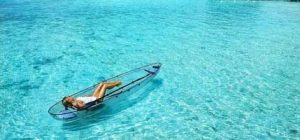 The BLUEST WATER in Western Australia
Cable Beach 
There is a wonderful beach with pure white sand. This beach which is 22 km long is edged by the dark blue water of the Indian ocean.
As it is an attractive place many visitors from Australia and from around the world come to see its beauty.
White sand dunes and ochre red cliffs act as a boundary to it. For the visitors who visit it, there are facilities such as resort amenities and a caravan park very near the beach.
It is blessed with the perfect warm weather. For the most part of the year and has proved itself to be one of the best places to engage in a beach holiday.
British Virgin Island
Let me extend a warm welcome to the British Virgin Islands. These islands come under the control of Britain as they are areas of her Majesty's land.
However other than there is the abundant availability of fish and chips which is characteristic of Britain there really is a unique and inherent characteristic of its own.
Why do most travelers come to it? It is for no other reason than enjoying themselves among the 50 plus sites.
It has steady trade winds and calm currents. It, indeed, has protected bays and pirate ship bars. In addition, it is really popular for being one of the most prominent sailing hot spots.
Maldives, South East Asia
The presence of glittering blue water and beaches which can be called beaches of best character makes the Maldives a romantic spot of its kind.
It is ideal not only for honeymooners but also for ones who desire to indulge in a comforting holiday.
It finds itself conveniently located amidst coral islands and it gives you the best of comforts. Maybe, you would like to dive in the water or you may prefer to sit by the beach. If it is the case the best time to visit would be the dry season.
That is from December to April. We recommend that period as there are light rainfall and low humidity during that time.
So get my advice and make sure you do not forget to learn about these 20 beaches that are really magical and enticing in character.
Five flower lake in China, Jiuzhaigou
In the north of Sichuan province in Jiuzhaigou, there is a nature reserve and a national park. Five flower lies there. You can call five flower lake the pride and honor of Jiuzhai Valley.
Five flower lake is located at the end of the upper reach of peacock river. It is 2472 meters above the sea level and only five meters deep. In the lakefront, there are colorful leaves. They add beauty to the lake.
The water has in it calcium carbonate also with hydrophytes with a variety of colors which give a Versicolor sight – azure blue, blackish green, light yellow etc. It has been named five flower lake for this reason.
For the local people, it is a holy lake. They know a natural law that where there is good water there are flourishing flowers.
If you look at this lake from the mountain you will find a wonderful appearance of the lake.
Yes with hills on three sides it is just like a huge upside-down cucurbit falling to its lower place with such grandeur.
Ionian Island, Greece
It is adorned with a temporal climate. It has deep and cool sea waters. The mountains it possesses and its lush vegetables make it spectacular. Moreover, it enjoys its place as having a unique cultural heritage.
The Islanders are cheerful in their real nature and this is yet another reason for it to become an ideal place for a holiday in which you can get ample rest and effective relaxation.
Added to all this is the facilities for tourism with its fantastic hotel accommodations restaurants diving centers, seas sports, and cultural events.
There is a large number of sights, historic monuments, and museum which are worth visiting.
Plitvice Lake Croatia
In Croatia, there is a national park called the Plitvice lakes national park. It is really an important tourist attraction center in Croatia.
Then a wonderful privilege came on its way as it was declared a  UNESCO World Heritage site in 1979.
It lies closely halfway between capital city Zagreb and Zadar on the coast. The lakes are clearly the ones you must not miss seeing.
The national park is decorated with the beauty of more than sixteen of its marvelous lakes. These lakes are interconnected by a series of lakes.
These lakes and waterfalls are amidst the woodland fully occupied by deer, bears, wolves, boars and rare bird species.
The total area of the national park is 300 sq kilometers. The lakes join together over a distance of eight kilometers, though.
Ambergris Caye, Belize's largest island
This is to be called the largest of islands in Belize. It is a vastly popular travel destination for people traveling to this western Caribbean nation.
If you look for a town you will find San Pedro to be the only one that exists.
Ambergris Caye, they say has been enjoying its place as the hub of the regions maritime trade for centuries. Since the last time, the means of the islander's support has been fishing coconut and chicle.  
However, since the last thirty years, a massive development in diving and scuba trade and ecotourism has been really worth mentioning.
There is a huge lot you are able to engage in San Pedro town. This has made Ambergris Caye the gateway for people who are crazy about visiting this country clad in the beauty of maritime character.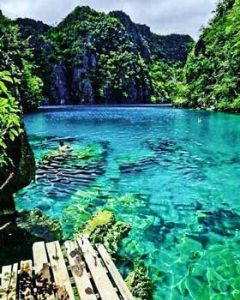 Palawan

Philippines – Bluest Water in South East Asia 
This is known as the largest of islands. It is a half dessert, though. Unluckily it is still underdeveloped.
However, for you the enthusiastic traveler, there are jungles, mountains, and white beaches to make much of your time immersing yourself your own kind of pleasure activities.
Palawan island has been named as the best south-east island in the Asian region. This came to be called as such in 2007.
It is among the 13 best islands in the world. Being located in the Philippines it has become a highly sought after tourist destination.
In fact, Palawan is an archipelago and it has 1780 island on the western part.
As it is blessed with a beautiful landscape, bluest water and high biodiversity this island is popularly known as the last ecological frontier of the Philippines.
To find clear water you gotta go to the northern part of it. It also has white beaches. Surrounded by a many a species of flora and fauna it is a tourist hotspot.
The most visited places are El Nido and Taytay with its limestone cliffs and underwater attractions with a multitude of variations of tropical fish and coral.
Also here, you find five varieties of endangered sea turtles. In the jungle, you can look for about 100 different species of birds! Well… Palawan,– you can call it a most sought after holiday destination for supporters of ecotourism.
The blue water destination we have furnished you with here may be a jewel of information for your to cherish hopes for a future visit or maybe for a quickened visit to enthrall yourself with seeing the bluest water in the world and engaging in the associated activities available in these locations.
Dear traveler, we have taken great pains to be as informative as possible and hope you find out traveler hints the best among many competing in the field of providing travel hints.
Do enjoy your visit to the destination of Bluest Water and if you so wish, forward your happy and heartfelt comments us. HAPPY HOLIDAY!
More Travel Blogs Here