Mount Sibayak, one of the active volcanoes in Indonesia, famous for its devastating eruptions way back the 19th century, gushing out sulfur smoke on its crater, easy and relax trek, has intense geothermal activities, and breath-taking sceneries above the clouds is Mount Sibayak.
Located at Sumatra Indonesia, this stratovolcano has a terrain switching from volcanic rock to jungle. Guides are available for 200,000 rupiah that is $20, hike starts at 4am, or at your preferred time, guide package includes going down the volcano on various routes progressing to the hot springs.
Guides can set you reservation on guest houses where in you can stay, eat home cooked food, have Wi-Fi and also money changer service to make it hassle less for tourists to access amenities.
It is an accessible and enjoyable hike, would only take you for about 2 to 2.5 hours to get through the crater. It would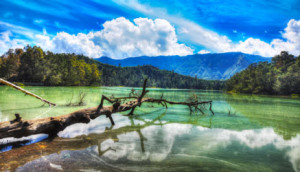 be a short hike if you will ride a motorbike or a taxi up to the registration post.
Few meters before the summit  of Mount Sibayak can be heard a sound similar to a crossing plane, that sound originates from the crater of the volcano.
Along the hike, you're going to witness alluring landscapes, feel and savor the tranquility of the place with sulfur fumaroles on the surface. Crystalline sulfur was produced by the steam vents of the volcano as its geothermal activity continues although century has passed after its eruption.
The place is so viable, full of energy, it is rich and fertile so the locals were able to grow some fruits and veggies for their living. May be it dawn or dusk, the view is breath taking seeing rays of the sun in vivid colors and hot springs gurgling.
On the way down, tourists can take a nice bath by taking the route going down directly to the hot springs or go the other way crossing gardens before arriving to the hot springs. Water temperature is good enough to cook eggs, children would enjoy it if you have companions.