Jimbaran is now the center of tourism as their economy rised up and increased rapidly. It is located at the South part of the airport and Kuta. The beach and Jimbaran Bay are located at the South part of the isthmus connecting Bali beach and the Bukit Peninsula. Both the Jimbaran beach and the bay will offer fascinating experiences to each visitor.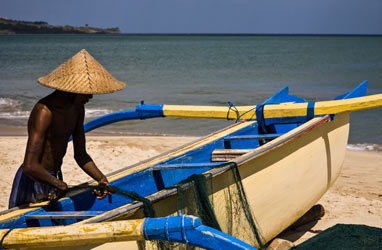 For seafood lovers out there,  the beach is the perfect place to go. Visitors can select the living sea creatures and seafood they want to eat and watch them being prepared and grilled.
It is surely an amazing experience as the visitors can truly enjoy the food with Balinese dance performance, all set along the beach.
At Jimbaran Bay Beach Restaurant, you can enjoy the sunsets while sitting at the table on the beach and enjoy the sand in your toes or you can prefer to sit on the roofed sea terrace overviewing the fishing boats and the beautiful view.
Four Seasons Resorts Bali at Jimbaran Bay nestled right on the seafront is one popular hotel which was named as one of the Travel+Leisure's 500 Best Hotels in the World 2014. It also gained awards such as Conde Nast Traveler and Readers Choice Awards 2013.
Here, you can enjoy the luxury villas and plunge in their private pools and terraces. You can also enjoy their spa treatments
and the best part – the food. This enchanting place will truly make your stay memorable and fun. Aside from being able to discover the Hindu temples, you can also take 30 minutes ride away for an exciting nightlife in Seminyak.
You can also enjoy sport activities like diving, trekking, surfing or playing golf and explore the most stunning sceneries of Jimbaran such as the Rudana Gallery, Bali Bird Park, Elephant Safari, Uluwatu Temple and John Hardy Jewellery. Aside from the beautiful beach itself and the charming sunset, there are other must-see places of Jimbaran that include the fish market and the Town. Come along and splurge yourself with your friends and loved ones because you deserve a break.