For you the pleasure hunter Bandarawela is a small attractive town with a cool climate. This tourist destination is well known in the hill country of Sri Lanka.
Most of all its cool climes which are preferable to many a traveller both local and foreign play the role of a welcome note to the traveller.
Its spring is timeless and does not move away from the boundaries of the town. Its serenity and tranquillity lull everybody who happens to visit it.
You can do what you prefer and all that lead to a great calm relaxation which comes as some sort of soothing balm for Bandarawela has that inherent natural quality.
Come here to chill out in an ambience of comforting nature in the bosom of nature in its rawest form.
The hilltops clad in mist and the mountains that surround Bandarawela add to its beauty with their tea plantations. Everywhere you see is greenery – oh what a soothing thing to relax your vision. Here you find a world to detach yourself from all the cares and worries of everyday life.
Here in Bandarawela, you get the opportunity to witness the tea making process as it is full of such tea factories.
---
Best Sri Lankan Tours with A and The Driver. 10% Discounts Available With Traveller Hints. Message on  Viber or WhatsApp.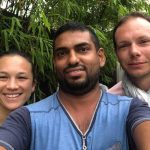 Leel well experience driver in Sri Lanka you to have safe travel around the Island.
---
Bandarawela is proud of its spectacular landscape with its streams, natural beauty, waterfalls etc. If you are into enjoying fresh palatable vegetables and fruits Bandarawela will give you that opportunity. Oh! Your vege lover!
In fact, if you say that Bandarawela is a town only replete with natural beauty and fresh morning breezes it is a distortion of reality. Why do I say so? You see it has some celebrated attractions in Sri Lanka.
Bandarawela is draped in unimaginable natural beauty. From the blades of grass that grow wild to its flowers, its natural forests, its vegetable cultivations, its tea estates with tea factories you see nothing but an incarnation of natural beauty.
Yeah, natural beauty with a rustic touch. Oh, may I call it natural beauty unspoilt by the hustle and bustle of civilization?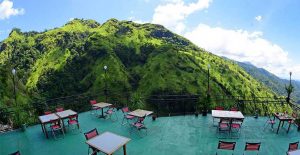 Things to Do in Bandarawela
In fact, what are the things that you can do here in Bandarawela? Well, as you crave for Ceylon Tea my advice is that you visit a tea plantation and a tea factory.
You will be filled with delight at having to come in contact with the real state of affairs connected you the marvellous cup of tea you enjoy at home.
See the way the tea estate workers pluck tender tea leaves. Isn't it a spectacular view? A multitude of ladies clad in sarees with a basket hanging on their shoulders plucking tender leaves, as it were, to a rhythmic accompaniment of caressing blowing of breeze.
 Take photos to take home with your first-hand experience to share with your less fortunate buddies.
With its cool climes and natural environs which evoke calm and peace, you could also occupy yourselves with pleasurable trekking expeditions.
Trekking or hiking in Ella is a popular attraction in the touristy village called Ella, in Bandarawela.
Well mate, you may definitely like to be called a person who has engaged in eco-adventure. Travel by train to Ella and go trekking to the spectacular Ravana Falls.
Ella village has a few tourist infrastructures by way of cafes, restaurants, souvenir shops, hotels and bars.
Trek across Ella while you relax in those attractive places with facilities for you. Have best kind of coffee from coffee shops made just for you?
What about photo shoots? Well, you may know when to go for it, you travel enthusiast! You may be able to see many a couple or group of travellers making their way to Ravana falls in their trekking expeditions. The breathtaking sights of Ravana fall reward you for trekking as you end your trekking at this point.
Vegetation and village Trek
Other than trekking from Ella station to Ravana falls you can involve yourself trekking across vegetable fields rice fields and a typical nowaday Sri Lankan village.
During your trekking expedition which is indeed a part of ecotourism, you will be blessed with the moments of the first-hand experience with typical Sri Lankan cooking.
This comes as part of the trekking tours thanks to attractive Sri Lankan cuisine cooked in a close to nature traditional setting.
In Bandarawela such expeditions are an availability. Treks start at Bandarawela if you are in Bandarawela or from nearby Haputale.
The duration of the trek is approximately 3 hours of trekking with another 3 hours of cooking and satisfying the insatiable taste buds with eating the lunch thus cooked.
No of Pax Per person
01 US $ 63
02 US $ 44
03 US $ 41
04 US $ 39
05 US $ 36
07 US $ 35
08 US $ 35
The treks can be made flexible to match your requirements. Also, necessary changes can be made in the itinerary to facilitate excursions to your chosen accommodation.
The rates are for the packs of refreshments provided during the treks for the charges of the professional trekking guide and for other local transportation fees involved in the trek.
For inquiries simply type village walk in Sri Lanka or even better to visit the website "best of Sri Lanka"  where you are able to book these treks online as you make prior arrangements to come to Bandarawela.
The Fruit and Vegetable Market in Bandarawela
No doubt your trip to Bandarawela will be completed with a walk of observation of local people's moments of lifestyle in an ordinary fruit and vegetable market.
To say nothing but the truth I should say that a visit to the local fruit and vegetable market in Bandarawela will be an exciting experience.
Come here to see fresh and vegetables being sold by fruiterers and greengrocers. How about some great photo shoots in this market? You will see nothing but fresh products from the locality.
The Dowa Temple
This is a Buddhist religious site where your sig will be rewarded with over 19 meters high Buddha statue cut down from the ock.
This is a protected heritage site in Sri Lanka. You can also feast your eyes on the unutterable beauty of meticulously and artistically created murals. There is also a cave shrine here to add to its importance as a cultural heritage.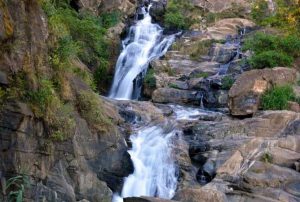 Ravana Falls
Ravana falls is an attraction here. Its beauty is found in its heightened status during the rainy season when the cascading of water creates a panoramic view beauty of which is unbelievable or beyond your wildest dreams.
You've got to have a really good camera mate. Why? To take photographs of course! If you have a camcorder get some nice videos here.
Lipton Seat
Oh yes, Lipton seat which is in Dambethanna tea estate is a wonderful place to visit. You can witness the ardour of the Scottish tea Barno's achievement – this great tea estate.
And, of course, Lipton seat is the highest place in this estate rewarding you an undreamed of view of several provinces as it were an aerial view.
Bandarawela is in close proximity and during your satisfying stay in Bandarawela you've got to visit it.
Adisham Hall or Adisham Bungalow
While relaxing and enjoying the natural beauty in Bandarawela you could visit Adisham Bungalow.
This, indeed, is a country house hear Haputale close to Bandarawela. Currently, it is Adisham Monastery of Saint Benedict.
You can still see its library fittings and furniture belonging to the past. This was built in 1931 by an English aristocrat.
He was a planter called Sir Thomas Villiers. The view overlooking the garden is mesmerizing owing to its panoramic view of the faraway mountains clad with greenery and occasional mist.
You can take photographs and refreshments are available at the tuck shop run by the inmates of the monastery.
There are a  number of opportunities to acquire accommodation to match your taste, ability to incur a cost, the kind of involvement to make in Bandarawela and your requirement depending on your need to experience adventure or your liking for chilling out.
Also, there are vacation homes which are ideal to suit your needs with utmost privacy guaranteed and with amenities to match your cost.
You are able to surf the internet and find homes in Bandarawela on AirBnB For further information for the best of your chosen search for " accommodation in Bandarawela"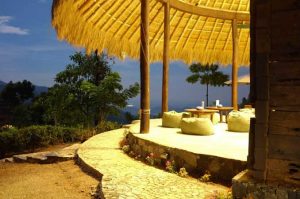 Resorts in Bandarawela
National Holiday Resort, Bandarawela / Sri Lanka Tourism Development Authority
The view it offers is sweeping in addition to being breathtaking. For further details visit
Nationalholidayresorts
Another resort is Dambagasketiya Holiday Resort, Bandarawela 
Bandarawela Cottages
They are ideal for groups or families. simply look up online for ' Bandarawela Cottages'
Best ways to get to Bandarawela
You can arrive at Bandarawela by air, taxi, car, bus or train. You can fly to Hatton by Cinnamon Air flight, take a taxi from there to Bandarawela. It will take around 2 hours and will cost you between Rs.9000 – 38000.
Also, you can fly to Katugastota and travel by taxi from there which takes around  3 hours by taxi. It will cost between Rs.2300 -3500
When you travel by bus it takes 6 hours and 40 minutes and it costs you Rs. 250- 470. Then there is the train which takes 8 hours and 40 mins costing you Rs 130-220 3rd class, Rs. 240 – 390 2nd class and for first class Rs.600- 800
There are CTB  buses from Colombo Fort to Bandarawela. They take 6 hours and 40 mins. The cheapest mode of travel to Bandarawela is by bus.
The quickest is by plane and taxi. The air travel is by far the best way to avoid congested roads full of hustle and bustle.
For sure, you may be a person with a soul to get close to serenity, calm and tranquillity of nature to experience its sounds of silence to breathe its soul into yours and be lulled in the nurturing bosom of nature.
You may also be full of sense and sensibility that identifies with great sensitivity the aesthetic marvels of nature.
Yeah, here you experience that closeness to nature for it is a real mountain destination clad with all sorts of attractions of nature.
Come here, to Bandarawela and be marvelled at nature seeing feeling sensing and getting closely attached to its soothing and comforting solace for you travel enthusiast needs such unconceivable comfort. Come to this great city! Best of Luck!
---
More Travel Blogs Here
Direction on Google Map Here