Ella is located in close proximity to Bandarawela. It is a just statement to call it a mountain village with its unimaginable beauty.
It is in Badulla District in Sri Lanka. Ella possesses a rich biodiversity. It is thickly fraught with a great number of various flora and fauna.
Ella is beset by eye-catching forests and tea estates which please your eyes with great panoramic views. The surrounding lowlands have a cool climate.
However, there's even a cooler climate in Ella when compared with them. The specific reason is none other than its comparative elevation.
The Ella Gap is a spectacular geographical location rewarding you with breathtaking views across the southern plains of Sri Lanka.
Let me tell you of one exciting fact regarding Ella. Well on a sunny day you are able to please your searching sight with the glow from the lighthouses which are located along the southern Coast.
It has a railway station which plays a pivotal role in this touristy village in Ella. There are only a few stops from Badulla.
As the railway line ends, it moves in a serpentine movement, yea, it snakes through the hill country.
---
Best Sri Lankan Tours with A and The Driver. 10% Discounts Available With Traveller Hints. Message on Viber or WhatsApp.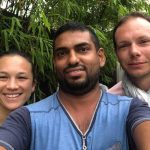 Leel well experience driver in Sri Lanka you to have safe travel around the Island.
---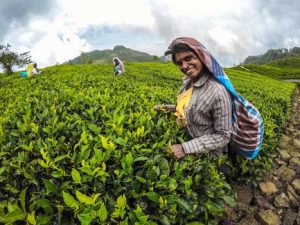 There is the ability to get to Kandy or Colombo from Ella. Usually, this railway station is quite crowded as this village is haunted by multitudes of tourist both local and foreign who come to be in communion with the peaceful, natural bucolic setting clad with pleasing mists enriching vegetation with various kinds of foliage.
Its climes are special for all year round it is adorned with the mild climate that is inherent in the Hill Country.
This climatic condition in blessed with a hot sun by midday. There is air temperature in moderation, though. Afternoon rainfall is a usual phenomenon in Ella.
However, it is not a nagging type of hours and hours of rainfall It lasts only for an hour or so.
You, the travellers, are advised to have with you a sweatshirt or a light jackal to spend the night. December is a rainy month and rainfall can be experienced in great abundance.
For the benefit of both local and foreign tourists. Ella owns a small post office an ATM. (Bank Of Ceylon).
In fact, you find little activity to engage yourself here in this village. Unlike other touristy cities or villages, there isn't a multitude of cafes and bar.
But what you have there is good enough to suit your needs. The few bars and restaurants are really good enough and up to the standard catering to your needs.
The town itself and the region can be best described as a wonderful location for exploring the country that surrounds it.
The country that Surrounds Ella is an incarnation of greenery and natural beauty. What with its steep mountaintops clad with diverse kinds of foliage, what with its valleys with villages full of ordinary farming community or otherwise, what with its misty days encompassing your imagination in romantic.
settings, what with its waterfalls applying a soothing balm to your vision making your sight meander in unheard of directions of beauty, your ability to explore nature is well rewarded here in this mountain village, Ella.
Come here to relax in its bucolic setting, explore its life and lifestyle of people. Engage yourself in trekking to see its village.
Try its various hotels located in places blessed with panoramic scenic beauty. You will be rewarded with new dimensions of experience which you have not ever experienced before.
In fact what you could obtain from a visit to Ella is nothing but the real experience you get while exploring various facets of nature and its beings living in close communion with nature.
You are also rewarded with the purest oxygen here in Ella. Healthy food, health-giving surroundings, eye-pleasing views and chilling out engagements are some of the things you could have here.
Treks
Out of all, village treks could be an engagement for your adventurous being and they can be obtained from trekking clubs in the area that customizes the treks to suit your varying needs. Do get the advice of your guide to locate the best of trek clubs in the area.
They are really flexible and will arrange your treks in keeping with your taste and necessities.
Nine Arch Bridge
You are also able to visit nine arch bridge at Demodara which has nine arches. There is no use of the concrete structure for building this bridge over which the train goes.
It is an architectural marvel belonging to English Colonial era in Sri Lanka. It is profusely visited and the view of the train passing the bridge is much looked forward to by the tourists, both local and foreign.
I saw many a couple of diverse nationalities taking photo shoots. Oh yes, visiting Arch bridge in Demodara while you are in Ella.
It's nothing but an architectural monument beset by nature in a romantic setting which attracts people with varying tastes with a kind of magnetic effect that can never be expressed because it is inexplicable.
How about chilling out with a coke from the adjoining cafe which is so rustic because it's not so sophisticated but is in keeping with its surroundings.  Just chill out in the shade of huts sheltered with natural elements from the surroundings mostly because during daytime you have a lot of sunshine.
As you wait for the train to come, for it comes at various times according to a timetable, you have to wait.
Do wait. For waiting will be rewarded with a wonderful view of the train meandering along the tracks over the bridge. Yes, it's the Nine Arch Bridge at Demodara.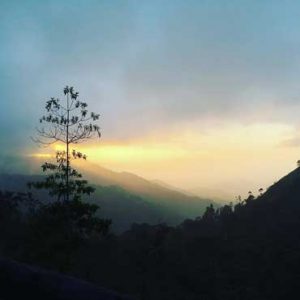 Ella Rock
Then you can visit Ella rock. You could have a hike to this place. It takes about 45 minutes to get there.
Your hike goes through the tea plantations and then you have an upward climb through the forest.
It has an amazing view of the southern valley/province. Sometimes it gets foggy, but most of the time it is good for your enthusiastic hiking. If you wish to get to the top of the mountain, it takes 2 hours.
This is if you make sure you do not miss the route. You will come across a temple and Palawaththa Sugar plantations in the far end.
So many dear travellers you should make sure you visit Ella rock while you are in Ella.
Little Adams Peak
Little Adam's Peak is yet another tourist attraction in Ella. You get nothing but a panoramic view of the surrounding mountain and valley from the top of hills.
The view is spectacular and you should rightly get your camera or camcorder ready to capitalize on this marvellous beauty of this location. It is 1141m in height. It attracts many a traveller.
A  gradual little hike will find you up there at the top. You are rewarded with views of lush green tea plantation.
As you hike you go past tea plantations, waterfalls and paddy field while enjoying the scenery. This mountain stands opposite Ella rock.
This is an ideal place to visit sunrise. Well, mate, Little Adam's peak should never, ever be missed out on if you plan a visit to Ella.
Porawagala
Then comes Porawagala in Bandarawela which is the most suitable place to observe Bandarawela area in Sri Lanka.
It is nestled 3 km away from Bandarawela town and it is in the good books of people who look for key tourist attraction sites in Sri Lanka. Come here for taking photo shoots of locations and scenery of unutterable beauty.
If you miss out on a visit to Porawagala? it will be a great loss in your travel schedule in Ella.
Only you will marvel at the natural beauty of this small island Sri Lanka for it has views of nature that challenge even the so-called superior views of nature in Lake District in England.
I would like to harp on one aspect that would make your visit to Ella incomplete. That is not having a good camera to take so many memories from the natural beauty here in Ella, in Bandarawela.
There are over 491 locations for accommodation in Ella, you can pick and choose the ones that take your heart depending on other factors that are of importance to you I have taken pains to provide you with some of the best places of accommodation having taken into consideration rating of you, travel enthusiast.
Romantic places should be chosen with meticulous care. Never think of the cost. It is because the cost does not matter. What matters is great scenic beauty the place is blessed with.
For you come to Ella to enjoy the marvellous scenic beauty in the area. You come here for a mountain holiday to enjoy the scenic beauty and the cool climes in the area and it should be prioritised is that what you come here for is well achieved.
Arana Sri Lanka Eco Lodge and yoga centre, Ella Sri Lanka
Have in the room a kettle is available. It has a charming accommodation area also complete with a seating area.
Mountain Nets, Ella Sri Lanka
This hotel has free wifi and views of mountains in Ella. Its location from a 14-minute walk from Demodara Nine Arch Bridge and 400 metres from Ella Spice Garden and 1.9km from little Adams peak and Ella Rock which is 2.4 away shows its great popularity among its guests.
CHILL VILLE, VIEWPOINT Hotel, Ella, Sri Lanka
You find it nestled metres from Demodara Nine Arch Bridge in Ella. It has free wifi and private parking. This resort possesses an outdoor pool and sun terrace. It has a restaurant and a bar, as well.
Hangover Hostels Ella
It is the 17-minute walk from Demodara Nine Arch Bridge and 200 meters from Ella spice garden. there is a terrace and a shared Lounge. You can also enjoy the benefit of the free wifi.
Mount Wood Star
It is also in close proximity to Demodara Nine Arch Bridge. Just an 18-minute walk. It also provides free wifi and has a balcony with mountain views.
Sisila View, Sri Lanka
Just 4 minutes walk from Demodara Nine Arch Bridge. It is adorned with some facilities with a terrace.
It is around 1.2 km little Adams peak and 1.7 km from Ella spice garden. There are free wifi and a shared kitchen. Also, Ella Rock is 2.6 km away from this.
There are many other locations of accommodation simply surf the web by typing Best accommodation in Ella, Bandarawela.
Resorts in Ella
You have the ability to choose from 13 resorts in Ella.
Ella Dream Mount, Ella Sri Lanka
Gardens 2.1 km from Demodara Nine Arch Bridge 24 hour front desk, restaurant, sun terrace, 1.1 km Ella spice garden, 2.9 km away from little Adams peak
Revini Holiday Resort, Ella Sri Lanka
Within 1.9 km demodara Nine Arch Bridge. 900 metres from Ella Spice garden, has a garden, free wifi, free shuttle service an own terrace 2.7 km from little Adams Peak, 3 km from Ella Rock.
Ella Gap view resort Samadhi Nature Resort Ayubo Boutique Resort Ella, The Secret Ella, Ella Soul Resort, Tree Cool Resort, Green view Holiday Resorts Ella and Ella Jungle Resort.
These resorts provide ample panoramic views of nature. They are complete with facilities like private bathrooms, sun terrace, born restaurants and with their nearness to some of the important attraction you should not miss out on during your stay in Ella.                  
Some important tips for you to get the benefits from. In fact, it is really advisable if you could choose professional guides because they know what is best and will be doing the best and help you to make much of your visit to Ella.
The hotels to choose from, the restaurants and cafes and bars to go to and all the other outdoor activities to be done and important and spectacular places to visit could be well learnt from them because they are after your money.
As you know, being professional they will not exploit you but will give you their service for your good bucks.
Best ways to get to Ella
From Colombo, you can get to Ella in 6 ways. They are by bus, by train, by taxi, by car or by plane
Bus –   It has taken 6 hours and 52 minutes
It costs Rs.1626 – Rs.2268

Train –   It takes 3 hours and 20 minutes

It cost Rs.250 – Rs.850

Taxi –   It takes 3 hours and 20 minutes

It costs Rs.13000 – Rs.1600

Drive –   It takes 3 hours and 20 minutes

It costs Rs.2400 – Rs.3600

Fly To Hatton, taxi
It takes 2 hours and 33 minutes
It costs Rs.10361 – /Rs. 40163

Fly To Katugastota, taxi

It takes 3 hours and 8 minutes

It costs Rs.11661 – Rs.3566.   
In fact, air travel is by far the best way to travel to Ella. Indeed it is much better to travel by air.
True it is, that it costs a lot But it is really very convenient. Then comes by taxi or by car. It costs less though
it takes a longer time than by air. A train ride could take really a long time despite it's being time-consuming because of the beautiful views you can look at while travelling it could be more enjoyable.
The opportunity gives you to move to the locals who happen to travel with you to observe them.
To see they're always it will be more rewarding.  Despite its being so time-consuming anyway you the travel enthusiast should know what is best to choose because it will be your choice after all that matters more than anything else.
As traveller hints always endeavour to do we have furnished the best and the most current of information about this mountain village, Ella in Sri Lanka.
As stated above, the panoramic natural beauty, soothing and comforting environs with its cool climes and hiking expeditions and the treks, good and rewarding photo shoots, beautiful food in spectacular hotels, bars, cafes and restaurants, luxury Accommodation in places of scenic beauty all will haunt your memory and remind you of how you broke away from the hustle and bustle of mundane come of city life.
You escapades in Ella in hiking and trekking will give you soothing thoughts to be pondered over "when on my couch I lie in vacant or in the pensive mood!!! As Wordsworth expressed it.  
More Travel Blogs Here 
Train in Sri Lanka
Negombo Sri Lanka
Hot Trending Destinations