Last updated on November 15th, 2018 at 04:40 am
The Ravana falls is another must visit in Ella. As you know the hill country of Sri Lanka is quite popular for beautiful waterfalls and the Ravana falls is right at the top.
Let me call the Ravana falls a well-liked attraction in terms of sightseeing. It enjoys its position as one of the widest falls in Sri Lanka.
This waterfall is nearly 25 metres in height – that is 82 feet. You can please your sight as it cascades from its oval-shaped concave rock outcrop.
The wet season is the best season to visit this waterfall. As it falls you see a sight with its unbelievable resemblance to an areca flower with its petal that is withering.
In the dry season, this marvellous view changes into a mere of the normal waterfall. In fact, the Ravana falls constitutes a part of the Ravana Ella Wildlife Sanctuary which lies 6 km away from Ella railway station.
A Bit of Its History
How has it acquired its name? It is said that the waterfall has been named after the king Ravana who appears in the Indian epic the Ramayana.
The legend has it that king Ravana kidnapped Sita, a beautiful princess who was the wife of Rama. She is said to have been hidden in the caves behind the waterfall.
During that time the cave was hidden greatly amidst the thick forests. More to this legendary history, it is also believed that King Ravana's queen bathed in a pool that accumulated water from the Ravana falls.
The Famous Cave
It is located 1370  m on the base of the cliff. It is known as one of the most well-liked tourist attractions in Sri Lanka.
There have been excavations done on this site which has revealed the evidence of human habitation which is older than 25000 years.
Here in keeping with what is known from the famous legend, Sita was kept imprisoned.
Whatever the historical background dating back to 5000 years of legendary significance there is one truth bound to the Ravana falls.
That is, it is a breathtaking marvel of nature and its beauty can never ever be done away with.
Nestled in the mountain territory clad in the scenic beauty of unutterable character it extends its magical influence along with the beauty of nature.
Coming to see it will make indelible imprints of remembrance in your memory for such is its beauty.
It is as if you come to the Ravana falls with your expert guide who tells you of all pros and cons of historical legendary, geographical and bucolic importance and get sort of euphorically awakened to the realities of hidden facets of natural wonders in Sri Lanka.
No knives, however, cynical can tell tales to undo natural beauty attached to the Ravana falls.
Oh dear! Only the ones who find comforting solace in being in communion with nature can absorb soothing comfort from visiting this lovely waterfall.
What to Do at the Ravana Falls
Usually, foreigners and locals who come here just enjoy the scenic beauty amidst the fresh of the waterfall.
But if you are thrill seekers with an awesomely adventurous spirit you can try to climb up and get to the second tier.
Anyway take heed of the warning signs and engage yourself in what you possibly can. You can start to scale the rock which is not very steep. You will find a surface which is dry and reassuring.
When it comes to difficult rock climbing you can take the muddy path among the bushes on the right side.
You can see signs of foot traffic which shows that the adventurous get there. This takes away your fear and gives you reassuring vigour to continue.
Once you get to the top you are stunned by the beautiful spectacle. Oh dear! It is nothing but rediscovering beauty kept away from the touches of normal highlanders.
Or let me call it beauty that gushes out from a sort of some magical landscape.
As you get to the top you see the valley overlooking the Ravana falls. Then if you choose to do so if you are such great thrill seeker ( but under the strictest guidelines of your guide), you may trek into the jungle.
This will reward you with the view and knowledge of 2nd and 3rd tiers of the waterfalls. What a sight!
Am I in a land of fairies! , you may wonder as you are in close communion with this beauty of nature.
You will be inspired by what you have achieved so far and persuaded to climb to the highest point of the next set of falls.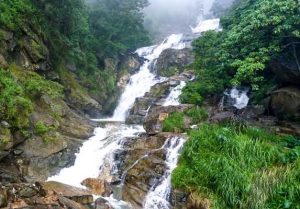 There is a dirt track through the bushes on the left and it leads up the round rockface which leads to the cascading pool of the highest falls.
As you find yourself up there at the Ravana Falls, you may feel that you have achieved something really great and worthwhile.
At the top, you can admire mother nature that is of the best kind ever within the scope of your imagination tarnished by the mundane care of hustle and bustle of city life.
You can trek back the mountainsides easily. This path easily leads to the main road. Wow! It is a wonderful physical feat, enwrapped with adventure, though.
If ever you want to get involved in the act of climbing to the height of this waterfall, do take the guidance of an experienced expert guide and keep to other security precautions that may change according to the weather pattern.
We do want you to get the best of the natural beauty of this country, but we do care for your safety, you dear traveller!
The Ravana falls sometimes gets slippery causing deaths. Now, swimming in this waterfall is also prohibited due to many deaths that have taken place.
So do take the advice of your guide. True it is that you are adventurous but safety precautions are to be strictly followed without being bleeding and careless.
Other Things to Do

 
You can pay a visit to Ella Gap Fall. It is picturesque and can be accessed with ease. You can engage yourself in quick photoshoots.
There is also Ambo Estate which is an organic farm in the Uva Highlands in Sri Lanka.
This farm is about 30 minutes' drive from Ella. This is located or let me call it perched in a small valley above the Ravana falls.
You can have a view of Ella rock and Lipton Seat from there. This factory produces a number of varieties of teas, coffees, spices and etc.
The guests can also lodge at estate farmhouse. This will help you to get an opportunity to get informed about artisanal tea making.
There are tours of the farm starting at 11.00 a.m ( except Sundays and public holidays )
This tour is free. You have to pay 500 LKR for doing a tea tasting after the tour though. There is no necessity to book in advance.
Ella Rock is yet another place to visit. You can have a short climb up and enjoy a lot of scenic views. Walking to Ella Rock need the ability to bear up strenuous treks.
Leave Ella Rock House around 8.30 a.m and walk up to via waterfall roads. You then cross on to the train tracks.
You have to walk to Kitul Ella station and be watchful to find 'tea road'. It is a sharp turn back to the left about 200m past Kitul Ella station.
As you walk along the 'tea road' you encounter a bridge across the river. Then you find yourself in the tea plantation and there you have to climb.
You reach a junction with signs pointing to the map main road almost immediately. Take the nearest road which is a cut short walk off track for a short distance.
You will be able to see walkers on the roads. So it is a matter of following a ridgelure through open forest to connect.
It is a short route and the area is cooler. Then you continue along the main track. Well, get the service of an expert guide or guides for this excursions.
R.M Antique and Brassware
Here you can see authentic Sri Lankan antiques, artefacts, crafts and gifts. There are hand painted traditional oil paintings.
Also, there is colonial metalware. In addition, you can see the presence of hand-carved artefacts from across the country. The reasonable prices make you want to take a souvenir from this house.
The Tour Service Dream Day Tours Sri Lanka arranges sightseeing tours, nature and wildlife tours and historical heritage tours. So a visit to the Ravana falls may involve you in their service as well.
Pay a visit to Ella Spice Garden where you can enjoy food which is delicious. They are all scrumptious Sri Lankan dishes including the famous garlic curry.
So to taste best of Sri Lankan curries pay a visit to Ella Spice Garden during your visit to the Ravana Falls.
No doubt you want to visit a tea factory during your visit to this waterfall. Then visit Halpewatte Tea Factory.
This tea factory enjoys its popularity as the largest tea factory in the Uva province. They have guided tours to this tea factory much to your convenience only to end up with fulfilling experience of having engaged in something worthwhile. How about purchasing factory fresh teas as you look attracted to the panoramic view.
---
Lipton Seat, Lanka Grand Herbal Spa, Ella Railway Station, Damodara Loop, Hela Osu Suwapiyasa, Ravana's Cave, Ella Gem and Jewellery are some of the other places that you should pop in during your visit to the Ravana Falls.
Most importantly Ella Non-Touristic is another service which has guided tours to off the beaten track which are not touristy nature trails in Ella.
These tours are conducted for the discerning traveller. When you engage yourself in these activities you get the wonderful opportunity of being able to have a swim in natural swimming pools.
Also get to Umbrella Rock, Drumset Rocks, Pelican Rock, Rabbit dung rock, Eagle Rock, Volcano crater Rock, Bird Beside Rock, Larkin's Seat, Remote Villages, Ravana Cave, Spooky falls and little Switzerland.
---
Accommodation
There are many facilities by way of accommodation in Ella area where this waterfall lies.
You can pick and choose the ones that tally with your interests. However, our advice is that as you come to enjoy the beauty of this waterfall try your best to find accommodation in close vicinity to the Ravana Falls.
Rowinrich Cottages
Shadow Inn Guest House – 8957 LKR
Ella Dalhousie – 4205 LKR
Pine Village – 3915 LKR (breakfast included)
White House Ella – 4793 LKR with breakfast
Oak Ray Ella Gap Hotel – 12236 LKR
Golden View Guest – 6655 LKR, breakfast included
Ella Edge Resorts – 10471 LKR, breakfast included
Country Homes – 6847 LKR
Ravana Falls View Guest House – 5638 LKR
Nature Village Inn – 3222 LKR
Club Villa – 6444 LKR, breakfast included
Ella Nature View – 5800 LKR, breakfast included
Lakshmi Hotel Ella – 7249 LKR
Wild Resorts Ella – 4833 LKR
Dimuthu Home Stay – 5751 LKR, breakfast included
The Blue View Ella – 5888 LKR, breakfast included
Samiru Guest Inn Ella – 3021 LKR
Blue Ribbon Home Stay – 5477 LKR
Ella Ridge View – 6444 LKR
Ella Highest Inn
The Walkers Nest Ella – 6444 LKR
Rustle Hill Home Stay Ella  – 2578 LKR
Cascade Valley – 4833 LKR, breakfast included
Ella Red Rock – 6525 LKR
Villa Eden Paradise – 6444 LKR, breakfast included
Madhusanka Resorts – 3866 LKR
Ella Hide View – 4833 LKR, breakfast included
Front View Ella – 5155 LKR, breakfast included
These are only some of the Hotels in Ella area in close proximity to the Ravana Falls. There are so many other places to stay in.
They differ in prices and kind of nature views at the heightened point of which the prices may be a bit elevated.
This, as you know is quite natural for they charge more for the panoramic natural views close to nature.
We travellers always do our best to be of great help in your tour engagements and provide you with the most current and appropriate information to make your tours to Sri Lanka really worthwhile. We hope our assistance will help you get fulfilling experiences.
---
Best Ways To get to the Ravana Falls
From Negombo, it is around 6 hrs and 30 minutes. Anyway if you opt to come to the Ravana falls from Colombo, following are the ways.
By Bus – It takes around 7 hrs, It costs you 2200 – 2800 LKR
By Train – It takes 9 hrs and 30 mins, It costs you 1700 – 2700 LKR
By Taxi  – It takes 3 hrs and 30 mins, It costs you 13000 – 17000 LKR
Car Drive –  It takes  3 hrs and 30 mins, It costs you 2500 – 6000 LKR
Fly to Hatton, then taxi – It takes 2hrs and 30 mins, It costs you 11000 –      41000 LKR
Fly to Katugastota, then taxi – It takes 3 hrs and 15 mins, It costs you 12500 – 36000 LKR
In fact, the distance between Colombo and the Ravana Falls is 134 Km. The road distance is 212 km.
We have supplied a detailed account of the legendary Ravana Falls. It is our prime hope that you will make use of our travel hints and make much of your visit to Ravana Falls.
You will be delighted to read the legendary importance attributed to it for knowing a bit about what you visit will complete your travel experience perfectly well.
More Travel Blogs Here
Ravana Falls on Google Map Here