Last updated on November 15th, 2018 at 04:30 am
Located on Sri Lanka's southeastern coast, Kumana National Park is located around 391 kilometres southeast of Colombo and covers an area of around 35,664 hectares.  
The park is particularly well known for its bird life, particularly for the large flocks of migratory waterfowl and wading birds that call the park home.
Between April and July, tens of thousands of birds migrate to the park, using the land as both nesting and breeding ground.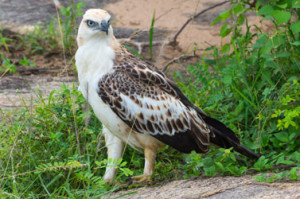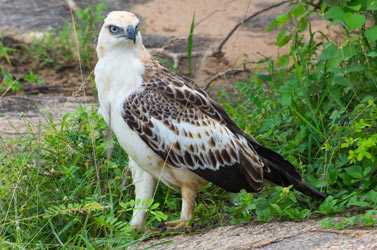 There are a whopping 255 species of birds that have been recorded within the National Park.  
Among these are the rare black-necked stork, lesser adjutant, Eurasian spoonbill, the great thick-knee, yellow-footed green pigeon, greater racket-tailed drongo, Malabar trogon, red-faced malkoha, Pacific golden plover, greater sand plover, lesser sand plover, grey plover, ruddy turnstone, little ringed plover, wood sandpiper, marsh sandpiper, common redshank, common sandpiper, curlew sandpiper, little stint, and the common snipe.  There are also a number of different birds that migrate to the area is huge flocks.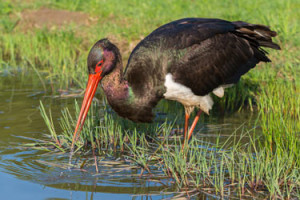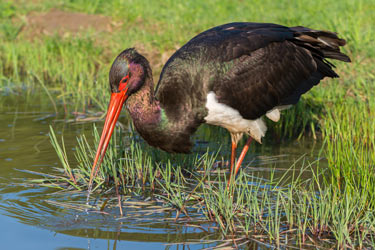 These include, the Asian openbill, glossy ibis, purple heron, great egret, Indian pond heron, black-crowned night heron, intermediate egret, little egret, spot-billed pelican, Indian Cormorant, little cormorant, common moorhen, watercock, purple swamphen, white-breasted waterhen, pheasant-tailed jacana, black-winged stilt, lesser whistling duck, and little grebe.  Despite its impressive bird tally, the park is also home to a variety of mammals as well.
Visitors to the park can see elephants, leopards, golden jackals, wild boar, European otter, and the endangered fishing cat.
Of course, there are an impressive array of reptiles as well, with the green turtle, loggerhead turtle, Olive Ridley turtle, mugger crocodile, Indian Flap-shelled turtle, and the Indian black turtle all calling the park home.   
 In addition to being an absolute wildlife haven, Kumana National Park also carries great cultural significance.
 The area is part of an ancient civilization that dates back to the 3rd century BCE.
Throughout that park, rock inscriptions have been found that date back to the 2nd and 1st centuries BCE.
The park also sits on the route of a traditional annual foot pilgrimage to the Hindu temple at Kataragama.
        There are a number of safaris through the park that provides visitors with the perfect opportunity to see whatever it is they want to see during their visit to Kumana National Park.
 There are a number of halves and full day safaris that will allow visitors to see, explore, and experience the park and all of its natural wonders.
In addition to the wildlife, the park is also home to around 20 lagoons that make for a very beautiful, enchanting, and rugged sight.  Whether you want to see the bird life, the mammals, the reptiles, that lagoon, or all of them,
there is a safari that will perfectly suit your needs at Kumana National Park.
The gateway to the park is located at Okanda, around 22 kilometres south of Panama.
 There are roads all the way to the park and there is coach service to the area, although not to the park itself.  It is about a six-hour drive from Colombo.
More Travel Blogs Here