Last updated on August 9th, 2017 at 09:39 pm
North Island, The northernmost island of New Zealand is smaller and densely populous than the South Island and it is separated from it by Cook Strait.
It is a diverse and versatile destination packed with wide range of attractions and cultural delights stretching from cosmopolitan cities to historical centres, volcanic and geothermal areas, famous movies' locations and superb sandy beaches.
The far north is experiencing subtropical summers and moderate, maritime climate in general.
Both the country's largest cities Auckland and Wellington, which is also the capital city, are situated in the North Island and also slightly more than 3/4 of New Zealand's population lives on this part of the country.
Auckland is a modern and beautiful city with picturesque surrounding The city is often ranked as one of the most liveable cities in the world.
Wellington is a constitutionally important with plenty of museums and galleries and pleasant vibes.
Apart from the two above mentioned, there is multiple number of other urban areas including for instance Whangarei, Hamilton, Rotorua, Tauranga or Hastings.
North Island is a paradise of outdoor experience.
It offers plenty of activities such as rafting, kayaking, hiking, diving, fishing, golf, bungee jumping, surfing, scenic flights and many, many others making it simply impossible for everyone to get bored there.
The visit is also a great culinary experience which highlights ranging from divine seafood to some of the world's finest wine and coffee.
Thanks to its geological activity, North Island is a popular destination full of volcanic thrills.
Rotorua is famous for fascinating geysers and natural hot mud spa treatments and the footprints of volcanic eruptions are also left on the Lake Taupo, the largest lake in New Zealand.
Besides, Rotorua is also an important cultural hub showcasing true and authentic Māori culture.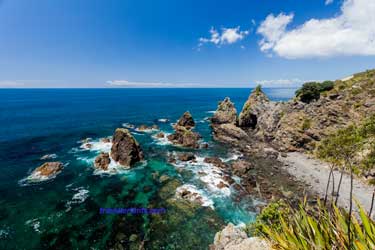 Among the top attractions in the North Islands belong for example the Bay of Islands perfect for sailing, located in the Northland Region, or rafting in one of the New Zealand's most famous rivers, the Tongariro River.
Whangarei Falls offer a breathtaking performance of water mass falling from 24 metres height.
Winery at Hawke's Bay would be the "must see" for wine lovers, and Taupo, on the other hand, for adrenaline lovers thanks to its Bungee Jumping center.
Coromandel is, thanks to its pristine beaches, a popular holiday destination. Hobbiton in the Waikato region is the only place in the world enabling visitors to experience the hobbits' grassy village and the Lord of the Rings helped also to raised the popularity of Kaimanawa Forest Park, shielding rare endemic flora and fauna.