Hot Water Beach is a beach on Mercury Bay on the Coromandel Peninsula of the North Island of New Zealand. The beach is situated around 12 kilometres away from the township of Whitianga, which is one of the main towns on the remote, rugged, and beautiful Coromandel Peninsula, and 175 kilometres from Auckland.
The beach derives its name from the underground hot springs that filter up through the sand between the high and low water tidal reaches. It is estimated that the beach gets more than 700,000 visitors annually, which makes it one of the most popular geothermal attractions in the Waikato Region.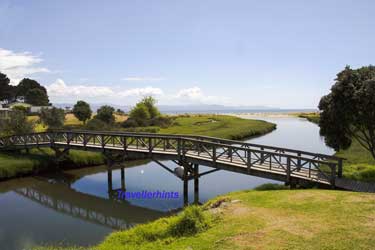 In addition to being a wonderful expanse of beach, Hot Water Beach boasts a unique beach going experience that you are unlikely to find elsewhere in the world. If you visit the beach up to two hours before or after low tide, the water level will be low enough to expose the expanse of sand that has the hot water underneath.
You only have to dig down a short distance to get the hot water to bubble up to the surface. Manipulate the sand a little bit and visitors can make their own personal hot water pools to sit in as they take in the wonderful views of the coastline.
It is a uniquely refreshing experience to sit in a warm water pool, only metres away from the refreshing spray of the ocean. This hot water area is best at the southern portion of the beach. As you move north, visitors will find a number of sheltered and secluded areas that are perfect for sunbathing and relaxing in the soft sand.
Additionally, surfers will enjoy a visit to Hot Water Beach as the beach has some great beach breaks in moderate easterly swells. However, visitors should note that the beach is not safe for swimming due to the presence of strong undertows. There are a few designated swimming areas that can be okay for experienced swimmers as long as the life savers are on duty. If they are not, Hot Water Beach is not recommended for swimming.
The natural hot springs are created by two fissures that naturally pump water as hot as 64 degrees Celsius through the sand. The water is rich in minerals, such as salt, lithium, potassium, fluorine, calcium, magnesium, bromine, and silica, all of which are said to have positive health benefits.
Visitors should be aware that they will need to bring their own spade or shovel in order to dig their way to the warm water. If they don't have one, they can rent one on the beach. Additionally, they should be aware of the fact that during the peak season, the beach can be very crowded. As such, they should arrive plenty early in order to find space to dig their own warm pool.
Accommodation – Hot Water Beach
While there is no accommodation right on the beach, it is only 12 kilometres away from Whitianga, which is filled with a comprehensive array of options.
Whitianga has affordable hostels, apartment rentals, vacation cottage rentals, house rentals, motels, hotels, and resorts to choose from. No matter what your taste of budget, visitors hoping to travel to Hot Water Beach should be able to find an accommodation option to suit their needs in nearby Whitianga. 
Travelling from Abroad?
Visitors travelling from abroad would be best suited to fly into Auckland and then find their way to Hot Water Beach via Whitianga by either car or bus. Auckland is home to a large international airport that is serviced by a number of foreign destinations daily, thus making it easy for travellers from abroad to access.