Picton is a town in the Marlborough Region of New Zealand's South Island.  It is situated near the head of Queen Charlotte Sound, about 25 kilometres north of Blenheim and 65 kilometres west of Wellington.
Picton is a major transportation hub for the South Island with road and railroad connections to the North Island as well as a number of ferries crossing the Cook Strait to Wellington and the North Island.  The town is the second most populous town in the Marlborough Region, behind Blenheim.
        In addition to its national significance in terms of infrastructure, Picton is considered to be the gateway to the Marlborough Sounds.
The town is filled with attractive cafes, galleries, and a variety of other attractions that make it a desirable destination for visitors.
Some will argue that Picton is New Zealand's prettiest coastal town, which is a pretty bold claim as there are a number of beautiful coastal towns and areas throughout the country.
Picton: What to Do
Picton is packed with wonderful activities for its visitors.  The town's beautiful setting is an attraction by itself. The view out over the water is constantly changing as the colors of the water and foliage change.
However, it is equally beautiful no matter what the season or the weather.
Additionally, the Marlborough Sounds, upon which Picton sits, are filled with amazing marine life, including 5 species of dolphin, Orcas, Humpback Whales, Fur Seals, Blue Penguins, and a variety of rare birds, all of which can be seen from the shore.
Captain Cook's Ship Cove
        Ship Cove is a New Zealand Heritage site.  This cove was where Captain Cook would harbour his ship, the Endeavour for provisioning and repair.
Experts say that, other than his home in England, Captain Cook spent more time at Ship Cove than anywhere else in the world.
The cove is in much the same condition now as it was in Captain Cook's day.  It makes for both a beautiful, and historically significant place to visit.
Queen Charlotte Sound
        Queen Charlotte Sound was named by Captain Cook after the King's wife, Charlotte.  Queen Charlotte Sound is a very popular place for visitors thanks to its stunning beauty, the abundance of sandy beaches that dot its shores, its secluded coves, and its ancient tree fern forests.
The sound is also home to the 71 kilometre Queen Charlotte Track, which will be discussed more later.  Prior to the sound receiving its current name by Captain Cook, it was referred to by the Maori as Totaranui.
Marlborough Wine Region
        Picton is located right in the heart of the prestigious Marlborough Wine Region.
The wines from this region are world-renowned and the region produces 77% of all the wine in New Zealand, including 90% of all Sauvignon Blanc produced in New Zealand.
The wine region is only a 15-minute drive from Picton and it is a great place to spend a day.  There are a number of tasting rooms and cellar door sales at most of the wineries in the region.
Visitors can even spend the day on the Wine Trail, which is a loop on which most of the wineries are located, where they can stop at as few or as many wineries as they want.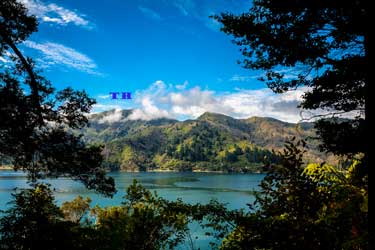 Maritime Heritage
        The Picton area is full of maritime history.  From Captain Cook's early visits to Queen Charlotte Sound, to early New Zealand port history, to whaling history, to the world's discovery visits, the Picton area's has been enriched with a significant maritime past.
Over the years, Picton has changed from a bustling port, to a gold mining town, to a fishing port, and now, to a tourist destination.
The world's oldest merchant ship, the Edwin Fox still sits at a dry dock in Picton.  Additionally, the National Whale Centre is still based there.
The Picton Museum houses a variety of maritime artifacts dating all the way back to the Maori's settlement in the area.  
Walking
        Walkers will relish a visit to Picton and Marlborough as well as there are an abundance of tracks and trails to suit all fitness levels and levels of walking enthusiasm.
Here are some of the best walking tracks in the area.
Lower Bob's Bay Track
        This track is suitable for most abilities, with undulating terrain and some, short but steep sections in places.
The track does run along steep bluffs, so be cautious and if walking with children, make sure they are supervised.  The walk starts at Shelly Beach and ends at Bob's Bay.  It takes around 30-minutes to complete.
Along the way, walkers are rewarded with stunning views of the coastline, harbour, town, and the native wildlife.
Along the way there are multiple areas where walkers can stop and enjoy a swim, or just laze on the beach.  Toilets are located at Shelly Beach and at Bob's Bay.  This track is only suitable for walking.
Picton to Waikawa Track
        This walk takes around 50-minutes.  It starts at Picton Marina and ends at the Waikawa Marina.  However, there are multiple entry and exit points along the way.
At the end, it is only a short walk to the Waikawa Foreshore Reserve.   This track is suitable for mountain bikes as well.
Snout Track
        This track is located only a short distance, 5-minutes driving, from Picton.  The track ascends to the Queen Charlotte View Lookout, which is a stunning viewpoint.
The walk begins at Shelly Beach and passes along the peninsula to Queen Charlotte Sound.  It is one of the most scenic spots in New Zealand, and as such, is a must for anyone visiting the area.
The walk is relatively short, taking only 40-50 minutes to complete, but the views are fantastic.  Walkers can either drive to the start of the trail or catch a water taxi from Picton.
Walkers will walk 20-minutes until the first turnoff to Bob's Bay.  It is only 3-minutes from the turnoff to the bay.
After visiting the bay, you will continue up a steep hill to a gravel road.  You will climb up this for around 8-10 minutes before you will start to approach lookout area.
Unfortunately, the trail has become somewhat overgrown with Gorse, which obstructs some of the views.  However, the view from the lookout remains as beautiful as ever.
Esson's Valley Walk
        This track starts at the Garden Terrace at the end of Devon Street near Alexander's Motor Camp.  This is a pleasant, 3 kilometre walk through native bush.
There are two different tracks that lead to the Upper and Lower Dams respectively.  The reservoirs contain the emergency water supply for Picton.
If you walk the trail at night you will be able to see glowworms in various locations throughout the track.
Tirohanga Track
        The Tirohanga Track is about 1-hour and 15-minutes from end to end.  Alternatively, there is a loop option that takes around 1-hour and 45-inutes to complete.
The track starts on Newgate Street and initially zigzags through regenerating bush, quickly gaining elevation.  After around 30-minutes, the track flattens out and winds through some very large trees before reaching the summit viewpoint.
The viewpoint provides walkers with almost 360-degrees of view, including wonderful vistas of Queen Charlotte Sound.  From the viewpoint, the track quickly drops into the very green Esson's Valley.
Link Pathway
        The Link Pathway is a walking and mountain biking track that stretches for around 40 kilometres between Picton and Havelock.
The track follows an old bridle trail that is over 150 years old.  The pathway is not yet complete.  Those working on it hope to have it fully completed by 2020.  However, the pathway is partially complete and you can walk or mountain bike on portions of it.
The process of building the path started in 2005 when a group of South Island volunteers who were tired of walking along busy highways.  
The towns between Picton and Havelock were only connected by road and the community decided to build a path between the two locations, thus connecting them by road.
Now, it is possible to walk between Havelock and Anakiwa, which takes 4-5 hours.
There are other sections that are now open and as more are completed, they are opened.  They hope to finish the whole trail by 2020 to coincide with Captain Cook's arrival in New Zealand.
The Queen Charlotte Track
        When it comes to walking in the Picton area, the Queen Charlotte Track is the main attraction.
This 71-kilometre walk winds around the stunning Queen Charlotte Sound boasting wonderful coastal views, native bush, historical sites, contrasting landscape, and elevated views of the other Marlborough Sounds.
The track is a unique partnership between the Department of Conservation, Marlborough District Council, and a couple private landowners.
The track is as much of a lifestyle experience as it is a testing nature walk so it is recommended that walkers take five days to complete the trail.  Keeping with this idea, the trail is divided into five sections.
Section 1: Moretoto/Ship Cove to Endeavour Inlet.  There is no road to Ship Cove so you will have to arrange boat transfer to this location.
Water taxis are easy to come by so this should be no problem.  There is no camping permitted at Ship Cove, but there are toilets.
Visitors should take some time and explore the historical areas at the cove prior to setting out on the walk.
The track climbs away from the beach and through a unmodified forest.
 As you reach higher elevations, beech trees begin the dominate the foliage.  After about 50-minutes walking, you will reach a lookout point, where walkers can enjoy views out over Queen Charlotte Sound.
After this lookout, the track drops into Resolution Bay, where there is a DOC campsite and a private cabin accommodation a bit further on.
From Resolution Bay, the track follows an old bridle path over a ridge and into Endeavour Inlet.
Private accommodation is available along the way.  Water is available in Ship Cove as well as at the Schoolhouse Bay campsite.  Toilets are located in Ship Cove, Schoolhouse Bay, Tawa Saddle, and Endeavour Inlet.
Section 2: Endeavour Inlet to Camp Bay.  This walk is about 11.5 kilometres and will take around 4 hours.  From Endeavour Inlet the track hugs the shoreline and wanders through regenerating forest.
This part of the track has an abundance of small birds, making it great for birdwatchers.  It then rounds Big Bay before heading to Camp Bay, where there is a DOC campsite and private accommodation.
Water can be found at the Camp Bay campsite.  Toilets are located at Endeavour Inlet, Miners Camp, and the Camp Bay campsite.
Section 3: Camp Bay to Torea Saddle.  This is the longest section of the walk, and by far the longest day if you are doing the whole thing.
It is 23 kilometres and should take about 8 hours, although there is another campsite at the Bay of Many Coves, which is only about 3 hours away.  First, you will climb out of Camp Bay to Kenepuru Saddle, where you will follow the ridge separating Queen Charlotte Sound from Kenepuru Sound.
Above the Bay of Many Coves and Kumutoto Bay are two DOC campsites.  The track will eventually descent to Torea Saddle between Portage and Torea Bay.
There is a DOC campsite at Cowshead Bay and a private accommodation at Portage.  Water can be found at the Camp Bay campsite, Bay of Many Coves campsite, Black Rock campsite, and the Cowshead Bay campsite.  Toilets are located at the same locations.
Section 4: Torea Saddle to Mistletoe Bay.  This section is around 8 kilometres and will take 4-hours to complete.
It continues along the ridgeline through thick growth of gorse and manuka.  There is a side-walk that leads to a lookout just before the descent to Te Mahia Saddle.  At Mistletoe Bay, there are cabins and campsites.  Water can be found at the Cowshead Bay Campsite.  
Toilets can be found at the Cowshed Bay campsite, Torea Saddle, Te Mahia Saddle, and at the Mistletoe Bay Eco Village.
Section 5: Mistletoe Bay to Anakiwa.  This final section is 12.5 kilometres and takes around 4-hours.  The section follows old bridle paths high above the water, providing beautiful views.
The track rounds an obvious point and descends to to the DOC campsite at Umungata.  The final hour of the walk is on an easy path through beech forest.
From Anikawa, you can catch a boat back to Picton or stay in one of the nearby accommodation options.
Accommodation
        Picton is filed with accommodation options.  Whether you are looking for a campsite, a luxury hotel, or anything in between, Picton has you covered.
Travelling from Abroad?
        Picton is located a mere 65 kilometres from Wellington, which is one of the largest international airports in New Zealand.
The airport in Wellington is serviced from a variety of international destinations.
From Wellington, you will have to catch one of the ferries that will take you across the Cook Strait to Picton.