The wide spaces and open landscapes are the signature look of the larger of two main islands of New Zealand. Being divided and dominated by the backbone of Southern Alps mountain, South Island is a place where snow topped mountains meet glaciers, fjords and also golden beaches, rugged coastline and pristine forests – all that making this part of the world one of the most unique one a human eye can ever seen. The landscapes and sceneries of South Island are a world famous tourist experience.
The climate of South Island is significantly drier and cooler than in the North Island, yet with summer temperatures reaching 30°C. Apart from mountain areas, the temperature rarely drops below zero during winter months thanks to the sea moderation and the dividing mountains.
South Island has only couple of larger cities (Christchurch, Dunedin, Queenstown, Invercargill and Nelson), but the top tourist attractions are located outside of those settlements and most of the national parks are situated along the divide.
The South Island is sparsely populated than its north neighbour. The largest city on the island is Christchurch, which is also often referred to as "the Garden City". Christchurch is the most English of all New Zealand's cities and unfortunately has gone through severe natural disasters in form of earthquakes forcing the government to rebuild the city centre as an aftermath to the caused damage.
Dunedin is New Zealand's oldest city built during the gold rush during late 19th century. Nelson is one of the sunniest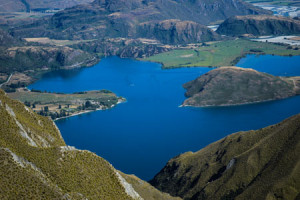 regions in the country and it is framed by the Tahunanui beach. Queenstown is a world famous alpine and lake resort and a popular visitors' destination.
South Island is popular for wide range of adrenaline activities such as skydiving, mountain biking, bungee jumping or paragliding and also sports including skiing or hiking.
To name some of the main attractions, there is a plenty to start with. The magnificent beauty of Marlborough Sounds or Abel Tasman National Park will fascinate every traveller.
Both Fox Glacier and Franz Josef Glacier are a pure jewel of nature and the fact that they are both slowly melting due to the global warming makes them even more precious. The mountain peaks over Milford Sounds with combination of waterfalls and water surface create a truly jaw-dropping scenery.
The Punakaiki rocks and blowholes are a "must see" within the west coast and Lake Pukaki together with view of Mount Cook are simply a flawless creation of nature. The pure waters along the Kaikoura coast on the east are equally breathtaking though.