Raglan is a small beachfront town just 48 kilometres west of Hamilton.  The area has been inhabited or at least the last 800 years, giving it a rich, history.  Prior to European settlement, the area was referred to as Whaingaroa by the Maori people.  This name translates rather cryptically to, "the long pursuit."
 The area adopted its current name of Raglan in 1858, in honor of Fitzroy of Somerset, 1st Lord Raglan, who had commanded the British forces in the Crimean War, which ended only shortly before.
        Like many places in New Zealand, the first Europeans to settle in the Raglan area were missionaries.  Reverend James and Mary Wallis, Wesleyan Missionaries, came to the area in 1835.  They were warmly welcomed by the Maori people.  It wasn't until the mid 1850s that more large scale European settlement occurred.  
As more foreigners began to settle in the area, more and more of the surrounding land was turned into pasture.  These initial settlers were originally supported by a strong flax and timber industry.  
While farming remains a major industry for the locals, a burgeoning arts and tourism scene have also become a more and more significant contributor to the Raglan economy.
        Raglan benefits from being located just off Whaingaroa Harbour, which is on the west coast of the Waikato Region on the North Island of the country.
Whaingaroa is a massive harbour with a catchment of 525 square-kilometres.  The harbour itself covers 35 square-kilometres.  Overall, this huge harbour has 220 kilometres of coastline, running 12-kilometres inland from the entrance.
What to Do – Raglan
       

Raglan is best known for its incredible surf.
 It is the surf that is responsible for attracting the majority of the visitors that flock to the area each year.  In fact, Raglan was featured in the 1996 cult surfing film Endless Summer.
Just 8 kilometres from the town itself are a series of surf breaks including Indicators, Whale Bay, Manu Bay, and Vortex Bay, all of which are excellent surf spots.
Indicators
        Indicators is a left hand break that breaks for a distance of up to 600 metres.  It is often a long walled, fast wave that creates the occasional barrel for the more advanced surfer.  The waves at Indicators pick up a lot of swell and are known for their consistency.  On a big day, the break at Inidcators can meet up with the next break, Whale Bay.
Whale Bay – Raglan
        Whale Bay is another left hand break that breaks up to 200 metres in length, making it smaller than Indicators.  There are two sections at Whale Bay.  The first is an inside hollow section up to about four feet that breaks very close to the rocks, thus making it a bit risky.  
The second is an outside, slower section that is often four feet or larger.  The locals will tell you that this section can meet up with the next break at Manu Point, but this is only the case on particularly large swells.
 In theory, on these big swell days, surfers could ride for over 2 kilometres, starting at Indicators and continuing all the way through Manu Point.  However, the locals also say this has only been achieved once in history.
Manu Point
        Manu Point is a left hand point break that works from 2-10 feet, and breaking for over 300 metres.  It alternates between hollow and wall sections, with occasional barrels.  Manu Point is typically only around two-thirds the size of Indicators.
Vortex Bay
        Vortex Bay is a soft peak just east of the boat ramp.  This area only breaks on low tide when the swell is too large for the main three points.         
        If you are new to surfing and want to learn, Raglan is home to a wonderful surfing school as well.  Based in Whale Bay at the Karioi Lodge, the Raglan Surfing School is a great place to learn how to surf.  Whether you are an expert surfer or just learning the sport, Raglan is truly one of New Zealand's surfing hot spots.
If you aren't much of a surfer but still want to enjoy the wonderful water on the beach in and around Raglan, head to Ocean Beach.  Ocean Beach is a great place to enjoy a swim, do some body boarding, or just lounge on the beach.  Lifeguards patrol the western edge of the beach during the summer months, making it a particularly safe place to swim as well.
The great outdoors around Raglan have more to offer than just surfing and beach games.  The area is surrounded by not just beautiful coastline, but also beautiful forest areas as well.  There are a number of tours on horseback that will allow visitors to take in some of these beautiful surroundings.
 There are also a number of trails, both by the water and in the forest, that are perfect for those wanting to get in a little bit of exercise while taking in the beautiful scenery Raglan has to offer.
If you want a break from the great outdoors, Raglan can also offer visitors some wonderful options in town.  Recently, Raglan has emerged as somewhat of a foodie haven.
 In fact, Raglan is home to some of the finest eateries and bars in all of Waikato.  Filled with wonderful coffee shops, quaint cafes, vegetarian and vegan eateries, and restaurants serving fresh, local fare, Raglan is a wonderful place to enjoy a variety of different cuisines.
In the same way the Raglan has recently emerged as a fantastic food town, it has also recently emerged as a wonderful art region.  The town is filled with a number of wonderful galleries where visitors can bring home a wide variety of beautiful pieces of art from some of the region's finest artists.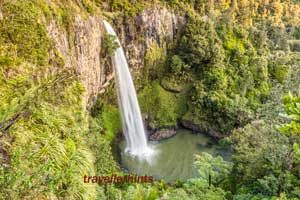 Bridal Veil Falls:  Walk to the top and down to the base of these spectacular 55 m falls.
Where to Stay – Raglan
        Raglan is home to a wide range of accommodation options.  Whether you are looking for affordable camping areas and backpacker's hostels or luxury hotels and resorts, there is something for you in and around Raglan.  There are also a number of self-contained holiday rental options that are great for families or those travelling in larger groups.
Travelling from Abroad?
        Those travelling from abroad will find it easiest to travel through Hamilton.  Hamilton is home to a domestic airport that is serviced daily from Auckland, Christchurch, Palmerston, and Wellington.  Auckland and Wellington are both home to large international airports, thus making it relatively simple to get to Hamilton.  From Hamilton, it is just a short 48 kilometre drive to Raglan.