Last updated on July 1st, 2017 at 05:40 am
Baylys Beach is a small seaside community with multiple colorful beaches, quaint seaside cottages, and refreshing sea breezes.  The small village has a very rich history.  In fact, this unsuspecting stretch of coastline was the site of a major battle between dueling Maori tribes in 1807.  
The battle, called Te Kai-a-te-karoro, took place between the local Ngati Wahtua and the invading Nga Puhi from the south.  The battle was the first tribal conflict in which muskets were used.  There is now a monument to those lost in the battle on the famous Ripiro Beach.
 Baylys Beach: What to Do
        Despite its diminutive size, Baylys Beach is filled with wonderful activities for visitors.  Baylys is regarded as the gateway to Ripiro Beach, which is New Zealand's longest drivable beach.  Ripiro stretches on for around 100  kilometres, providing visitors with a huge stretch of stunning coastline.
The beach is backed by large, golden sand dunes on one side and the turquoise water, with gently crashing waves on the other.  The beach makes for a wonderful drive.  However, it is recommended that visitor interested in driving the length of the beach do so at low tide when the water level is low and the sand is hard.
It is important that visitors take the tide into account when planning their trip down the beach because you do not want to be stranded when the tide comes back in.  4WD vehicles are recommended.  
Ripiro Beach is also home to hundreds of shipwrecks.  The official record says 113 ships have wrecked at Ripiro, but certain locals will tell you that they actually know of 153.  Either way, there are a huge number of shipwrecks along the beach, some of which can be seen during low tide.
These wrecks have taken place over the course of many years, with the first documented wreck occurring hundreds of years ago and the most recent known wreck in 1994.  The crown jewel of the shipwrecks is the three-masted, 36-gun French Man O'War that met its unfortunate fate at Ripiro Beach in 1815.
Noel Hilliam, a local amateur historian and the curator of the Dargaville Maritime Museum found the wreck while diving in 1977 after searching for it for many years.  He was able to salvage a large number of interesting relics from the boat and now displays them at the Maritime Museum.  
       

Adventuresome tourists will enjoy the many different adventure tours on offer at Baylys.  Visitors to the area can choose from sand yachting, trail biking, quad biking, hang gliding, jet skiing, and surfing (of which there are a huge number of excellent locations nearby).
They can choose to do any of these activities with a guide, or without a guide, it just depends on how experienced they are, how confident they are, or what they might be feeling on that particular day.  Visitors have a lot of freedom to explore the wonderful beach at Baylys in whatever manner they desire.
        The beaches in and around Baylys are also great places to encounter a wide variety of wildlife.  The coastline is home to a wide range of seabirds.  Likewise, visitors can catch a glimpse of the endangered Toheroa shellfish as well as the bi-valve Tuatua.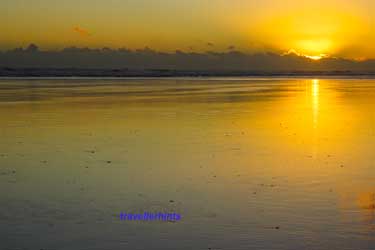 Anglers will enjoy a trip offshore where they can catch a wide variety of game, including mullet, flounder, kingfish, kahawai, and snapper.  At low tide, visitors can harvest green-lipped mussels from the rocks at Maunganui Bluff on the northern boundary of Ripiro Beach.
Baylys Beach: Accommodation
        Baylys Beach has a relatively strong array of options for visitors.  The beach is home to a holiday park that is equipped with two fully self-contained cottages.  Each cottages sleeps up to six people, thus making them great for large families or groups travelling together.  
The park also has motels and smaller cabins with ensuite bathrooms.  There are also basic cabins, which only contain beds.  These cabins are ideal for backpackers.
Outside of the holiday park, there are also a number of other self-contained holiday rentals available for visitors to choose from.  Nearby Dargaville, only about 10-minutes away, is also home to a number of accommodation options.    
Travelling from Abroad?
        The closest airport to Baylys is in Paihia.  Paihia has a small airport that is serviced daily from Auckland, thus making it easily accessible for visitors travelling from farther abroad.