Hamilton is the seat and most populous urban area in the Waikato Region on the North Island of New Zealand.  New Zealand's fourth most populous city, Hamilton sits right on the banks of the Waikato River.  The city originally grew to prominence as an agricultural service centre.
 However, in more recent times, it has developed a rapidly growing and diverse economy.  Hamilton is the third fastest growing economy in all of New Zealand.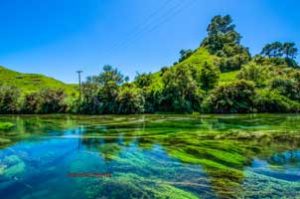 The city boasts an incredibly educated population as it is home to approximately 40,000 tertiary students and over 1,000 PhD qualified scientists.  As such, it should come as no surprise that Hamilton is and important research and development hub in a variety of different fields.
        The land on which Hamilton sits was originally the site of several Maori villages.  As such, the city has a number of culturally significant Maori sites within its boundaries.  In fact, in 2011, a number of Maori food storage pits were found right on the Waikato River bank, near the Waikato Museum.
Despite this rich Maori history in the area, by the time European settlers made it to present day Hamilton, the villages were nearly abandoned as the Maori had left in order to fight neighboring rebel Maori groups.  The settlement was officially founded on 24 August, 1864.
However, many of the settlers who came to the region hoping to make their living farming walked off the land in 1868 due to the poor quality of the soil.  A large potion of the land was swampy, which made it unsuitable for farming.  After the farmers walked, the population of the town plummeted from around 1,000 inhabitants down to only 300.
        Now, Hamilton sits as a thriving education and research centre.  The large student population has made for a vibrant entertainment area and the town is loaded with an array of swanky and sophisticated bars, museums, and eateries.
What to Do – Hamilton
       

Hamilton is packed with entertainment for visitors.
 As previously mentioned, the city's reputation for higher education and research brings a unique mix inhabitants to the city.  There are both a large number of intellectuals as well as a large number of students which means visitors can find an interesting mix of entertainment geared at appeasing both of these groups.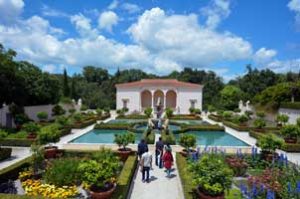 Hamilton Gardens
        One popular attraction in Hamilton are the beautiful Hamilton Gardens.  In fact, Hamilton Gardens is Waikato's most visited tourist attraction.  It claims to not be a botanical garden, but to tell, "the story of gardens."  The curators of the garden like to think of it more like a museum, with each garden collection having its own story the provides visitors with a window into the history of that respective garden's civilization.  
The gardens house, "historically important garden styles from the farthest reaches of the world."  Visitors can enjoy the gardens on an extremely informative guided tour.  The guided tours are excellent for visitors who really want a deep understanding of the different garden collections, their stories, and their unique history.
Museums and Galleries
        Hamilton is filled with a number of wonderful museums and galleries that are perfect for art lovers, history enthusiasts, or those just looking for some culture.
The Waikato Museum is a very popular attraction for visitors.  This museum houses a number of fascinating exhibits depicting the history of the Waikato Region.  The exhibits in the Waikato Museum range from visual art, social history, science, and Maori culture.
Hamilton is also home to the Classic Car Museum, which houses some of yesteryear's most beautiful, unique and interesting vehicles.  If you are a gearhead, or a car lover, this is a must see during your visit to Hamilton.
Art enthusiasts will love a visit to Artspot.  This is a unique, visual art space that houses a beautiful and fascinating art gallery along with a retail space where visitors can pick up some great, and unique, art.
Inspirit Studio and Gallery is another must see for true are lovers.  This spacious contemporary gallery boasts a wide range of mediums ranging from sculpture to lawn and garden features.  Inspirit is home to a number of established artists who produce fascinating work in a variety of mediums right on the premises.
Soul Gallery is a great place for those hoping to gain some insight on New Zealand art.  The gallery is described as a, "celebration of all art and objects New Zealand made," thus making it a great place for the art enthusiast looking to learn more about local art.
Ramp Gallery is a contemporary public art gallery right in the centre of Hamilton's Wintec's School of Media Arts.  It is a fascinating stop for contemporary art fans.
Calder and Lawson Gallery is home to the Academy's stunning visual arts programme.  It is another great attraction for lovers of contemporary art.
That doesn't even cover all of the different galleries in the Hamilton area, but those are some of the most popular.  Hamilton really is a haven for art lovers.  No matter what your artistic tastes, there is a gallery for you in Hamilton.
Hamilton River Explorer
The Hamilton River Explorer is a great way for visitors to see and experience the Hamilton Region in a unique way from one of its most wonderful natural attractions, the Waikato River.  There are a number of different cruise options, ranging from just a boat trip down the river, to a wine tasting cruise.  
The cruises all depart fro the Hamilton Gardens jetty and they run year round.  The boat has a fully stocked bar on board as well as café style food.
Zealong Tea Plantation
Visitors can also enjoy New Zealand's only tea plantation at the Zealong Tea Plantation, only 10-minutes north of Hamilton. They say the plantation is home to the worlds purest tea, which is quite a claim.  
Visitors can enjoy a variety of different activities on the plantation, including guided tours that give visitors fascinating stories behind the history of tea, tea ceremonies, tea based cuisine, and the plantation's famous High Tea.  If you are a tea connoisseur, the Zealong Tea Plantation is a must see during your trip to Hamilton.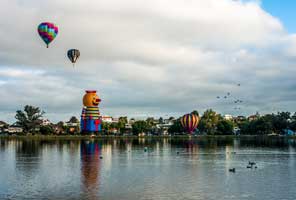 Kiwi Balloon Company
If you are looking to take in a beautiful aerial view of Waikato in a truly unique way, look no further than the hot air balloon rides offered by the Kiwi Balloon Company.
The daily flights will take visitors over the city, surrounding farmlands, and the Waikato River.  On a clear day, visitors can see all the way to the mountains of Ruapehu, Pirongia, Te Aroha, and Taranaki.
Hamilton Lake Domain  
Of course it wouldn't be New Zealand without a beautiful natural attraction as well.  Hamilton Lake Domain has a long history as being Hamilton's premier natural park.
The park holds the unique distinction of being within walking distance of the Hamilton Central Business District, which puts this beautiful natural attraction right in the heart of the city.  Hamilton Lake Domain serves as a focal point for a variety of water and land based activities in the Hamilton area.
Lake Rotoroa is perfect for a wide range of water based activities, like yachting, wind surfing, canoeing, paddle boating, dragon boating, waka ama, raft racing, and a variety of other informal activities.  Meanwhile Innes Common caters to a wide array land based sports, such as hockey and cricket.
 Innes Common also attracts a number of organized events, such as fairs, kits days, family days, the Waikato Balloon Festival, fun runs, concerts, school holiday programs, and much more.
The rest of the park is home to any other leisure activity its visitors desire.  The esplanade around the park is a popular fitness route.  The large playground right by the Verandah Café is a great place for children to play while their parents enjoy a drink from the café.
Hamilton Walkways and Cycleways
        Continuing with outdoor recreation, Hamilton is home to a large network of walking and cycling paths, thus making it a great place to enjoy a cycling based holiday.
 Over the years, Hamilton has developed a complex network of paths that will take walkers and cyclers through gullies, across parks, along the Waikato River, and along roads used daily by the locals.
There is also a mountain biking track at Pukete Mountain Bike Park, which is a great spot for mountain bikers to enjoy a day out on the trails only a few minutes from Hamilton City.
Nearby Natural Attractions – Hamilton
        Still nearby, but a bit farther away than many of Hamilton's other attractions are a variety of stunning natural sites.  Mount Pirongia, is home to a large forest park with tracks that will satisfy walkers of all fitness levels.  
Walker will also enjoy Mount Te Aroha, Hakarimata Range, and the Kaimai-Mamaku Range, which is where you can find the 153m high Wairere Falls.  Mount Maungatautari has a wonderful track that will take walkers right to its summit.  Finally, Lake Arapuni is a great spot for trout fishing, water skiing, boating, and swimming.
Where to Stay – Hamilton
        As one of New Zealand's largest cities, Hamilton is home to a variety of different accommodation options.  Ranging from basic backpacker's accommodation to luxurious hotels, to self-contained apartments and holiday units, visitors can find something that meets their tastes as well as their budget in Hamilton.
Travelling from Abroad?
        Visitors travelling from abroad will find it relatively easy to reach Hamilton.  The city is home to Hamilton Airport, which sits just 14 kilometres south of the city centre.
Last year, the airport had 316,000 domestic and 46,000 international passengers pass through, thus making it the fourth busiest airport in New Zealand by passenger traffic, trailing only the larger cities of Auckland, Wellington, and Christchurch.
 The airport has daily flights to and from Auckland and Wellington.  Both of these cities have large international airports that are easily accessible for visitors travelling from abroad.