Just 30 kilometres north of Kerikeri, Matauri Bay is home to over a kilometre of white sand beaches and crystal clear water.  The area is an extremely popular place in the summer when thousands flock from all over to enjoy the beautiful beaches, warm water, and ideally situated campsite right on the water.  The bay also has a rich history.
It was at Matauri Bay that some of the first Polynesian navigators in New Zealand landed.  It was also one of the first sites of Maori contact with European settlers.  Samuel Marsden, and his missionaries, first encounter with the Maori people came in 1814 at Matauri Bay.
What to Do – Matauri Bay
        The pristine beach at Matauri Bay is responsible for attracting the majority of the visitors to the area.  During an easterly swell, Matauri Bay can be home to some of the country's best surfing.  The fishing can also be very good in the area, making it the ideal place for angles, who can enjoy their days out on the water fishing or out on the beach lounging.
Matauri Bay is also home to the Rainbow Warrior.
The Rainbow Warrior was a ship that was purposely sunk in order to create a living reef.  This reef now serves as a home to a wide array of marine life, in addition to being a major diving attraction, bringing countless visitors to the area.  While it was in service, the ship helped conserve the underwater ecosystem of the area.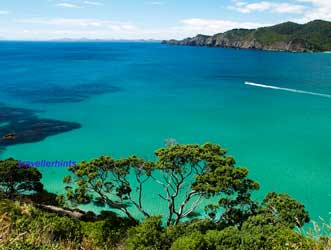 When it was decommissioned, the New Zealand Underwater Association proposed the intentional sinking of it to create the reef.  In December of 1987, it was towed out from shore and subsequently given a, "traditional Maori burial."  The reef is now maintained and conserved by the local Maori community.  The Rainbow Warrior now serves an integral part of the community it once helped protect.
Where to Stay – Matauri Bay
        Matauri Bay is home to some truly wonderful accommodation options.
 If you are looking for a more rugged experience, book a site at the aforementioned campsite right on the beach.  It is a great place for visitors who are just hoping to make the most of the beautiful sand, water, and sunshine during their visit.
If you are looking for a more luxurious option, Matauri Bay is also home to the Lodge at Kauri Cliffs, which is a fully service luxury resort.  The resort is home to a golf course, restaurants, a variety of suites and cottages, and a number of other luxury amenities.
Travelling from Abroad?
        Visitors travelling from abroad will find it relatively easy to get to Matauri Bay.  The easiest, and likely fastest, way to get there from abroad is to fly into the airport at Kaitaia.
Kaitaia is home to the only airport in the Far North District.  The airport is serviced regularly from Auckland on Great Barrier Airlines.  From Kaitaia it is only a 75-minute drive to Matauri Bay.