Looking for cheap and  relax  Philippines holiday. Here is some of beautiful travel destinations info about  beaches, local culture, food and  place to escape from  your busy lifestyle.  
Why Philippines holiday ?? Home to a striking white sand coastline that is among the longest in the world and a collection of more than 7,000 beautiful islands for Philippines holiday and all your choice.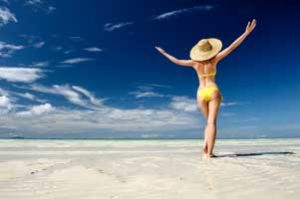 Philippines Holiday Info 1 : Boracay Island
One of the most visited travel destinations in the Philippines, Boracay island paradise is famous for its beautiful beaches and great nightlife as we as sexy beach parties
Would you like

sexy beach nightlife

on Philippines Holiday???
"A paradise for sea-worshippers and nightlife lovers."
Known for its pristine white sand, Boracay had become one of the top destinations in the Philippines especially for those whose idea of relaxation represents beautiful beach with relax cocktail culture.
Boracay is located in northwest of Panay Island. It is actually a very small island which only has a total land area of 10.32 square kilometers.
Take a plane going to Caticlan and from the airport you need to take motorized pedicabs to take you to Caticlan Jetty Port-it is where the boats are leaving for Boracay Island.
One can also choose to take the plane bound for Kalibo, but travel time is a little longer compared if you would take the Caticlan-bound.
Getting around the Island is mostly by motorized pedicab and tricycle. No cars are allowed to enter Boracay, that's why.
The beauty of Boracay have been recognized internationally.
Fact is, it was awarded as the best island in the world by Travel Magazine Time + Leisure. There are many beaches in Boracay which you could explore.
The most popular among these beaches is the White Beach.
It is about 4 kilometers long and 100 meters wide. This is the busiest and I must say mostly crowded with a very much vibrant nightlife. It is where the heart of all local entertainment is located.
What I mean with this is that it is where most of the bars are to be found.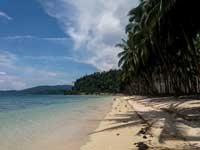 You can enjoy listening to show or jam with live bands or probably you can dance the night away as there are discos and clubs where techno and Hiphop music are usually played.
You can enjoy dinner with acoustic music playing in the background. You can choose which bar suits your mood or, even better, go on a bar-hop.
These bars could get crowded on Holy Week because most of the Filipinos spend the week long holiday in the island.
Boracay may just be a small island but bear in mind, it does offer a lot of activities ranging from Scuba diving to Cliff diving.
There are numerous dive sites and shops within the island. Dive sites cater to both beginners and experienced divers as well as they offer shore dives, shallow and deep walls, night dives and even drift dives.
Dive shops are members of BASS (Boracay Association of Sport and Scuba Diving) – they are responsible for maintaining the good condition of diving equipment.
Another activity you could try is windsurfing/kiteboarding. It is during the first few months of the year, where the strong wind blows, when tourist, especially those who are into windsurfing and kiteboarding, take the opportunity to really enjoy this activity.
Or maybe you can channel your inner devil-may-care-attitude and enjoy cliff diving.  Aside from that, you could try to check out the coves and caves in the island where you could see the giant fruit bats hanging on trees or you might want to hike to the highest point of the island which is Mount Luho.
More fun activities also can be done in the beachside. I am talking about volleyball and Frisbee! See? Boracay promises that your stay won't be boring.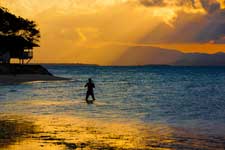 Philippines Holiday Info 2: Salagdoong Beach
"A true Haven and one of Siquijor's Pride "
It is located at Salagdoong, Maria, Siquijor Circumferential Road, Siquijor, Philippines just 20 minutes away from Siquijor Port.
A small rocky hill or a hummock separated from beachfront which gives a perfect view over the scenery and the whole beach.
The local government developed this hummock into a beautiful piece of art – it has now a bridge, slide and a waterfall with two diving platforms. It has fresh, clean and calm water, and it is not a crowded beach at all, plus the entrance fees are affordable and parking fee is very cheap.
This makes this beach one of the best beach destinations. You will be able to see, explore and discover a school of fish roaming around because of the clearness of the water.
The main attraction in this beach is the hummock which has two twenty- thirty meters high platforms used for a cliff diving activity.
You will find rock formations just on the left side of the resort, there are also gears for rent like: Kayak, a small pointed narrow boat propelled or moved by double bladed paddle used for roaming around the beach.
Masks and Snorkels used for swimming, a snorkel is used to breathe underwater. Flippers, a flat rubber attachments used also for swimming which is worn on the foot. A life jacket and a guiding fee which is very cheap and affordable for all.
There is also a restaurant there that serves silog like tapsilog, hotsilog, longsilog, and other food like pizza and other Filipino food.
If you want to stay and spend the night there you can get an accommodation in Hotel Agripino. There are also beach cottages available for spending the night which can hold up to four people.
You can also spend the night directly on the beach if you want, just bring some tents for you to have a comfortable stay. There are no charges for camping so you do not have to worry about any extra expenses.
You can reach this beautiful resort by air from Dumaguete Airport which is the nearest Airport to Siquijor. By Sea, you can ride a Ferry Boat from 2Go Travel, Cokaliong Shipping, Montenegro, Super Cat, Super Shuttle and Ocean Jet.
Last but not least, you can also take a bus to get there by land. Visit this very beautiful place which will give you a total satisfaction on your adventure trip.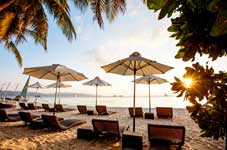 Philippines Holiday 3: Dakak Beach Resort, Dapitan City
Do you like to have relaxation beach resorts experience on Philippines Holiday??
A grandiose paradise of world class facilities yet still grounded to allow you feel the connection with Mother Nature, Dakak Beach Resort provides their guests with a variety of adventures that suits every visitor's preferences.
Nestled amidst the lush greenery of mountains located to its west part and facing the magnificent ocean, Dakak Beach Resort has been satisfying patrons all over the world since 1988.
It is the first five-star resort in Mindanao and has a triple "A" accreditation from the Department of Tourism.
Located in Taguilon, Dapitan City, Zamboanga Del Norte – it is a 30-minute drive from Dipolog City and Dipolog Airport, 20-minute drive from Dakak Adventure Zone, Rizal Landing Site and Gloria De Dapitan Complex.
Philippine Airlines and Cebu Pacific have daily trips to Dipolog City from Manila and Cebu Pacific to Dipolog City from Cebu's Mactan International Airport.
Guests coming from Cebu can take daily fast craft to Dapitan City.
Trips from Cebu City to Dapitan City are five hours with stopover in Tagbilaran City and Dumaguete City.
Something which started with two small cottages  has now expanded into 64 cottages and 161 accommodation facilities, fitted with a private terrace, all air-conditioned, all fully-furnished with a wardrobe, cable TV, living rooms, bathrooms with hairdryers, shower and of course the free toiletries, in native duplex type bungalows of bamboo and nipa leaves with capiz shell window panels, Family Pavilions, family rooms, and a Presidential Suite.
Dakak Beach Resort features 8 dining selections, 3 outdoor pools (Spring Water fed Adult Pool with adjoining Jacuzzi, Mini-dessert island, sea water fed adult pool, and Spring Water fed Children's Pool with waterfalls), and a private 750 meter white sand beach area where guests can enjoy different activities such as snorkeling, kayaking, diving, and jet-skiing.
It has a 24-hour front desk service and provides a free Wi-Fi access in public areas.
Depending to one's preferences, casual to fine dining, local to international cuisines such as Chinese, Western, and Italian cuisines are available. Some restaurants and bars are open 24/7 with live music or the spectacular view of the sea.
This resort paradise offers a variety of facilities; 3 Hole / Par 4 Practice Golf Course, 3 tennis courts, billiards and bowling alleys, Horseback Riding and Nature Treks, Aqua Sports Center – Scuba Diving, Jetskiing, Kayaking, Banana Boat and Hobie Cat, River Cruise, Sunset Cruise, Dinner Cruise and Cove Hopping, a Conference center and meeting room, Chapel of Masses, Weddings, and other religious events, a 24 hour massage services, a Gift Shop, a laundry and babysitting services, a 24 hour clinic services, currency exchange and safety deposit boxes, on the top –  all major credits cards are accepted.
Dakak Beach Resort also offers different kinds of tours; Island Tour – enjoy the fun and excitement of Island hopping at Aliguay or Silinog and experience nature's marine exhibit; Fishpond Tour – relish the freshly served seafood, (crabs, prawns, oysters, and milkfish) at Kinilaw ug Inihaw sea Fishpond Restaurant for lunch.
It is a fish farm 10 minutes away from the resort; Historical Tour – of course, visiting Dapitan City will never be complete without visiting the famous Rizal Shrine, the place where Jose Rizal stayed as an exile.
Take a fun tour of the city's well-known Spanish houses, Punto del Desembarco de Riza a century old cathedral where Rizal landed;
Cove Hopping – Stopover to neighboring beaches, discover the fisherman's village, the bat cave, and of course, the unlimited swimming extravaganza;
a sunset cruise with an outrigger-boat; Cockfight Tour during Tuesdays, Saturdays and Sundays, to try your luck in one of the favorite pastime of Filipinos from 3 centuries ago; and the Night Tour at the Gloria de Dapitan and Gloria's Fantasyland for some amusement and bar hopping.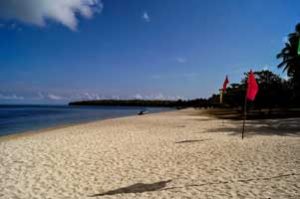 Philippines Holiday 4: Dahican
A laidback setting and a panoramic view of Dahican
If you are into skimboarding you should not miss visiting Dahican.  Located in Mati City, Davao Oriental the laid back setting of Dahican, it will surely impress every visitor.
The granular sand of Dahican will dazzle you aside from the palm trees that were perfectly placed as if it was purposely planted in the shoreline.
The place is very tropical and it is facing the magnificent scenery of the Pacific Ocean. There are numbers of kids who will amaze you with their skills in skim boarding and you might as well try.
Camping out and staying in a tent is perfect since the place is idyllic. You can pay a small amount to camp out for a night.
Rental of a skim board and surf board and as well as skim and surfing lessons are available if you wish to learn.
However if you wish to stay in a more comfortable place, several resorts are available – Botona Beach resort, Kubo sa Dahican beach resort, Botona Beach Resort or Tropical Kanakbai Homes.
These resorts offer affordable overnight stay and several rooms that you can choose from.
You can buy fresh seafood from the fisherman or on the market and cook it by yourself.
How to get there: From Manila or Cebu, you can go to Davao city by plane and from there you can ride the bus near the highway bound for Mati. A 3 to 5 hours trip depending on the traffic.
If you want a faster ride, take a jeepney or taxi going to GMall or Victoria plaza and take a van to reach Mati.
From Mati Bus terminal a tricycles or single motorcycles are available for you to reach Dahican. It is approximately a 15-20 minute ride from the terminal to Dahican.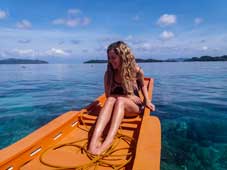 Philippines Holiday 5: White Beach 
A hidden jewel in the South – White Beach Malamawi
Malamawi White Beach is the crown jewel of Basilan. This unspoiled island will welcome you with a fresh air and beautiful scenery.
Basilan is an island province of the Philippines and is located on the Southern coast of Zamboanga Peninsula. The white powdery sand that will touch your traveling feet as soon as you step on the beach is a reward for everyone having to use habal habal to reach this place.
A habal habal is a local term for a motorcycle that is being used as transportation for tourist and locals to get to the Malamawi white beach.
It's only a 20 minute ride for affordable price per head. Every habal habal can accommodate up to 2 passengers.
The wide shoreline of the Malamawi white beach is an ideal place for sunbathing and the seabed is fine with less sea rocks. Malamawi white beach is a secluded area, a perfect place for meditating.
Malamawi island – How to get there
Going to Malamawi island is very easy. From Manila you go to Zambonga City by car and by airplane.
From the port of Zamboanga City several vessels are available for tourist to reach Isabela, Basilan. While traveling to Isabela, you will see the floating village where the Badjaos are living.
Most of them are fishermen and the way their houses were built will leave you in awe.
Upon reaching Isabela port there are two ways on how to reach the Malamawi white beach: one is by hiring a vessel from the port directly to Malamawi white beach.
Second is by riding the pump boat which is very cheap since it is a public transportation. Upon reaching the island, you can ride the habal habal and that's it, welcome to paradise!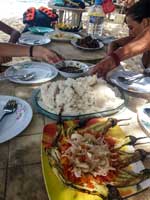 Philippines Holiday 6: Gumasa
With a long stretch of shoreline in a secluded coast facing the Celebes sea, this is the sweet escape to serenity.
Gumasa beach is a jewel of Sarangani province in the southernmost area of the Philippines. It offers an atmospheric beach setting at its purest, the beauty of simplicity with fine white sand, azure sea, native huts, less crowds and noise, and not dominated by commercial establishments in every corner like most of the popular hotspots in the country.
It's a great place to enjoy fresh seafood, fruits and vegetables because it is located in Glan, a first class municipality that exhibits the rural lifestyle with locals having their lives depending  on the resources from agriculture and aquaculture.
There are several resorts in the beach area where you have options stay for a whole day and only pay a minimal entrance fee, or  you can rent a cottage, book a room, or find a property that will allow you to set up a tent for cheap or more adventurous option.  
It is about 1.5 hours away from General Santos City through either a van bound to Glan, Sarangani from KCC Mall of GenSan terminal or jeepney from Lagao terminal.
After arriving in Glan, take a tricycle or habal-habal (motorcycle) to Gumasa beach which takes approximately 30 minutes.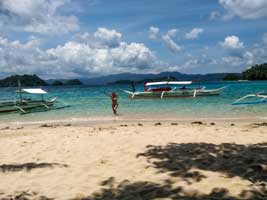 Philippines Holiday 7: Siargao Island
This tear-drop shaped set of 48 islands and islets is a tropical paradise for surfers, divers, adventurers and beach bums. Surely, the surfing capital of the Philippines isn't all about surfing.
If you're not into conquering the waves and rather prefer to relax under the shade of palm trees while facing the white sand beach and pristine water in a secluded island, or you're simply the type who is crazy about island hopping, then there are lots of islets to choose from in Siargao such as  Naked Island, Daku Island and Guyam.
All you need is to hire a boat to take you and your friends to any, or even all of them.
There's also the largest mangrove forest reserve in Mindanao which can be explored in the municipality of Del Carmen.
But if you came here as a passionate surfer, it is of course the perfect place for you as it was recognized as one of the top 10 surfing spots around the world.
Cloud 9, with its remarkable waves attracting global attention, is where the provincial government of Surigao del Norte sponsors an annual event for international surfing competition called Siargao Cup.
The best waves in the island are expected from August to November during the Southwest monsoon "habagat".
Nowadays, there are no direct flights to Siargao from Manila but no worries since there are 2 options to get there.
First is to fly to Cebu through any of the local carriers, and then take another flight to Siargao through either Cebu Pacific or Philippine Airlines (PAL).
Second option is to fly to Surigao then take a ferry to Dapa, which takes roughly three hours from one port to another.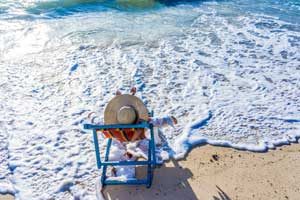 With plenty of water activities and more than 50 resorts to choose from, the Island Garden City of Samal is a nature treat to those who want to escape the hustle and bustle of the metropolis.
A little less than a kilometer from the east coast of Davao City is where the set of seven islands that are fully equipped with attractions to lure the locals, tourists, beach lovers and families aching for a weekend getaway is located. It offers a wide variety of resorts depending on your preference and budget.
The sophisticated native architecture of Pearl Farm Beach Resort is the perfect choice for those who are looking for a cozy and luxurious ambiance.
If you don't feel like relaxing and would prefer fun aquatic recreation instead, you can enjoy gigantic slides and water sports in Bluejaz Beach or Maxima AquaFun.
Activities within the area are not limited within the boundaries of the resort of your choice.
You can have fresh water enjoyment in Hagimit waterfalls, catch the Vanishing Island before it disappears, go spelunking in Balete and Mangongawong caves, or experience the gorgeous underwater ecosystem while snorkeling and diving around Talikud Island and Mansud Wall.
If you're up for a peculiar adventure, you can go to Monfort Bat Cave after sunset to witness a surreal Circadian flight of two million flying mammals looking for food.
The nearest airport to the island is in Davao International Airport with direct flights from Manila and Cebu.
Once you arrive in the city, you can take motorboats or ferries in St. Ana Wharf or SASA Km 11 Wharf for about 45 minutes to cross the gulf.
You may also check with your accommodation as some of the biggest resorts have pick ups by private boats to offer more comfort to their customers.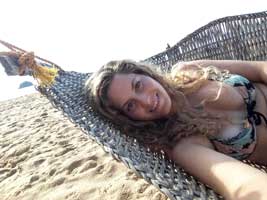 Philippines Holiday 9: Nacpan Beach
Nacpan and Calitang Beach, the twin beach known as the best beach in El Nido, Palawan has always captured everyone's attention thanks to its scenic beauty making it the leading attraction in the area.
The twin beaches are said to be the best kept paradise of El Nido until it was discovered by tourists.
The twin beaches are not yet commercialized which makes it the most favorite spot for tourists who love to take their vacations privately.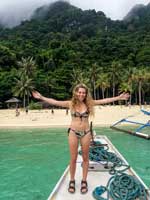 Only fishing villages, small time cottages, huts and large rest houses can be found there. The place is very laid back, bare and without the usual crowd that is solely expected.
One popular view is the smaller Calitang Beach which is located in the southwest tip of Nacpan wherein you could actually see and take photos of the surroundings.
To get there you can take any means of transportation –  hire a motorbike, hire a tricycle (best for four groups of people) or hire a van.
The price for hiring a tricycle ranges from 700 – 1500 pesos and if someone prefers comfort then the price for hiring a van would range from 1,200 pesos onward.
 Motorbike ranges from 600 – 700 pesos. Jeepney transportation costs only 50 pesos each and Jeepneys are situated in Corong Corong Terminal around 10 am – 12 pm.
Getting there is a bit of a rough road journey but it's all worth it.
Located in Sitio Calitang, the twin beaches can capture anyone's attention simply by showcasing the serenity of the place, its natural beauty and most especially, the spectacular sunsets.
It simply won't hurt getting out of your comfort zone and explore the beauty of the paradise that awaits you.
Go and feel the heat of the sun, experience the sandy beach on your toes and swim in the bright blue ocean that is waiting to be explored.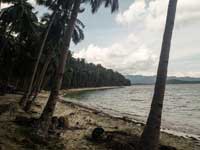 Philippines Holiday 10: Nagsasa Cove
Nagsasa cove, the most popular getaway spot, continuously attracts campers and travellers with its charming landscapes. Plus, it is just 3 hours away from Manila.
Located at San Antonio, Zambales, it is uniquely beautiful, not very populated and perfect for those who loves camping in the nature.
Take a tricycle from San Antonio going to Pundaquit beach where the start-off point to the cove is located. Make sure you eat before you take the road trip to Zambales which takes 3-4 hours.
Or bring some snacks if you haven't eaten yet. Boatmen will guide you to the white and fine sand of Camara Island and Capones Island and welcome you with the huge rock formations.
Bring a waterproof bags or any waterproof fabric that will protect your gear.
It has lesser campers and visitors and parents don't' have to worry too much about their kids because the water is not so deep.
The beach is fantastic because you can see that it is surrounded by mountains and there is a lighthouse on the way to the cove.
If you plan to explore the mountain and hike, make sure you have the proper hiking gear – for example a footwear that can easily dry, shades, hat, leggings, snacks, water and sunscreen.
If you get somehow lost, don't worry because there are many signs that lead you to your destination. You will notice that the sand is gray.
The grayish color comes from the ashes that is settled on the land by the cataclysmic eruption of Mt. Pinatubo many decades ago. As years have passed the ash crystallized into sand.
The visitors should be responsible for keeping the mountains, shores and water pristine and keep the nature protected from man-made destruction.
Bring garbage bags to collect your rubbish as a kind gesture and good way to maintain the cleanliness of the area and preserve the coves.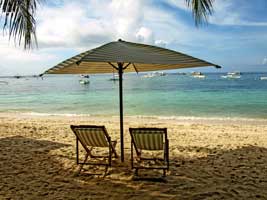 Philippines Holiday 11: Pagudpud
The very well known promenade "Pagudpud" is rich in beautiful beaches with clean white sand and fresh air. It is found in the province of Ilocos Norte.
Pagudpud is a perfect place for your vacation.
Aside from the beaches that surround this place, there are also a beautiful spots that attract the tourist, such as the World Heritage Church which is very well known as an old church in the area, the windmills beside the sea with a height of 50-meters in Bangui Bay, the Malacañang of the North which is a  memorable and valuable house, it is also a home of Marcos before.
Inside the house, you can see the artifacts and antiques used during the Marcos time.
Do you like  all in one place when your on Philippines Holiday?? This the place for you.
The Hannah's Zipline in Blue Lagoon with a white sand beach and crystal clear blue water where you can enjoy boat riding and surfing.
One of the exciting activities is Sandboarding in Ilocos Norte Sand Dunes which is the newest adventure in Pagudpud. You can ride the 4×4 Jeep too but make sure you go there early in the morning.
The Cape Bojeador it is an old lighthouse situated in Burgos Ilocos Norte.
The Patapat Viaduct is the longest bridge in Pagudpud. The last is the Kapupurawan rock formation, a breathtaking white rock formation situated at the edge of the sea. Horse back riding is also available here.
Do you like to eat load of sea food on Philippines Holiday. This the place for you. 
Aside from different tourist spots mentioned above you can enjoy delicious food as well.
Ilocano serves delicious and unique dishes just like; pizza made of pinakbet ingredients and pizza made of longganisa.
Fried Empanada is one of the favourite dishes there in Ilocos, it is found in Dap-Ayan ti Ilocos Norte food court.
Here is a list of food items/souvenirs which are one of the reasons why tourists are coming back to this place; Bagnet, the Royal bibingka, Chicharon known as Cornick and last is the Longanisa (Native Sausage).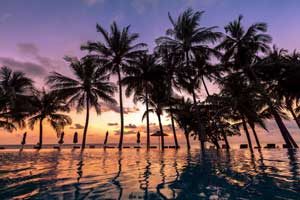 Philippines Holiday 12: Laiya
What's with Laiya? This place is perfect for all travellers especially during summer as it is surrounded by the beautiful resorts that are truly attractive.
The place full of Island Resorts on Philippines Holiday
One of the favorite beach resorts here is La Luz Beach Resort. It is one of the attractions in Batangas because of its beautiful ambience, plus it is a very nice place to unwind.
The place also have various beach resorts that are enticing to every tourist, such as the Matabungkay Beach Resort, a 30 years old beach.
The Sunrise Cove found in Calatagan is a very safe place with a very beautiful seascape view. The Tingloy Batangas Beach situated in South Batangas is a place for diving.
The Kabayan Beach Resort has the widest ground among resorts in Laiya making it a very well-known beach resort in the area.
The Acuatico Beach Resort is one of the most beautiful resorts in Laiya, Batangas though it is a bit expensive compared to the other resorts – but the cascading lagoon-style swimming pool is one of best parts in this resort that greets you with wonderment.
Those are the top resorts in Laiya Batangas that you will surely enjoy.
Apart from the beaches, the place also provides specialties and souvenirs for the tourists.
For special delicacies, there is a Sumang Magkayakap at Sinukma which is a exotic food made of sticky sweet rice. It is sometimes also called Tamalis.
If you plan to go to Laiya Batangas make sure to plan in advance. Usually the resorts are always fully book especially during the peak season.
With plenty of beaches there you need to check for the one that fits your needs, budget and expectations. Look for the unpopular one if you are in a budget, it is all about a little research.
Even if you're a local going to this place there are chances that some dishes will be new to you so immerse yourself and try the local delicacies and dishes like Bulalo and Lomi.
Make your Philippines Holiday destinations unforgettable life experience!