Cebu City is the royal metropolis of Visayas and the second most popular urban area in the Philippines after Metro Manila. It is the capital of Cebu, an island province that comprises several cities and municipalities located in Central Visayas region.
Having played a big role during the 300 years of Spanish colonization, the remnants of this era are still scattered all over the metro, all of which you can visit in a half day tour.
Start with two of the most recognized historical attractions in the area namely Basilica del Sto. Niño, one of the oldest churches that was founded in 1500s, and Magellan's cross, the iconic symbol of Catholicism brought by Ferdinand Magellan, housed in a small chapel right beside the basilica.
Then head to Fort San Pedro which used to be a military defence structure, now a museum with pieces of artifacts, paintings, sculptures and historical documents. 
For a glimpse of luxurious lifestyle of Spanish elites in the 1800s, Casa Gorordo has preserved this atmosphere for the modern citizens to experience. And the best way to wrap up the journey to the past? The Heritage of Cebu City  Monument, a modern structure that narrates the long history of the country's struggles and victories through beautiful expressions of historical events in the panoramic view of the scenic sculptures at the centre of Parian Park.
If you're not a history buff, fret not! There's a lot more waiting for you around the corners of this metropolis. For the adrenaline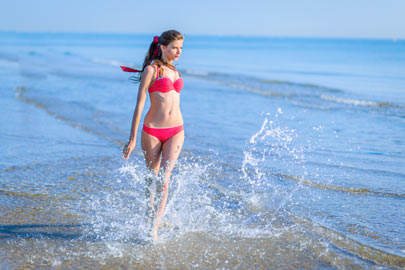 junkies, Sky Adventure at Crown Regency hotel is a must. Conquer your acrophobia with their selection of activities that will definitely extract every inch of fear of heights out of you.
If you prefer a serene place with beautiful surroundings, see the colourful Taoist Temple in the afternoon and head to Tops Lookout for a view of the bright and shimmering metro at night.
A night owl and party animal? The city never sleeps in Mango Avenue, Crossroads and IT Park, a perfect way to end the day with lots of fun, booze, live music and good vibes.
A trip to Cebu City won't be complete without Lechon so try it with a kamias shake in Zubuchon and you will never want it any other way.
Take the challenge to eat bull's testicles and phallus with soup no. 5  a.k.a. Lanciano. Other dishes to try are pochero, sinugba, sutikil and puso.
You can have your food trip in a square filled with barbeque stalls in Larsian, or go to food court and restaurants in malls like Ayala Center or SM City.
There is quite a lot of hotels to choose from, depending on your preference and budget. The Henry is a boutique hotel that offers unique and spacious rooms with beautiful interiors, while Crown Regency Hotel is strategically located in the Cebu City centre with Sky Adventure activities at the top floor and sumptuous buffet breakfast in the morning.
Cebu City Hostels Booking here 
Mactan- Cebu City International Airport in Lapu-Lapu has direct flights from several Asian countries such as Singapore, Hong Kong, Korea, Taiwan, Japan and UAE.
If you'll be coming from Manila, the best way is to fly through the local routes of Air Asia, Philippine Airlines and Cebu Pacific.
The airport is about 45 minutes to an hour drive to Cebu City by cab which charges by a meter. Getting around is pretty easy with accessible local transport like jeepneys and multicabs.
Cebu City – Landmarks
Basilica de Sto. Nino 
The oldest Roman Catholic church in the Philippines is Basilica Minore del Sto. Nino. Formerly known as San Agustin church, it was founded by explorer Miguel Lopez de Legazpi way back in 1565. It is the home of the iconic religious statue of Sto.
Nino, a gift by Ferdinand Magellan to Queen Juana in the early 1500s and is the centre of the annual Sinulog festival celebration in Cebu City.
Inside the Basilica complex is a museum that exhibits the rich background of Christianity through century-old relics and snippets of history from Spanish era when cultural and religious practices were adopted and continued even after the colonization ended. Several meters outside the church is another tourist attraction, The Magellan's cross.
There are regular masses every Sunday so if you want to avoid huge crowds, it's best to pick other days to visit. The location is along Osmena highway and just few blocks away from Colon street. You can easily get there by taking 06B, 06C or 06F jeepney or a cab from anywhere around the city.
Calauit Safari Park 
You don't need to get out of the Philippine archipelago to have a glimpse of the African flora and fauna because of Busuanga,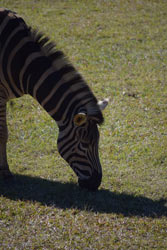 Palawan offers the same nature experience in Calauit Safari Park.
It is a 3,700-hectare game reserve and wildlife sanctuary island that was opened in 1976 through the efforts of Marcos administration, presumably as a response to the Kenyan president's request to help them save the African wildlife that's being threatened by war and drought.
Here you can grab the rare chance to encounter the species in their natural habitat such as giraffes, zebras, deer, bearcats, peacocks, sea eagles and antelopes. There are also several species in captivity because they're not as gentle as the others like the dangerous crocodiles, porcupines, pythons, civet cats, and wild boars.
The wildlife sanctuary can be reached from Coron by a 3-hour boat ride (the sea doesn't have giant waves) or a 4-hour land trip through the unpaved local roadways and about a 5-minute boat ride to cross a narrow straight. There are agencies that offer tours that include van transfers but DIY travellers can also take public transport such as buses, ferries and motorbikes.
Cebu Taoist Temple 
If you are going to visit Cebu City, also called the Queen City of the South, make sure to spare time to visit the Taoist Temple in a posh subdivision in Lahug name Beverly Hills.
I must say that this is probably one of the most beautiful temples in the country. Built in the 70s by Chinese followers of Philosopher's Lao Zi, the temple gloriously stands with an elevation of 300metres (980ft) above sea level.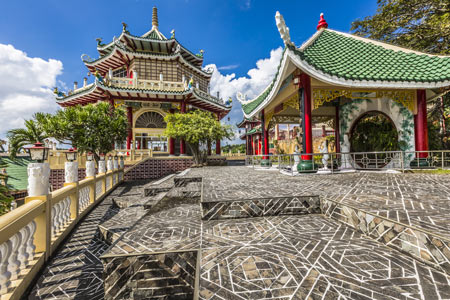 For you to get there, you have two choices. If you are a bit more adventurous or on a budget, you can take a jeepney or a habal habal; or if it is convenience that you seek, you can take a cab.
If you are going to take a jeepney make sure to take the "Lahug" jeepney and tell the driver to drop you off the street where you could take a habal habal going to Beverly Hills.
Now, if you are going to take a cab, you need to mention to the driver to take you the entrance of the temple or not in subdivision's entrance or else you will have a long walk.
Taoist temple is open even for non-worshippers and there is no entrance fee. Bear in mind though, that like any other temple, you need to show respect to their Gods, beliefs, and ways. What you would love most about this temple is its very impressing architectural design and you also notice that its entrance is like that of the Great Wall of China.
Because of its beauty, you surely should not resist the urge to take photos especially if you see the scenic view of the downtown Cebu which is best viewed on the Temple's balcony. Be aware, however, that taking photos of their Gods is prohibited. If you are in doubt, do ask before you click your cameras.
Cebu City Hotels Booking Here