Mount Pinatubo is in Cabusilan Mountain province of Zambales, Pampanga and Tarlac Philippines. The Mount Pinatubo is one of the breathtaking volcanoes in the Philippines.
It is covered by dense forest which serves as a residence of the ancient ancestors. The Mount Pinatubo exploded roughly five times, much stronger than the eruption back in 1991. Many Aetas that lived at the edge of volcano left during the volcanic eruption and they moved to a distant village.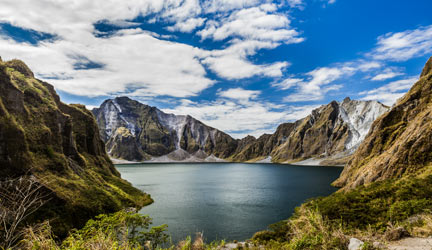 One of the most fun and exciting adventures in Mount Pinatubo is riding a car with a sized-rubble, rare constructions as you find your way through the rough area to reach the volcano roof.
From Manila take the NLEX or North Luzon Expressway to get there.
Take the bus which goes to Pangasinan, Baguio or Tarlac. Then go to Cubao terminal because there are northbound buses that leave every 10 minutes.
The trip going to the Mount Pinatubo is the best reward for yourself to relax and experience climbing the mountain in Zambales.
Hostels Booking Here 
Things to do like riding a 4×4 jeep on a muddy, sandy and grassy landscape and mountain climbing and hiking are the best part of your trip. In weekend Mt. Pinatubo is a busy place so expect that there are hundreds of tourist.
Things to remember is that you need to pack light as you will be carrying your stuff, bring some snacks and water for your lunch. Wear comfortable clothes especially when the weather is hot and sunny plus a sunblock to protect your skin. Further, you will need comfortable footwear and if you are tired there are nipa huts along the way where you can rest.
Warning – Geologists fear that wight of the water in the lake may break the cater walls and could occur flood below the mount Pinatubo coastal town.
 Hotels Booking Here