Kiev Restaurants Info Guide for Best Dinning in Kiev, Ukraine.
It has been years since the separation from the USSR and Kiev restaurants are still making every possible effort to prepare themselves to meet the requirements of the tourists both local and foreign. 
Modern Kiev restaurants make every possible effort to offer your fine dining.They specialize in contemporary cuisine, traditional Asian, modern Asian and international menus.They also provide modern and traditional Ukrainian food.
KIEV Restaurants  Have a General Standard for Making This List Contains:
*Quality  of The Food
*Quality of Service Which can Hit or Miss in Ukraine
*The Vibe of the Restaurant
*English Speaking Ability of the Restaurant Crew
*Provision of the Menu in English
In fact, these restaurants do not appear in specific order.I frequented them with my friend KIevfun tour guide 
Now, I would like to introduce some of the friendly and best of restaurants for you our precious  travellers so that you can make much of your visit while dating a girl from one of those Kiev restaurants. Dating Ukrainian Girls Here.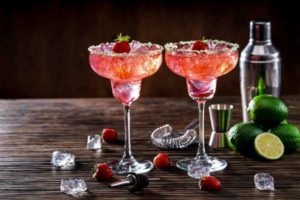 Local Food, Petrus-b – Kiev Restaurants 
The Ukrainian food restaurant Petrus-b in Kiev extends a warm welcome to its valued guests, both old and new.
It is the successor of legendary. – Varenichnaya No 1. It has always been top of Kiev restaurants list, and has always catered to the needs of its guests who like traditional national dishes and dishes with some European culinary art in vogue.
It is located in Pechersk which is the centre of Kiev with historical importance. It is a place with architectural historic and discoveries in cuisine.
Ukrainian food lovers count on us and they visit our restaurant to satisfy their taste buds with the awesome dishes, dished out with such hospitality. It is warm and comfortable for everybody.
You can feel at home and see for yourself if the statement that our restaurant is among one of the best of restaurants is a reality or a raw falsehood.
Ours is a local traditional local cuisine and we welcome foreigners who have an adventurous gastronomic taste to indulge in exotic dishes.
---
Kiev Tour

Contact

Kievfun Here

 
---
We are experts in national cuisine. We serve homemade cured pork fat, pickled food, 13 kinds of varenyky made of special thin dough, potato fritters, classic dumplings, halusky(donuts), cabbage rolls, borsch with pampushki (garlic donuts).
Once the foreign guest try these traditional dishes, they invariably fall prey to the gastronomic delight it offers them and frequent our restaurant with great delight.
If you are a fan of European dishes, you could also order them and European food is provided with great quality and taste for your palate.
Also the  Czech ham hock, Ribeye and New York American steak, Rocket leaf and veal or tiger shrimp salad, BBQ veal medallions, dorado fillet with vegetables are available.
For taste comfort, authenticity our restaurant is renowned and Petrus is a really sought after restaurant of Ukraine cuisine.
Veranda with River View – Top of  Kiev restaurants List 
Its design is breathtaking, the food is lovely and has undergone a successful change after the previous one burned down.
There has not been a ting of change in the beauty of the restaurant. It could be called as lovely as it used to be.
Moreover, now it is endowed with marvellous furniture which is highly comfortable. It adorns the restaurant with an enticing, comfortable vibe.
Also it has glass right round. There has not been a change in its dishes and its services are as good as good can be.
My own first hand experience makes me confident enough to call it one of the best Kiev restaurants.
So my recommendation that this place is awesome is really to be trusted. Hey, have lunch or dinner here and see it for yourself.
This is yet another excellent Kiev restaurant. I enjoyed being in this place owing to its location on the water. 
Sitting down on the terrace with Dnipro river view was such a charming experience. So why not enjoy the view while having its baked duck with apples.
Whatever, the kind of meeting you organise  to have, it has a superb vibe for it. More to that.. the crew is polite quick, friendly, helpful and pleasingly hospitable.
Listed on Top of Asian's Kiev Restaurants – The BOHO
It is a place to find pleasures in abundance. What you find here is classy food drink and you also find yourself beset by beautiful people.
It is as if such refined food and drink has been converted to philosophy and meaning of life.
You should have no fear whatsoever to reveal who you really are. Oh yes, dive into an ocean of experimenting with good food and music.
You, indeed, may find yourself willing to be a part of our cult A bright palette of spices, sauces and herbs of sweet aroma, giving charm to the Pan-Asian cuisine.
Whoever falls in love with this culinary art will continue to show loyalty to it forever.
Contact  BOHO: Kyiv, Fedorova street,4, +380(94)8285848
Kiev Restaurants – BAO Modern Chinese Food
What really is BAO? It is a modern Chinese restaurant serving Chinese dishes. It is Ukraine's first Chinese restaurant and is famous for modern cuisine and goes abreast almost with the cuisine of the major cities the world over.
If you like a bit of history of the restaurant this is what I have to say. Well.. an eminent master and skilled chef who is also a businessman and a broadcaster known as Hector Jimenez- Bravo founded this Chinese restaurant. Well … it could be called a treasure house to your palate.
BAO is adding Asian's flavor to Kiev Restaurants 
Hector, the ideologist was encouraged by cuisine in Asia and determined to infuse them with local traditional dishes he introduced his dishes to Kiev traditional DimSum and trendy Shumai, oriented noodles, wontons which are unsurpassable and genuine Peking Duck.
These are just a few kinds of food served by BAO. The kitchen is separated from the restaurant and has open windows right round for you to feast your eyes on a panoramic view of meals being prepared with such skill and talent.
You may get a view of chefs displaying their skill and be filled with some reverential fear for such is dedication of the staff in preparing meals to please you.
There is a daily influx of customers, the fans of their dishes and specialities with such regularity of occurrence that it it almost full to its capacity.
They gather at the BAQ longest community tables. It is owing to the fact that they are into Chinese tradition in which the neighbours can taste each other dishes.
Contact: Kiev, str. Mechnikova 14/1, +380(94)8210626
Kiev Restaurants – Italian Vapiano
An Italian proverb has it that you will live more healthily and longer provided that you have an easing going and relaxed approach to life.
Come to find this relaxed approach to life at Vapiano. Not only our employees, but also our guests have this relaxed attitude to life.
This has started happening since the 22nd of October 2002 when the first Vapiano in Hamburg , Germany started and opened its doors at the Hohe Bleichen.
It is two years subsequent to that happening that they started to let franchise undertaking worldwide.
Nowadays the presence of more than 191 Vapianos in 32 countries on five continents and many planned international openings bear testimony to its popularity.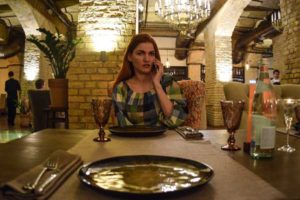 Kiev Restaurants – Saperavi Georgian Flavor 
They call the modern capital city a place of pride traffic noise and a place with tempo of life which is fast.
However, it is surprising that in the heart of Kiev with the largest number of buildings transport and people that have concentrated there.
Mariinsky park is an excellent piece of nature. What a great comfort for the eyes for you after seeing so many buildings in the city.
It is a place of chilling out in the natural surrounding. You can release your stress and tension and get away from worries of this mundane care.
Saperavi is Adding Georgian cuisine to Kiev Restaurants

 
This indeed is an enticing place close to the Water Museum and where could you find a new restaurant serving Georgian cuisine if not here?
Yes, Saperavi is just there. It serves varieties of dishes which are likeable and expensive. You feel like being in Georgia when you are at Saperavi.
Why is it so? Well.. you get genuine Georgian dishes, dished out in a real Georgian vibe with the manners and cultural aspect of Georgia with the just the same manner of Georgian hospitality. It is, in fact, like being in Georgia!
We highly recommend that your visit to Saperavi – one of the best Kiev restaurants and dive into an ocean of delight as it almost takes you to the ancient traditions of Iberia.
The kitchen of Saperavi is unique with its diverse skill to cater to the most insatiable of food lovers who look for novelty in taste from every dish they enjoy. Such food connoisseurs find complete satisfaction to their utter bewilderment.
Here is a speciality of the chef – river trout stuffed with spinach and salmon. There are also seven varieties of Kebab, chic kuda hari ( georgian meat pie), spicy Khachapuri from the master from Adjara, hot and sizzling on ketsi ( which is like a red hot pan) meat and fish dishes a lot of veggies which are green and everything well known in the entire world chacha or a huge selection of classic wines.
Many products, prickles, cheeses, spices and sweetmeats from Georgia are supplied here. What great delight for the most UN-gratified gourmets!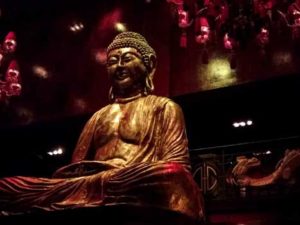 Buddha Bar – Top of KIEV RESTAURANTS 
This bar offers you merriment and excitement.You will be able to see it teeming with people partying.
Well…. It is full of local beauties.If i say  that you can find more belles in here than in Paris it, indeed is not a falsehood.
Are you a person with a carefree turn of mind? Do you care for enjoyment in every moment of your visit? Well……then Buddha Bar is the place for you,the enthusiastic traveller!
You can enjoy in that milieu of fun and frolic and be oblivious that you are a traveller. Let me tell you my sentiments. I found it to be more luxurious and modern than a Persian one.
It offers you a vast choice of alcoholic drinks,cocktails and hookahs and lovely kitchen food.
Address: ul Kreshchatik,14,Kiev,01001,Ukraine
(044)2707676, (044)2707677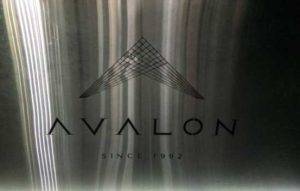 One of  the older in Kiev Restaurants – Avalon Entertainment
You can aptly call this the oldest of restaurants and bars to be found in Kiev City of Ukraine.
To call it just a restaurant would be to devalue it.Oh yes it is not just a restaurant.It ,indeed, is a huge complex.
Never ever miss it while you are in Ukraine. Its food,its service excellence makes it a place you must get to.
Oh yes,Go there to enjoy  yourself in its lovely karaoke bar which located upstairs.
The friendliness of the staff ,and the good service which is not characteristic of Ukraine makes you dream of visiting it again and again.
I enjoyed myself to my heart's content.It naturally became my place of regular visit.And what's more?You see,I liked its wonderful shishas!
It also possesses a lounge restaurant,Martini Terrace restaurant and A-space.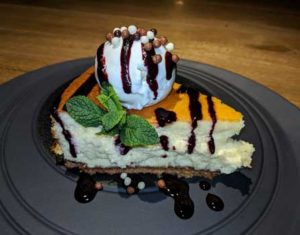 MANU – One of Best South American Restaurants 
Fancy having any delightful Peruvian dishes? If you have not done it ever before, well… it is time you did it.
What you really find at MANU is not merely the Peruvian dishes to please your taste buds but the complete cultural display of Peru.
It is worth you know, for while tasting exotic dishes if you are blessed with unique aspects of the culture of that country.
Happily nestled in the busy downtown you will feel yourself amidst work of art as its interior vibe is adorned with cultural elements of Peru.
So guests who are into learning about Peruvian culture will find not only exquisite cuisine but also aspects of Peruvian culture.
Manu has an open kitchen on the second floor giving the guest a hospitable chance to observe how their dishes are prepared.
The skilled chefs employed here know about cooking and have the skill to do justice to meat, fish and all other varieties of seafood.
Now let me tell you something special about this restaurant. Yes, most of the dishes are prepared on  a giant scorching grill giving a special touch.
Do not forget to order one of the hot picks- a magnificent empanadas ( stuffed bread and pastry baked or fried) with Chilean sea bass and saule salsa peruano. Here you get all that can be called good from a Kiev restaurant.
Shoti
You find it happily nestled in the city centre and this is one of the best and most classy Kiev restaurants. It enjoys a top place among the restaurant in Kiev.
The crew here can be called more than of top calibre with their excellent, super service which speaks volumes for the popularity of Shoti among its guests.
Come here to go for a large selection of wines which is served with mouthwatering Georgian dishes. What a treat mate! Yes 'smashing' I should call it.
You get genuine cuisine which is characteristic of real Georgian culinary art.  You can obtain many a variety of Chachapuri which are the most sought after ones.
If I am to tell you about the main course… well the BBQ part of it was highly delightful.
Mur Mur
Mur Mur is a large apartment for friends with a roomy roof terrace. You can sooth your ears with comforting, sweet concord of music from your own vinyl library here.
You do not have to keep to any kind of complicated dress code to have access to it.
Well, enjoy yourself to your heart's content with delicious food. Dancing to the music bearing your choice of cocktail is what you can do. You could call the bar menu great for you have a delightful alcohol list to choose from.
Address: Kyiv. st. Pushkinskaya, 42/4,BC "credit agricole" 8th floor
Phone : +380442347788
Coin Restaurant
Coin in one of the best Kiev restaurants. It is not popular not because it offers you with its food of high quality, but because it serves top class wines and excels all its rivals with its unique service excellence.
Your visit to Kiev will be memorable and one reason for it should for sure be Coin Restaurant – Yeah, your visit, your service and final great satisfaction.
You may visit and revisit for each visit will always be a new experience to you. Dishes served here are a result of excellent culinary performance of its eminent  chefs.
Come to Coin Restaurant and find yourself surrounded by new experiences. Oh yes, come, explore and discover its uniqueness.
The main hall has a luxurious, comfortable vibe for the guests. Whether it is a romantic evening with your partner of your choice or a corporate event, it doesn't really matter.
You will find nothing but satisfaction here. The roomy aspect, the lighting and superb interior makes it possible to change the restaurant for any event in no time.
That is to say, it has the flexibility to adapt itself to any festive event. A sushi kitchen and a bar can be found in the main hall. It is popular for its food with such great delicate exquisite taste.

Chi Restaurants & Clubs
Looking for a successful, restaurant where a single discount system operates? Then you can find it in Chi Restaurants and clubs.
It has wonderful interiors unrivalled services and the cuisines are business card of Carte Blanche.
Chi which is a restaurant that operates daily has a party place with a huge summer terrace. This terrace helps you feast your eyes on the Dnieper and the left bank of Kiev.
You can be at a concert if you happen to visit it in the evening or night on Fridays and Saturdays. It is usually a live show or parties or extravagance from Decadence House you can take part in.
They are famous owing to their positive energy and diversity . These parties have brought together the young and the adults who care for electronic music and this has been happening for years since its outset.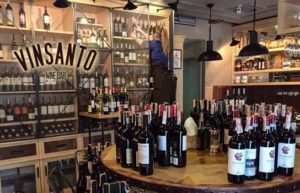 Vinsanto Wine Bar
If you call it a classic wine bar of European character with this restaurant for fine dining it is an apt description of it.
It is blessed with its light casual vibe and comfortable interior. This is not really the only reason to call it excellent.
There is yet another reason. The wine card was awarded to it with the annual SAL premium  in the category.
The label "restaurant With The Best Wine Card" is all its own privilege and ornament. A large number of cheeses and delicious food prepared from meat, hot and cold appetizers, salads and meticulously selected categories of main dishes attract a great number of guests to it. This Kiev restaurant is a great resource for you, valued traveller!
Vinsanto Wine Bar
If I call wine such a nice medium to get to any part of the world I am making a very commonsensical statement.
For various kinds of wine from various parts of the world with their difference of colours and aroma take you almost round the world of wine both with traditional wines and new world wines.
They say, they allow you to feel the warmth of the sun. They also take you to the lightness of the fog, the height of the mountains and the history of wines.
For that reason this wine bar is unmatchable and as it is nestled in the centre of Kiev on Pushkinskaya Street many a guest get convenient access to it.
If I am to tell you of the spectacular aspect of this Kiev wine bar I must tell you of the central table in the form of a grape press and located over it is a huge chandelier of 256 wine glasses.
Kiev Restaurants – Best Collection of Whisky Corner
Scottish House – Restaurant Whisky Corner
Let me tell you a way to find yourself in Scotland  being in Kiev. Come to Scottish House Restaurant Whisky Corner.
It could be called the only best whisky corner in Ukraine. It is open for any person with insatiable taste for Scottish Whisky.
Come here to indulge in Scottish whisky which has a long history. Here you can choose from over 400 sorts of Scottish whisky also with them you have very fantastic samples from all over the world.
You want me to tell you where to find it? Well it is just a stone's throw from the independence square. It has 500 labels of whisky to choose from.
Even the dress of the staff is Scottish in character. It has modern decor. It has relaxed seating for 70, though.
An English menu is available. The European menus and also there are typical Scottish cuisine which cost 300 Hr for an average meal.
For steak you may have to pay more. While out stay in Kiev we visited this place.
Knowing that Scottish dishes would cost more we dared to order Scottish hagies in baked potatoes.
Well,the cost was only 75 Hr. Oh yes, much to our relief. Wow! Count on my tips. Kiev restaurants give novel experience.
Taras Bulba Local Ukrainian Food
In 1999, Korchma Taras Bulba Hospitality group was founded in Russia. This restaurant operates in Kiev with its menus in 15 languages.
The cuisine here is nothing but Ukrainian cuisine. They serve hearty borscht with pampushki( garlic buns) dumplings or pierogi, homemade sausages and chicken kiev ( cutlets stuffed with garlic butter)
The decor makes you feel that you have travelled back in time to more than hundred years. The costumes worn by the staff is interestingly traditional.
There are embroidered towels, homespun carpets and table clothes. There are also other items which are really characteristic of Ukrainian rural huts, Korchma Taras Bulba is always ready to provide you with homemade infused vodka, wines, liquors, Russian Vodka or Ukrainian govilkar If you are into music come to our live DJ party at weekends. Private rooms are also available for special occasions.
Kiev Restaurants – Best BEEF Meat and Wine
BEEF meat and wine – Meat, Male, International restaurant
It was established in 2010 and it has won the best restaurant of Ukraine award twice. The architect of the restaurant is Alberto Folo, Professor of architecture at Columbia University ( New york).
Many a guest is happy to visit it and they call it spacious, conscious and honest. It is just a bit of response from the guests who frequent it.
True to its name it specialises in meat dishes. Meat is cooked on the four metre open grill of Parilla and in a wood burning oven.
I am sure you are after organic meat. Here for steak, they use beef, yes marble meat from organic farms of Creekstone Farms ( Kansas, USA)
The restaurant opens at 9.00 daily and work until the last guest leaves it. They serve them with well known steaks to the accompaniment of wines from the extensive enoteca.
Come here for a great choice of both local and international wine menus.
Touch Cafe
This Kiev restaurant is a place that kindles up your sensuous feelings. It is a mixture of characteristics of Thailand, India, Japan, Malaysia and North Africa.
Owing to the innovative strides the designer has taken the interior of the touch cafe is unique. So are the details of decorations.
It is blessed to own a lounge terrace in carmine red tone, a sky blue lounge sofas, breathtaking art prints or Eric Lafford pass the bright palette of the East and large sliding panoramic windows connecting the distant Asia with the picturesque centre of Kiev.
In this Kiev restaurant, Touch Cafe, you find an infusion of culinary traditions of Pan Asia, Middle East and Europe.
Quality products and creativity found here makes this place a great attraction to the guests. Moreover, the Touch Cafe can be of a real Asian fusion.
There is an atmosphere of relaxation on weekdays with music in the style lounge. If you are into DJs come here, especially on Thursdays, Fridays and Saturdays. There is a bright pre-party with DJs on such days.
As you can see Kiev restaurants have much to offer for you, the travel enthusiast. Your search for exotic taste in both food and wine could be satisfied here in Kiev, in Ukraine.
GREAT DELIGHT IN EXPLORING THE WORLD OF FOOD AND WINE.YES……HERE IN KIEV Restaurants ………your holiday destination!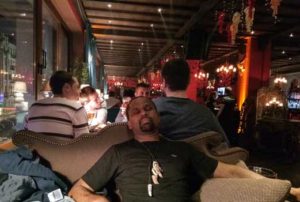 More Travel Blog Here
 Kiev Restaurants Map on Google Here!