Guraidhoo serves as a trading post for the atoll region, with a well-developed port through which trade and transportation to capital Male. Vast development on the Island, as well as the increasing population, has to lead to an increased demand for land availability. In 2014, the government reclaimed more than 60 hectares of land from the west side of the Island. The Island hopes to continue it's development and has set future goals of building an international airport, an international transit port, and an international yacht marina. With these additions, the Island would become the most developed Island in the Maldives.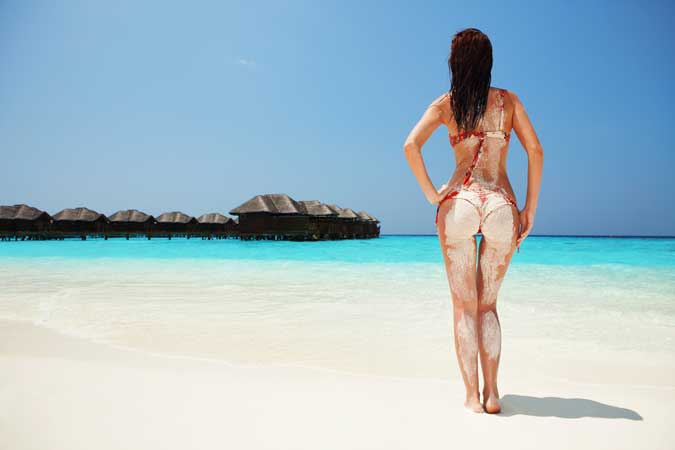 What to Do On Guraidhoo Island in the Maldives
Like most islands in the Maldives, it is the beaches that provide the primary attraction for visitors. Guraidhoo is no exception. The Island is yet another tropical paradise with an abundance of white-sand beaches and warm, turquoise water. The Island is located right next to reefs, which allow beachgoers and divers to experience and observe the tropical marine life that the Maldives has to offer. Whether you want to lounge on the beach? Or and take an occasional dip in the water. Also, travelers can spend an afternoon snorkeling or are a serious diver, the beaches at Guraidhoo can meet your needs.
Best Beaches on Guraidhoo
Ithaa Beach Maldives

Ithaa Beach Maldives. By the way, most of the best accommodations options are available nearby Beaches.  
Attractions 
Additionally, since Guraidhoo is one of the most developed islands in the Maldives, it also has several other attractions that the other islands can't offer. There is international, as well as local and regional, fine dining.
Several Maldivian cultural attractions will allow visitors to get a better idea of how citizens of the more populated areas in the Maldives live.  Finally, visitors can make trips via ferry to the nearby picnic island. The Island is a little more remote and makes for an excellent day trip, especially for those spending several days in the area. Now the Island has over 2700 people who live in colorful modern concrete houses or older ones made of coral chunks. Most work in tourism (at nearby resorts or new locally owned guesthouses opening up on islands like this), health care (there's a large psychiatric hospital serving the area) or boat building (we see an enormous cruiser under construction in a massive corrugated iron shed)
Guraidhoo Island Where to Stay
As the second most developed Island in the Maldives, Guraidhoo has an abundance of accommodation options. From hostels to inns, to hotels, to resorts, Guraidhoo has something to meet your needs. In addition to that, self-service apartment rentals via sites like Airbnb are options on Guraidhoo. Many of the resorts or more upscale hotels on the Island will provide guests with several services. Such as charted fishing trips, various water sports, or other activities that might be of interest to a potential guest.
 

GETTING THERE
Singapore Airlines flies from many major cities like Sydney, Perth, Melbourne to Male via Singapore. Same-day connections daily to Male capital of the Maldives. Also, Sri Lankan Airlines is operating to Male several flights a day. Sri Lankan Airlines is a member of One World, and passengers can catch flights from all major cities.
    More Travel Blogs