Last updated on June 16th, 2020 at 02:38 am
Pristine beaches with beautiful The Huraa island in the Maldives can be accessed by boat from Male. And there is a boat service from the capital that takes around 90 minutes and only $ USD 2.25 each way.
Loca Culture On Huraa Island
Huraa Island is an excellent island to visit for those wanting a more local Maldivian feel for their vacation. Well, while the island has several guest houses, it lacks an abundance of large, secluded resorts, many of the islands have. By the way, open cultural nature allows visitors to welcome and interact with the locals much more than other islands in the Maldives.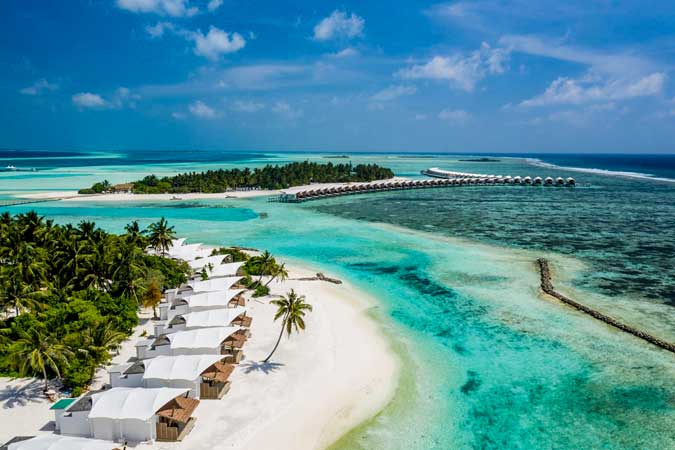 Huraa Island Things to Do
As with all Maldivian islands, Huraa has an abundance of white sand beaches and is situated amid brilliant, turquoise water. Also, Snorkeling and diving are prevalent activities on Huraa. The local dive club, Scuba Divine Maldives, offers an excellent dive tour. Moreover, different tours will take you to various locations where you can swim alongside manta rays and turtles, both of which are plentiful.
Shark Safaris Is Highlighted 
The Maldives. There are also various dives and snorkel trips that can be booked through different guest houses or resorts. For the truly adventurous, Shark Safaris can be booked, which allow visitors to snorkel amongst sharks! 
Bikini

Beaches On the Island 
If you like to see a more traditional beach experience? The island also offers a bikini beach. On bikini beach, more revealing swimwear can be worn without offending local customs. (the Maldives are a Muslim nation where visitors are generally expected to wear more modest swimwear when in public). Additionally, Huraa is the right spot for surfing.  
Visitors to the Huraa island 
Visitors should also take time to explore the town and experience the Maldivian culture. Several affordable restaurants offer traditional Maldivian cuisine, which is heavily Indonesian and Indian influence. Additionally, visitors should check with their guest houses regarding any cultural events that may be occurring on the island during their stay. Should you want to visit a spa? Bar, or a fine dining establishment? The guest houses can also provide discounted entry passes to the nearby resorts, allowing you to use their "public" amenities.
How to Get there 
The Maldives is easily accessible from Sri Lanka. Sri Lankan national airline frequently flies from Colombo to Male capital. Then, from Male to Huraa Island around 90 minutes by boat.   
 More Travel Blogs 
.