Ukraine Local Food Guide!
Ukrainian food. The country is home to some of the surprisingly most delicious food in Europe. And some of the best dishes you can even think of your holiday. My article focuses on what you could try in Kiev because every region in Ukraine has its local version of the food. The best example, I was several times in Carpathians Mountain
Bukovel Ski Resort, and the area has very authentic local cuisine. You could not find in Kiev.
Ukraine Local Food – Borscht

The world-famous pink-colored soup made from beet will surely please your taste buds. The combination of sour cream, beetroot, meat, cabbage, potatoes, another vegetable, and spices might be served either hot or cold. What looks a bit odd for the first sight will surely become one of your Ukrainian dishes to go. Try the best Ukraine Local food when your in Ukraine.

Ukraine Local Food – Vareniki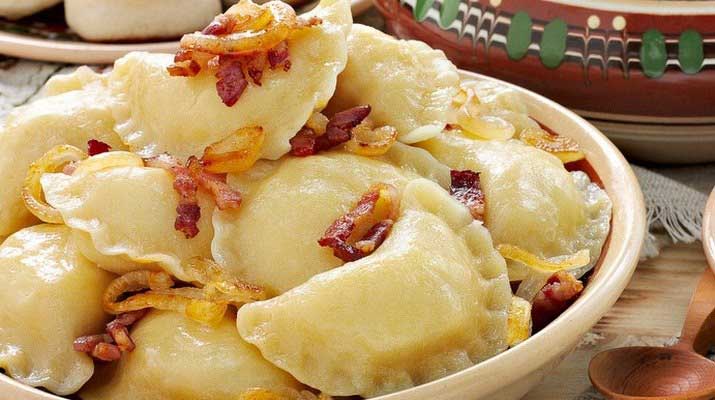 This delicate also know under the name Pierogi is a Ukrainian national dish. It is a filled dumpling with a savory filling, usually meat or cheese. Those dumplings are cooked in boiling water and served either with fried onion, sour cream or melted butter.
Potato Pancakes (Deruny)
Another typical dish in Ukraine is potato pancakes. Those are made of grated potatoes and onion and then fried. The result is crispy and simply delicious.
Pies
Also, It called Pirozhki are small baked or fried buns filled with different fillings. Those individual-sized delights may come with meat, fish or vegetable stuffing, as well as in a sweet form with fruit or jam as a small pie.
Roast Meat
People in Ukraine love meat. One of the yummy dishes you have to try is also the roast meat (Pechenya). It can be either pork, beef, lamb, or veal.
Kyiv's Cutlets
The national dish named after the country's capital is a deliciously prepared chicken fillet with various stuffing and coated in breadcrumbs, eggs, and butter.
Strudel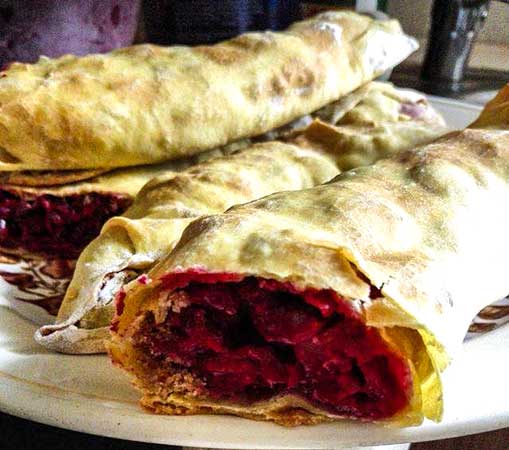 Typical for Eastern Europe, Strudel is a heavenly tasting sweet layered pastry with apples, cinnamon and usually raisins inside, coated in butter and sprinkled with powdered sugar.
Why Travelers Should Be Trying Ukraine Local Food
Main reasons what I have seen. When your traveling in a new country. Travelers should be travelling like a local. Somehow, trying to get a local casual hookup with Ukrainian Girls, Try Ukraine Local Alcoholic Beverages, learn something about local tradition and the culture. Most importantly, feel the country and humanity.