Gaafaru Island Maldives: (population 1,100) is one of the inhabited islands of Kaafu Atoll. Gaafaru is a large, elliptical reef with only a small inhabited island, Gaafaru, on the eastern end. The channel to the north of Gaafaru and Kaashidhoo Kuda Kandu has long been a shipping lane. So, that has taken many ships who have veered off course into the channel's hidden reefs.
Gaafaru Island Maldives Wreck Sites
These wreck sites are some of Gaafaru's biggest attractions, with three of them, SS Seagull (1879), Elangen (1894), and Lady Christine (1974), being divable. The SS Seagull is a 1,012-ton steamship that can be found in the shallow waters on the eastern edge of Gaafaru Atoll. The anchor, deck ribs, and winch can be found 6 meters deep, resting on top of the reef, which has now engulfed the wreckage covering it in coral. At the bottom of the reef, at a depth of about 30 meters, divers can find the giant boilers and stern. Lady Christine is an 863-ton iron survey vessel that wrecked while laying communication cables.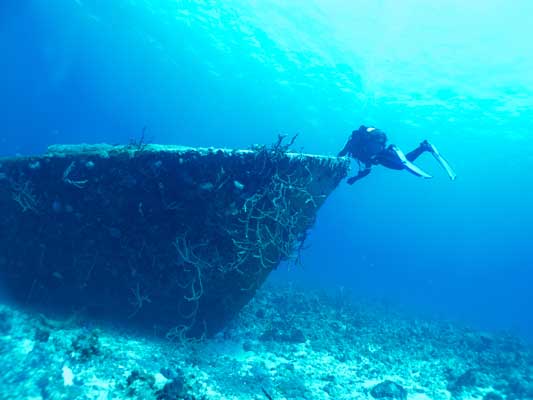 Best Time To Dive
At low tide, the mast and bow can be seen above the water. By the way, the central part of the wreck is being scattered less than the depth of 10 meters. Although it will deeper more than 55 meters during the high tide. 
 New Marine Eco-System 
Those wracks provide a protective environment for a variety of marine life, including nudibranchs, parrotfish, moray eels, pufferfish, grouper, and hawksbill turtles. The caves and overhangs in the reef at 30 meters are the home to nurse sharks, rays, and napoleon wrasse. The Erlangen sits at about 50 meters depth on the sand. The wreckage is mainly intact, with some scattered remains found on the reef wall. While none of the ships remain unchanged, the remains have plentiful coral growth with lots of tropical fish. Dive trips are possible from locations on Gaafaru. Still, many visitors to the dive sites visit on live-aboard dive boats. 
Things to do on Gaafaru Island in the Maldives 
Interact with Local Life and Communities – watching daily life and interact with locals can be very interesting. The social system and cultural values are well different from the west.  

Relax on the Bikini Beach – Bikini Beach is the most popular and best white sand beach on the Island.

Snorkeling – Travellers can do snorkel in shallow water with turtles. Also, around the ships wrecks  

Boat trip to the Kagi Island or a boat trip to the sandbank

Dolphin cruise tour
More Travel Blogs